Sizzling guitars ruled the the night
Joe Satriani's G3 2018 tour with
Phil Collen and John Petrucci
Fox Theatre
Tucson, AZ
January 21, 2018
| | | |
| --- | --- | --- |
| Joe Satriani | John Petrucci | Phil Collen |
Review and photos by Frances Sealy

This was the first time Satriani's G3 tour has come to Tucson even though the G3 tours have been in existence for 20 years. This tour included Phil Collen of Def Leppard and John Petrucci of Dream Theater. Petrucci is a G3 veteran while Collen is a first timer for the tour. It was three hours of sizzling guitar solos and blistering collaborations.

Collen and his band started the show with a 30-minute set of metal magic with his blues side band, Delta Deep. A fully clothed Collen played guitar solos that had all the fire he is known to possess. Delta Deep's vocalist Debbi Blackwell-Cook had the emotional depth and the power that reached beyond Collen's electrifying guitar. This was a match made in heaven. The veteran performers left you craving for more. Memphis native Forrest Robinson, Delta Deep's Grammy Award-winning drummer, and Craig Martini's bass backed the powerhouse performers.

Petrucci took the dark stage next to perform with Dave LaRue on bass and Dream Theater's Mike Mangini on drums. The 45-minute set provided the heaviest metal music of the night. Petrucci had the fastest hand bending notes, breaking chords, and a display of speedy acrobatics with his guitar.

Satriani had the final of the night with his animated, showman style. His excitement was infectious as it spread through the crowd. Satriani just dropped a new album, What Happens Next, a few days ago. He performed "Cherry Blossoms" from the album during his set.

Mike Keneally on guitar and keys, Joe Travers on drums, and Bryan Beller on bass gave stellar performances with Satriani. Satriani and Keneally did a fun guitar duel at one point in the set. Veteran performer Keneally has played with Frank Zappa and Steve Vai in the past. Beller has had a close musical association with Kerneally for over 20 years. Travers has a 25-year career with an association with Dweezil Zappa, Duran Duran, Billy Idol and many more.

After one hour, Satriani invited the rest of the crew back on stage for a three-song finale. Blackwell-Cook furnished the vocals. This was another vibrant highlight of the evening. The songs performed were "Highway Star," "Superstition," and "Going Down." It was apparent that the performers and the fans thoroughly enjoyed the show.
Set List:
1. Energy
2. Catbot
3. Satch Boogie
4. Cherry Blossoms
5. Thunder High on the Mountain
6. Super FunkyBadass
7. Cataclysmic
8. Headrush

9. Circles 10. Always With Me, Always With You
11. Summer Song

Encore:
12. Highway Star (Deep Purple song)
13. Superstition (Stevie Wonder cover)
14. Going Down (The Alabama State Troupers cover)



Related articles:
Joe Satriani - Concert review - Tucson, AZ March 2016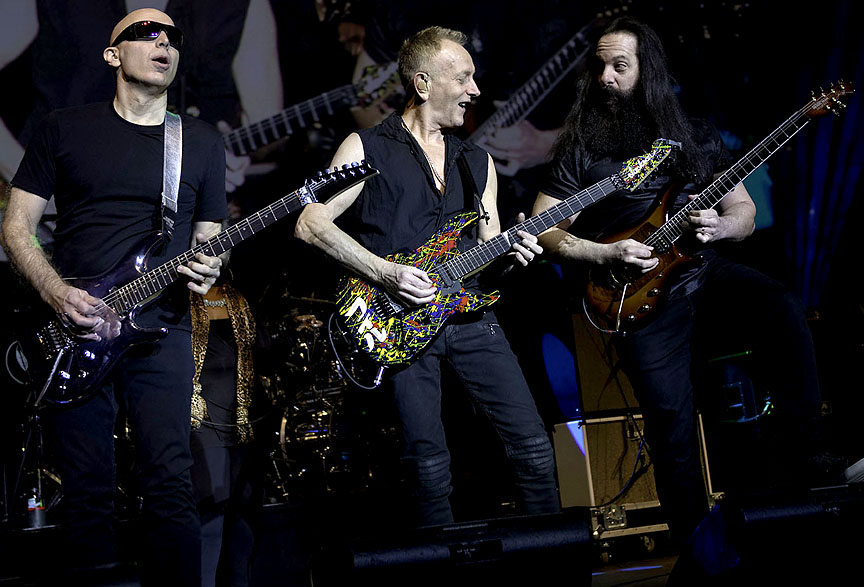 Joe Satriani
| | | |
| --- | --- | --- |
| Joe Satriani | John Petrucci | Phil Collen |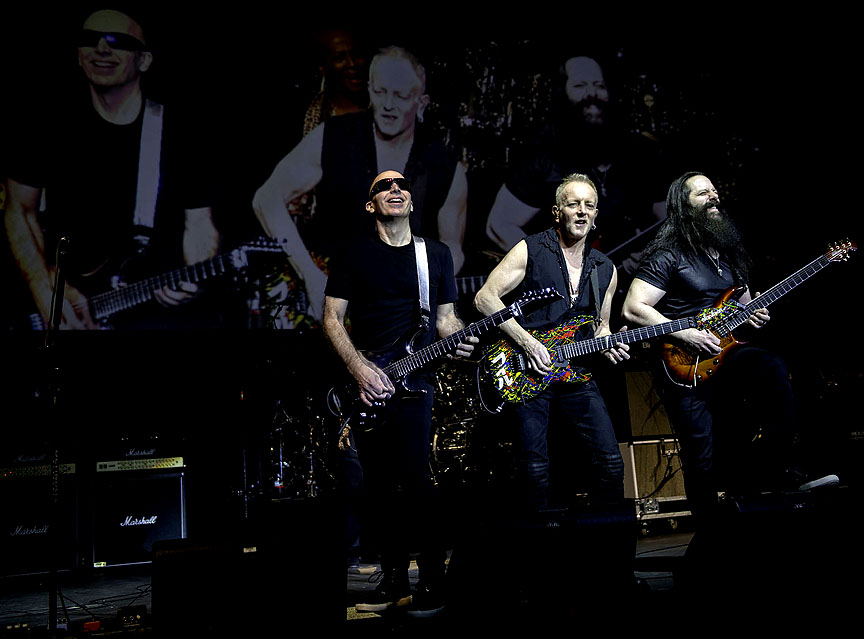 Joe Satriani
| | |
| --- | --- |
| Joe Satriani | Joe Satriani |
Return to Reviews
Return to Livewire
Copyright © ConcertLivewire.com™; All Rights Reserved