Solo Siouxsie cuts teeth on
Creatures, Banshees
Siouxsie Sioux
House of Blues
Chicago, IL
Sept. 2, 2004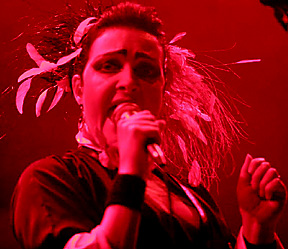 Story and Photos By Andy Argyrakis

With mohawked men, glamed up girls and impeccable retro vogue displayed all across the board, one could've sworn Siouxsie Sioux's House of Blues performance took place in a delightful time warp back to the late 70s/early 80s. And though much older than back in her original incarnation with the Banshees, Sioux was dressed to kill as well, dawning a floor length kimono and vibrant feathered hair piece. But as the seminal songstress has demonstrated over the years, she's always possessed function over fashion and this new tour to celebrate over twenty-five years of merrymaking was no exception.
Much of the joy derived from this set was the fact that Sioux wasn't bound by any associations this time around, thus letting her hair down to cover any career period she desired. (The ticket was simply billed "An Evening with Siouxsie," which meant she wasn't confined to either the Banshees or the Creatures material). Of course, the many Banshees nuggets (especially the cheery "Happy House" and their signature take on "Dear Prudence") were the most heartily received since, after all, that period not only capitulated Sioux to fame, but also served as her most critical and commercial crest. In fact, hearing that old time blend of punk rock attitude, pre-new wave innovation, trembling dance beats and goth tendencies brought back memories of just how influential the Banshees have been. (The group's alumni include The Cure's Robert Smith, the Sex Pistols' Sid Vicious and Adam and The Ants' guitarist Marco Pirroni, all of whom went on to incorporate such elaborate concoctions within their own acts).
A main ingredient that carried Siouxie's show was instrumental diversity, which gathered all the aforementioned influences, but also in many instances added tribal, ethnic and indigenous backbeats. "Around the World" skidded with rustling percussion thumps comparable to a intricate Native Indian battle cry, "Shooting Star" adapted a mystic middle eastern feel and "Another Planet" throbbed with loop-centered intrigue. Each track seemed to take on a personality of its own, making dull moments virtually non-existent (except for the breaks between a pair of encores, during which attendees desperately salivated for more). Just prior to the first farewell, Sioux left the stage in the night's most riveting manner, casting a manta-like spell on the crowd with "Not Forgotten," where she held all in a near seance styled grip. It was enough for her dark garbed faithful to communicate with forces in whatever realm they were so moved and a final proof that Siouxsie Sioux's forcefulness will always be remembered.


Here's Your Chance to.... Respond!


Your feedback will be featured on
Rant or Rave within 24 hours.