Story by Matt Richter
Photos by Matt Schwenke

Somewhere between stage left and stage right at the Pabst Theatre in Milwaukee, I found music again, not blown away by some ground-breaking new sound or never-been-scene theatrics, but captivated at the first guitar pick and carried through an evening of stripped-down honesty, intelligent poetry and pure singer/songwriter talent that is too often forgotten, overlooked or kicked to the curb by entertainers humping to incite instead of inspire.

The walls of Brew City's famous Pabst Theatre bowed as the sold-out crowd ushered in shoulder to shoulder. I hopped in line behind a mostly 30s-50s audience donning jeans and coats damp from the light snowfall outside, pushing forward for booze before finding their seat.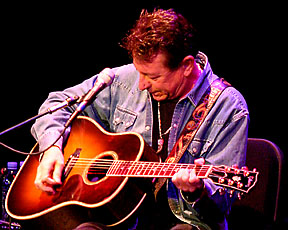 I ordered a Guinness and a bottle of water and asked the barista who's up first. "I think they're together," she replied with a shrug as she checked my ID. Spotting my seat near the rear, I sat back and took in the excited chatter around me, mostly predictions of what songs may or may not be played. Each open mouth emitted a scent of beer and whiskey, enveloping us all in a sweet and sour cloud of heavy breath anticipation. I recognized few songs mentioned and felt even more like a fish out of water. Lone guitarists whining in honky-tonk are not my bag.

A soft red light washed over the four focal points of the evening as they filled four empty folding chairs stranded alone on stage; each person brandished an acoustic guitar and sported a casual look as if sitting down to dinner around the kitchen table on a Saturday night. They casually took their seats: Lyle Lovett sat farthest to the left, followed by John Hiatt, then Joe Ely, and lastly Guy Clark farthest to the right.

This evening of singer/songwriters, known as a "guitar pull," carried no predetermined set list; each performer took turns playing a song shouted out by the audience or a song they felt best fits after the last, giving an air of unpredictability and spontaneity to the night. The only order followed was the order in which they sat.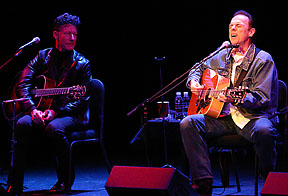 A spotlight broke the pastel glow of the stage, framing Guy Clark first. Gradually, the spotlight shifted left, moving to the next performer (Joe Ely), and on down the line before starting over with Guy Clark and repeating the process again. The players leaned casually on their guitar and watched the performer. All four played together for just two songs.

Legendary Texan Guy Clark, aptly known as "the Songbuilder," growled first into the mic a tune about poets, his voice barely scratching a whisper. Spouting Americana country folk rock for nearly 40 years, Clark's songwriting talent, heavily influenced by such notables as Townes Van Zandt, pits his own brand of poetry in everyday vernacular against his softly picked acoustic guitar. Throughout the evening, Clark performed such classics as "Magdalene," "Let Him Roll," and "The Cape." His dry humor entertained the crowd as he shared quips between songs, at one point reminding the audience that, as a guitar player, "You spend half your life tuning your guitar and the other half playing out of tune."

Fellow Texan Joe Ely followed each song by Guy with one from his own award-winning repertoire. Founding member of the legendary group The Flatlanders (who toured with The Clash), Ely sports a solo career that spans more than three decades. With a voice more country-smooth than Clark, Ely delighted Pabst onlookers with classics like "I'm Gonna Strangle You Shorty," "Cool Rockin' Loretta," and "All Just to Get to You," a lively tune about freight-train hopping through Texas to get to a loved one.

The only non-Texan of the four, John Hiatt took his turn to play after Ely, his unique husky voice adding to the musical variety of the night. Fighting limited success from 1974 to the mid-80s, in 1987 Hiatt came into his own with the release of Bring the Family, an album that would catapult a relatively unknown songwriter to the forefront of Americana music with a creative blend of rock, blues, folk and country.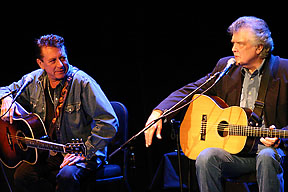 Hiatt turned on the crowd with "Walk On," "Ethylene," "Crossing Muddy Waters," "Memphis in the Meantime," and "Wintertime Blues," in which he half shrieked, half growled run-on descriptions about being "stiff as Al Gore" from cold weather to the delight of Milwaukeeans who cheered him on.

Sitting farthest to the left, Lovett finished each round of the guitar pull before the foursome restarted at Guy Clark. Needing no introduction, Lyle sat with knees locked together, cradling his guitar with lanky arms, his slender frame motionless, save his large hands and narrow face crooning classics like "Downhill From Here," "If I Had a Boat," "Fiona," and his slow, melancholy ballad "Don't Cry a Tear For Me." Normally backed by the 20-piece ensemble His Large Band, Lyle's songs revealed his ability to entrance an audience alone. Lovett finished the evening by honoring one of his influences-Guy Clark-and covering Clark's first song, "Step Inside This House."

After the initial four songs of my first guitar pull, all skepticism I carried to the show was drowned out by the talent, charm and romantic air pouring from the stage over the audience and finding my awestruck ears near the back of the theatre. Somewhere between stage left and stage right, four veterans with more than a century of songwriting genius amongst them presented the Pabst with a renewed definition of music, bare-boned and honest.