Static X & Co. Charge
The Riviera with Electricity
Static X / Soulfly / SOiL / Onesidezero
Riviera Theatre
Chicago, IL
Feb.. 12, 2002

Static X

Review by Scott Stegenga
Photos by Barry Brecheisen


Fat Tuesday, 2002 at Chicago's Riviera was all about being topless. The 4-hour evening of metallic bedlam with Static-X, Soulfly, SOiL and Onesidezero had the shirtless guys moshing their brains out in the pit while the ladies flashed for the coveted Mardi Gras necklace. There was enough excitement for just about any taste of metal that you desired.
Opening the evening were hopeful newcomers Onesidezero. Currently on tour for their Maverick Records debut, Is This Room Getting Smaller, the LA quintet played a spirited set of melodic rap-metal with bittersweet vocal harmonies from lead singer Jasan Radford. Their notable set showed that stage presence was not as important as the music itself. With impressive songs like "New World Order" and "Shed the Ski," the band only began to skim the surface of the musical style they're cultivating.
Next came Chicago-born SOiL performing the standard "trash metal" set that fits well with their Midwest roots. Local supporters were thanked many times over during the whole performance. Singer Ryan McCombs leading with the customary "don't f*ck with me" spit it out with obligatory venom. Shoving out tunes like "Halo" and "Breaking Me Down" from their J-Records debut, Scars, the set was well received by newcomers and old fans alike.
Next came the two headliners. With the stage draped in camouflage netting and the crowd chanting "Soul-Fly," the real hammer of the rock gods was ready to be swung by old-school metal frontman, Max Cavalera and his wave of post-Sepultura resistance called Soulfly. The walls of the Riviera literally shook for their hour-long set of intelligent speed metal excess. They've been on tour for a while now since the release of 2000's Primitive, but its obvious there's no stopping them. They pulled out all the standard thrash classics like "Back to the Primitive," "No Hope=No Fear" and "Eye for an Eye" as Max led a passionately charged set. He changed shirts offstage about 5 times, style not forgotten on the hard genre. A lot of energy was spent in the audience as the pit never stopped moving and the sound kept on coming, even out of Max's Brazilian berimbau. Some new tunes from their fast-approaching third album were also mixed in with some old surprises from Max's old Sepultura days (the speed classic "Arise") and some help from Static-X bassist Tony Campos doing backup vocals for the anthem "No." Drummer Roy Mayorga got into the jumble as he accidentally got his arms caught in the netting above his drum kit during their encore entrance. Let it be known that Max Cavalera wants metal to be different, and his pioneering use of social outcries in the music of Soulfly make the therapy worthwhile.
As the night's madness kept on going the stagehands removed the miles of camouflage netting that found more boobs bobbing for beads during the break. While Soulfly had a more worldly jungle style to this night of dissonant disorder, Static-X are the robots from another planet that assimilates us all into their metal juggernaut. Dressed in oversized "baby shoes," knickers, candy stripe polo shirt, ponytail beard and trademark stovepipe haircut, Wayne Static is definitely the ideal frontman for the industrial jackhammer mix that is Static-X. Jumping around the stage like disturbed children without their meds, wincing Wayne and friends kept the audience methodically pulverized for the entire set of 14-songs from their two releases including "Bled for Days," "Permanence" and "Cold." Stopping occasionally and trying to be somewhat normal, Wayne calmly told the audience of his old days as a bartender at The Riviera and taught them the new hand-signal for true metal fans called "the fist of metal." We even got the reverse-guest cameo with Soulfly bassist Marcello Rapp playing guitar for "Push It."
The night was filled with fists and bare chests, but what would a metal show be without them? This night was a rather good sampling of the future of underground metal. Whether you like it sleazy, intelligent, bittersweet or just plain grinding, this was the night to get it all shoved down your throat by the fists of old and new metal alike.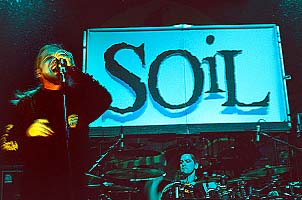 SOiL
Here's Your Chance to.... Respond!


Your feedback will be featured on
Rant or Rave within 24 hours.