Story and photos by Matt Schwenke

With the jam bands Keller Williams, Ratdog and String Cheese Incident taking over the Marcus Amphitheatre at Summerfest, danceable grooves and expanding sounds peppered the musical palate.

An energetic Bob Weir lead Ratdog's charge through a dynamic set that started earlier than planned and began with a stretch of six songs strung together only to end with "Good Lovin" moving the masses.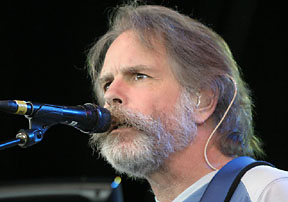 Saxophonist Kenny Brooks and guitarist Mark Karan were fiery early on, and pianist Jeff Chimenti and drummer Jay Lane stood out in the next run of songs that ended with Lane pounding away solo while Weir left the stage. Bassist Robin Sylvester was solid throughout. With Weir returning to direct the next run of songs to a set-ending "Sugar Magnolia," Weir and company's early start paid dividends for the crowd as the band offered up a three-song encore.

Taking to the stage with the crowd hyped up, String Cheese Incident followed suit with their particular style of jams. Drummer Michael Travis steered the ship as Michael Kang with violin and Bill Nershi with guitar tended to the sails as the band sailed through the classic "Come As You Are." Keeping the band on-point, bassist Keith Moseley also kept things steady throughout the set and keyboardist Kyle Hollingsworth was constantly active. With Keller Williams, Bob Weir and Robin Sylvester out on stage, the supergroup's version of "The Mighty Quinn" was especially entertaining, with Williams doing his trumpet sound scat. With SCI back intact, the group reached their longest jam with an almost 15 minute version of "Little Hands." With some new material unveiled, the side projects many of the members have participated in have brought a revamped approach and some promising new directions for the group to explore.