Who's hot and who's coming back
SxSW Festival '04
Various Venues
Austin, TX
March 17 - March 20, 2004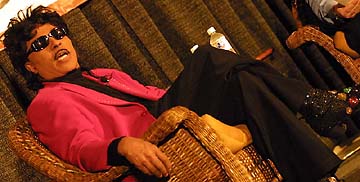 Little Richard
Review and Photos by Andy Argyrakis

Austin- Each March over 1,100 bands from all across the globe travel to Austin, Texas for a week of concerts, showcases, seminars and schmooze sessions. Flocking close to the artist's sides are a slew of record label reps, reporters, radio DJs, photographers and just about any other entity that relates to the music industry. Aside from catching all the hottest up and coming stars and old time legends, the reason for the area exodus is simple: SxSW is the coming year's gauge for music trends, CD releases and most importantly, non-stop concerts. And speaking of concerts, there were plenty of them when walking through the downtown Lonestar State streets where every genre below the sun collided under the commonality of artistry. Here's a sampling of what went down throughout the nation's most ambitious music festival:



| | | |
| --- | --- | --- |
| The Thrills | The Webb Brothers | Kris Kristofferson |

Keep An Eye On-

Aesop Rock- Definitive Jux Showcase
The underground hip-hop guru from New York is on his way up thanks to a fast action rhyme attack, sly stage presence and bumpin' beats that blend street credibility with radio accessibility. With a little help from MC friend El-P, Aesop Rock bolted through his Definitive Jux debut Labor Days with the confidence of a veteran and the enthusiasm of a fresh face.

Antigone Rising- Lava Records Lunch
If Janis Joplin were to be reincarnated, she may come back fronting this band, a female fronted ensemble that harkens back to rock's glory days. The once indie act recently turned major label signees was slick in its presentation that ranged between smoldering ballads and ballsy guitar grinders (complete with some spicy sensuality).

Atmosphere- Rhymesayers' Showcase
He may hail from Detroit and happen to be of Caucasian descent, but just because Atmosphere doesn't fit the mold of a textbook rapper doesn't make him any less effective. The Epitaph artist is extremely interactive in concert, constructing freestyle lines on the fly, while his DJ switches up the mix one would normally find on record to lend an improvisational feel to the set.

The Bronx- Spin Party
Most bands that fall under punk rock umbrellas these days are the watered down whiners complaining about getting dumped or having a bad day at school. Well, this band isn't for the bubble gum lip smackers, though it's still insanely infectious as the group combines old school influences, new school aggression and a chiding lyrical tone that delves deeper than the genre's standard subjects. Look for a debut this summer on Island Records.

Marc Broussard- Time Out New York Party
Those who caught Maroon Five's recent headlining tour might recall seeing Marc Broussard, a burgeoning singer/songwriter with an acoustic guitar in hand. This guy may only be 22, but he's already opened up for the Dave Matthews Band, Willie Nelson and Tori Amos plus his soulful voice has thus far been compared to Jeff Buckley. Even cooler than his earthy vibe is the fact that fans can snatch up CD's of each concert immediately following his final song.

Division of Laura Lee- Stubb's BBQ
Consider them the latest in the Swedish invasion who barrel with alternative rock insistency and could care less about their buzz band status. The gang was bold enough to mock all the industry big wigs and even those on the bill following them (including a rip at evening headliner Joan Jett). But aside from the snarkiness, its style of pummeling rhythms and growling vocals stood up strong.

The Killers- Diesel Party
One of the more artistically conscious bands of the festival was The Killers, whose concoction of tight harmonies, architectural songwriting and wide ranged vocals rocked this party well into the night. Count these guys amongst the return to retro movement, but with a sophistication and superiority (a la Joy Division and XTC) than most copycat bands claiming such treasured ties. Rumor has it an Island debut with mixing by Alan Moulder is slated to drop this June.

The Thrills- Virgin / Astralwerks Party
They hail from the same home as U2 (Dublin, Ireland) and although they're not trying to nail the same anthemic arena rock sound, there's something especially commanding about The Thrills in concert. The band's single "Santa Cruz (You're Not That Far)" has already been circulated everywhere and talk amongst insiders heralds the gang as worthy to take over The Strokes' throne.

The Sounds- Rockstars
Remember the decadent days when Blonde, Berlin and Missing Persons ruled the airwaves? Well that glorious period is back with new wave revisitors The Sounds. The fellow Swedish sensations took concertgoers back to the early 80s club days thanks to its keyboard heavy blend of delectable pop music couched within rump shaking dance arrangements.

The Von Bondies- Stubb's BBQ
Apparently, the "The" band fad hasn't faded away, but just like the aforementioned acts who share the same pre-fix, these Motor City madmen have carved out a havoc filled niche of their own. The recent Warner Brothers dotted line inkers meld dissonance filled garage rock with straightforward punk, inserting a hint of classic rock and roll to insure a sweat fest every time they take the stage.



| | |
| --- | --- |
| Marc Broussard | Antigone Rising |

Back In Action-

Cake- Austin Music Hall
On the newer but still highly established front, sunny sardonic rockers Cake previewed a fresh Columbia Records CD slated to bow this summer, after which they'll take to the road for an interactive dose of reggae rung wit. Aside from new cuts, classics like "Never There" and a clever cover of Gloria Gaynor's "I Will Survive" ruled the night.

Wayne Coyne- Convention Center
He may be in between albums with The Flaming Lips, but that hasn't stopped this front man from making public appearances. In a conference interview, Coyne shared of how his band found success outside of radio (aside from a few fluke hits) and why fans are still loyal, despite the Lips' constant display of stylistic shifts.

Little Richard- Convention Center/ Austin Music Hall
The rock and roll originator treated fans to seminar, press confidence and concert in an exhaustive day of appearances, and no matter what the format, the 70 year old was simply delightful. Whether watching him play "Good Golly Miss Molly" or "Tutti Frutti" on stage or hearing about his rise to fame and songwriting style in a sit down session, Austin was in the presence of living history.

Kris Kristofferson- Town Lake Stage
One of folk's most revered songwriters treated Texans to a free outdoor concert hosted by brand new Big Apple magazine Tracks. The graying legend grazed through his greatest hits with just an acoustic guitar and harmonica playing to a stadium styled crowd with story filled intimacy.

Glen Phillips- Time Out New York Party
Most will recall this troubadour as the front man for Toad the Wet Sprocket, but as of late Phillips' solo career has spun off quite nicely. Cuts from his self made debut Abulum were sparse but satisfying, as were previews of his forthcoming sophomore attempt. A return to the Toad era for a solo acoustic take of "All I Want" also tickled fans' fancies.

For more information about all these artists and the countless more that performed during the festival, log onto www.sxsw.com.


| | |
| --- | --- |
| Von Bondies | The Killers |
Here's Your Chance to.... Respond!


Your feedback will be featured on
Rant or Rave within 24 hours.