Review and photos by Andy Argyrakis

Every year earnest music lovers make their annual pilgrimage to the live music capitol of the world for a look at the hottest rising stars, most notable established acts and old timers attempting to stage a comeback. But the bar seemed to be set even higher than previous years at 2006's South By Southwest (SxSW) Festival given the fact it was the event's 20th anniversary. As a result over 1,000 buzz building and heritage artists from all over the globe took the stage at dozens of venues attempting to connect with crowds of industry insiders, fellow musicians, and perhaps most importantly, fans.
However, one common thread throughout all those years is the crazy time attendees have keeping their schedules straight over the extended long weekend. From late Wednesday night through the wee hours of Saturday night, all were forced with the dilemma of having so many bands to see in so little time. As a result, downtown Austin was lit up like a pre-Hurricane Katrina Mardi Gras, packed with people down the center of the street darting in and out of venues. And there were plenty of ways to catch an act, from the mighty Austin Music Hall (easily the size of the Aragon Ballroom in Chicago) to the more Metro-like vibe of Emo's or Elysium. But either way, the action was endless, as evidenced in ConcertLivewire's round-up of the coolest (and occasionally not so hot) SxSW shows:

Morrissey: One of the most reclusive rock stars of the last two decades made not only a concert appearance at the Austin Music Hall, but also spoke to Austin Convention Center crowds during an insightful interview. The double whammy came with the announcement that this former front man for The Smiths will be releasing his first studio album in two years Ringleader of the Tormentors on April 4. Aside from offering up details during the talk (the record is produced by David Bowie/T Rex alum Tony Visconti), Morrissey provided a riveting concert covering most of the new material, which picks up right where 2004's comeback You Are the Quarry left off.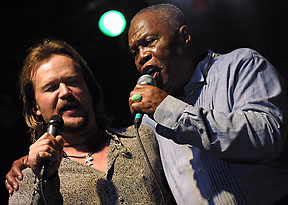 Sam Moore (with Travis Tritt): Anyone trying to remember where they've heard the name Sam Moore before are sure to figure it out when saying he's a bonafide "Soul Man." As a member of the indelible soul duo Sam & Dave, that was just one of a solid string of singles that also included the funk dynamite blast of "Hold On, I'm Comin.'" Besides offering these nostalgic necessities with an unwavering range, Moore moved into current contexts for a preview of this spring's Overnight Sensational CD. To help him celebrate, the legend called upon country heavyweight Travis Tritt as a surprise guest, who bolted through the rhythmic rootsiness of "Riding Thumb." Aside from the aforementioned, this could've very well been the show stealer out of the entire line-up, while also demonstrating the impulsiveness of the festival firsthand.

Flaming Lips: Speaking of spontaneity, this group's name might not have appeared in the event's official program, but the Wayne Coyne led operation still made a surprise appearance at the nightclub Eternal. Imagine the gang setting up shop in a venue as cozy as Chicago's Park West, but bringing its usual array of beach balls, confetti and costumes. Beyond that signature blend of spectacular silliness, the group uncovered its April 4th release At War With The Mystics. As hinted at in the set, the disc's direction takes on a heavier rock and roll demeanor melded with spacey grooves and slices of cyber funk.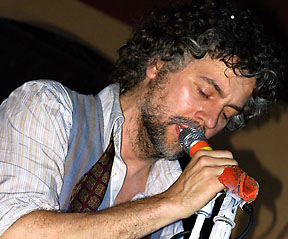 Ray Davies: The one time leader of The Kinks may have tipped the scales past 60, but his relevance remains thanks to a stellar new record called Other People's Lives. In a very exclusive storytelling presentation in a meeting room at the Austin Music Hall, the singer/songwriter treated a few hundred lucky fans' to the disc's stripped down sensibilities and acoustic intimacy.

K.D. Lang: She may not have performed, but K.D. Lang still attracted a legion of followers to a public interview at the Austin Convention Center. The reason was went beyond talking about her accomplished career (which is best known for the hit "Constant Craving") but to also lend insight into her April 25th release Reintarnation. The project (complete with a cover reminiscent of The Clash's London Calling) is a retrospective of her career thus far, leaning heavily on her country roots, Americana influences and an insurgence that dives much deeper than this artist's radio material.

The Pretenders: Front woman Chrissie Hynde took time to share with faithful her thoughts at the Austin Convention Center on The Pretenders' box set Pirate Radio. The four-disc career retrospective traces the group's greatest hits, demos and a plethora of rarities found only on this collection, some of which Hynde admitted didn't bring back the fondest artistic memories, but would no doubt be just what the doctor ordered for fans. A concert culling the 80s icons most memorable chart toppers also coincided at the outdoor Stubb's BBQ (one of the city's most famed venues and restaurants).

Lyle Lovett: The Lyle Lovett look of massive puffy hair and a face that could instantly be picked out on the street has only added to his appeal as an artist. The fact that he's one of the best troubadour's in the current alt-country/Americana wave (and just about every other genre in between) only adds icing to the cake. Whether performing the recent "My Baby Don't Tolerate" or older gems from his storied career, the singer subtly strummed his way through a brilliant set for southerners and north folk alike prior to The Pretenders. ("That's right, you're not from Texas, but Texas loves you anyway."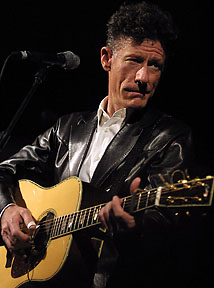 Jamie Cullum: He may only be in his twenties, but Jamie Cullum could very easily give Harry Connick, Jr. a run for his money or light a fire under the somewhat stagnant piano playing stool of Billy Joel. The fireball of energy is consistently diverse in concert, turning from old school jazz to a more modern swing approach, while covering ultra cool artists like Radiohead within his sophisticated cocktail club arrangements. The fresh Catching Tales has already proven to be an incredibly strong seller out of the box and Cullum's literally sold out the tour in support of this ambitious album.

Rosanne Cash: The outdoor Town Lakes Stage could be considered a mini Taste of Chicago with free concerts featuring major entertainers. Rosanne Cash certainly fit the bill, exploding with insurgent roots rock and country backed by a band of Americana appreciators. The daughter of "The Man In Black" is touring in support of January's Black Cadillac, a record tracing the grief and emotional tussle of losing both her father and stepmother June Carter Cash within a very close proximity.

The Little Willies (featuring Norah Jones): Though the star power was nearly as notable in this opening act for Cash (given pianist/singer Norah Jones' participation) the results weren't nearly as favorable. Rather than turning towards her usual jazz pedigree, the easy going crooner put on her country and western hat, often offering a nod to Willie Nelson and other true Texans. Though the band (which also included a stand-up bassist) was undeniably skillful, Jones would be best sticking to her day job, while fans of that work may want to steer clear of this self-titled March 7 effort.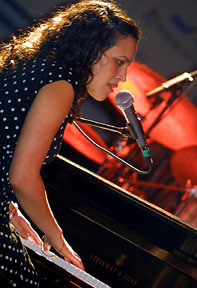 Ben Taylor: His brand new disc Another Run Around the Sun is already on store shelves, but singer/songwriter Ben Taylor is still in the process in acquainting himself with acoustic rock connoisseurs. After literally a minute of viewing at the Austin Convention Center, it was hard not to become infatuated with his comforting sounds and casual swagger in addition to storybook songwriting. Though he's already been on tour with Tracy Chapman and his mom Carly Simon, he just so happens to also be the son of James Taylor, a man who's footsteps he'll likely follow.

Matthew Sweet and Susanna Hoffs: He may be best known for his work as a solo troubadour and then for time in The Thorns while she is most recognized as fronting The Bangles. It may seem like a strange combination, but this duo had remarkable chemistry at notable bar The Drink and seemed to be on the same page with their forthcoming specialty project. Coming April 18, Under The Covers Vol. 1 traces each of these artists' favorite songs by other artists, including somewhat rootsy renditions of The Beatles, Bob Dylan and The Velvet Underground classics.

Artists on the verge: After The Arcade Fire burst out of the box a couple years ago, all eyes turned towards its record label Merge. It just so happens that Austin's very own Spoon is signed to that outlet, though the indie icons have actually been around a lot longer than its David Bowie loving pals. This is one group deserving of additional attention, especially given the grander scale of last year's Gimmie Fiction, which straddles the line of potential influence from late 70s era Rolling Stones to recent Wilco outpourings.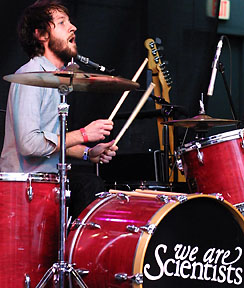 Another one of Austin's very own The Palaxy Tracks also delivered a satisfying outpouring of muscular backbeats and dreamy soundscapes from Twelve Rooms (think Brian Eno on steroids). Front man Brandon Durham continues to overflow with emotion on stage, while drummer Chuck Harling (also of the Ellen Rosner Band) provided a smooth and steady flow to anchor the aggressiveness.

Fellow road warriors Mates of State have spent the better part of the last decade building up its organ/keyboard derived garage rock, at times melding the likes of classic Blondie with the experimental trickery of Beck. On a more organic note, singer/songwriter Sonya Kitchell wooed audiences on the side stage before Lyle Lovett's set at Stubb's. Her country tinged collection of songs (off of the forthcoming Words Came Back To Me from Starbucks' Hear Music series) was peppered with folk nuances and dipped into jazz, plus a mixture of mature and amusing songwriting. Yet the real talk of the town was Tapes 'n Tapes, a Minneapolis troupe riding high of its critically acclaimed The Loon album. Consider the material a cross between the Pixies and Pavement with a delectable dance groove that could make even the most pretentious shoe gazer start shuffling.

Over rated rockers: Buzz can also build in a less constructive direction, especially when the rants, raves and accolades don't live up to what an act can pull off in concert. Take for instance the Brooklyn/Philadelphia bred Clap Your Hands Say Yeah, who've been bragged about for months in all the cool magazines but left a lot to be desired. Granted, the group had to come last on the bill featuring the random insertion of the Flaming Lips, but popping on a half hour past start time began to grate on the packed room's patience. It wasn't that the guys aren't talented and capable of delivering an enthusiastic rock & roll outpouring, but it's all been done before with much more bombastic results.

Also along the derivative lines were Saddle Creek's signees Two Gallants, a duo that kicked up the dusty elements of The White Stripes and The Black Keys, but nowhere near the degree of those established heroes. Virgin Records' We Are Scientists reexamined the whole return of the 80s phenomenon, but unlike Interpol and The Killers to a certain extent, its pop lacked the punch. But even this handful of less than ideal experiences, there was still plenty to savor at SxSW's double decade celebration, which also signaled a full-fledged spring season of CD releases already becoming a point of salivation.