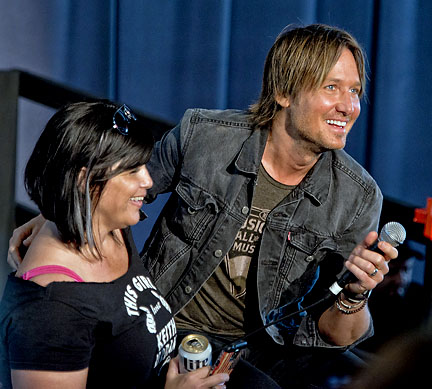 Keith Urban: Up close and personal

May 12, 2015

Keith Urban gave a interview prior to his headlining set at the New Orleans Jazz and Heritage Festival on April 24, 2015. at the Alison Minor Stage. Urban is presently one of the judges on American Idol. This is Keith Urban's second appearance at Jazz Fest since hurricane Katrina. The interview was conducted by Keith Spera, a writer for a local newspaper.

KS: Let's get it out of the way. First off. Big controversy this week. Quinton Alexander from Louisiana was voted off of American Idol this week. Did you see that coming?

Urban: On one hand. it was a big bonus. He was an extraordinary artist. The other side of it, it's amazing that he kept staying in as long as he did because in a lot of cases when you are that original, you don't appeal to a lot of people. It's a testament to his spirit and him as a person, people kept loving him and voting him through every week. I'm glad he lasted as long as he did.

KS: Quite obviously, to be a judge on the show, it's a responsibility because you are holding people's careers in your hands.

Urban: Yes and no in the sense that it's a moment on a journey. And a lot of them have years and years of career ahead of them. Many moments.

KS: You, I imagine, are especially sympathetic to folks on these shows because you spent many moments on these talent shows a young whippersnapper in Australia. I'm thinking of a particular show. Taking you back to 1983, you were sixteen years old, on a show called New Faces," do you remember what you performed?

Urban: I only know because I've seen them on YouTube. I don't remember doing those shows which is so weird. I did a few of those kind of singing shows when I was younger. The first one I did was called "Pot of Gold." I was nine years old and my mom and dad thought I should go on a show and I went on and sang a country song of some sort. And of course my parents didn't have VCRs or anything of that sort. So my dad got a little shoebox cassette recorder and put it up next to the speaker of the TV so that they could record me, the audio part anyway. He also thought it would be great to record the judges comments as well. He came at me like a tsunami on the Nye. I had that thing burned into my brain for years. This one guy called Vernon King came at me, part of what he said, and I am quoting him, 'I definitely encourage you to escape the mediocrity of country western music and get into some real music.' I'm nine. 'Otherwise you'll end up sounding like Dolly Parton and being absolutely useless.' And he said 'kindly learn to sing in tune because you are intrinsically a good musician.' I remember listening to this feedback and asking my mom 'what does intrinsically mean?' She said it means that basically you are a good musician. I said well, cool. I just discarded the rest of that junk and hung on to that bit.

KS: I'm intrigued by a song you chose. It was "All Out of Love" by Air Supply. Were you just representing fellow Australians? Didn't you want to do Men at Work or INXS?

Urban: I wanted to do that song. I was in my cover band days. I guess that was a song we were doing that song at the time. I did a lot of those shows, "The Pot of Gold Show" and I did another show called "Have A Go Show, Stairway to Stars."

KS: Was your dad's record collections what introduced you to country music?

Urban: Yeah, every Merle Haggard, Johnny Cash, Charlie Pride, Glen Campbell, Waylon, Willie, everybody, lots of good stuff.

KS: As a six year old boy, you went to see Johnny Cash?

Urban: At five or six, it was the first concert I ever saw, Johnny Cash. I don't remember much of it. A Johnny Cash crowd was a particularly rowdy crowd," he said. "Like New Orleans - crazy, rowdy, way too much blood in their alcohol system. That was the kind of crowd that was there. Awesome energy in the crowd. I remember it being loud and happening, good spirits. It was like New Year's Eve. and then they turned the house lights down and this guy comes out and starts singing. "I just remember this figure way in the distance, on the stage, spotlight coming across," Urban said. "Standing there with just his guitar, and the whole place went dead quiet. I just remember thinking, 'What is going on up there for that to happen? I never remember seeing anything like that on television or anywhere. It was extraordinary.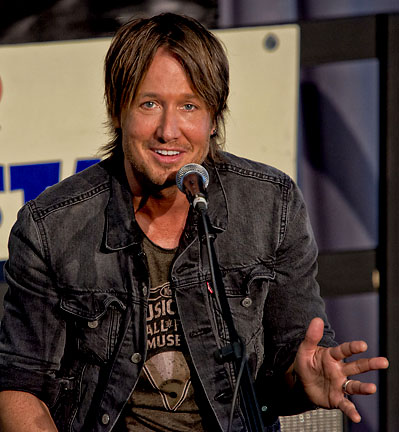 KS: Did you ever get to tell him this story?

Urban: I never met Johnny Cash. It's such a shame. There's a couple of people. I wish I had met Waylon or John.

KS: Listening to records, country music as a kid, kids sometimes tend to rebel to their parents music. I know my dad listened to Fats Domino, Little Richard, all those sort of things. At the wisdom of my teenage years, I dismissed all that stuff.

Urban: What did you replace it with?

KS: Rush, Motley Crue.

Urban: Wait a minute. Fats Domino out the window, replaced with Motley Crue?

KS: I was a teenager. What can I say? Did you ever go through that period where you rejected country music?

Urban: I never did. I think there a lot of country music clubs in Australia. There still is a lot of amateur country clubs in Australia. People who love country music join these clubs in all these different cities. My parents joined these clubs when I was nine. They had these functions every two weeks at the local hall. If you wanted to sing you could put your name on a list and do a song or two. Kids would sing. Parents would sing. It was a really cool club to be a part of. Once a year all these clubs would come together in a chosen city and they would all compete for three days. So I grew up in this culture. The kids I hung out with were members of these clubs. So it wasn't an unusual thing for us when I started playing these clubs at eleven or twelve. I'd sing peppered songs, primarily country, but I'd mix it with everything else.

KS: Was there ever a time when you wanted to be a rock 'n roller? Was that ever on you radar at all or this is all you ever wanted to do?

Urban: Country always felt like my home. Everything I did seemed to be on top of it. So it was underneath it all. I was in one non-country band when I was about sixteen or seventeen, something like that. It was called Fractured Mirror. Edgy. So, I'm thinking, it probably was that period of mine. I'm doing intra-walk thing. This was a serious heavy metal band like Whitesnake, Judas Priest, full on English heavy metal. I knew nothing about. The guitar player wanted to be the lead singer. 'I don't want to play guitar anymore. Here my Marshall Stack. I'll loan you that. Here's my amps. You be the guitar player. Plug into there. I'm going to be the singer.' I thought great. I got the black leather jacket. I got the Marshall Stack. I got my friend's Stratocaster. I put the pickup in the back. I'm the heavy metal dude now. And right about that time, I discovered Ricky Scaggs. True story. I had an album called "Highways and Heartaches." I had an album called "Waiting For the Sun To Shine," And I was so into this record and there was this guy called Ray Flack who was the guitar player on that record and Albert Lee. I was getting into all these 'chicken pickin' cats right at the time I'm in this band. So I'm in this band and we were busting out like "Blackout" by the Scorpions and I'm doing my chicken pickin guitar licks with the Marshall Stack. "What the hell is that? What are you doing?" They fired me.

KS: And you are better off for it. Yes!

Urban: Fast forward a bunch of years and I'm playing in the clubs and I'm doing a mix of rock, country, what ever is on the charts and in 1988 and John Mellencamp is touring Australia. He's just put out "Jubilee." I love that record. It's got fiddle on it, acoustic guitar, and accordion. It's got the rootsy lyrics. It's got a rock thing going on. I went to see him in concert and I swear it was an absolute epiphany. What I learned that night was (that) you don't have to do any specific thing. Just take all the things you love, fuse it together and do your thing, whatever your thing is. I still get chills thinking about it. I left that concert with such clarity about the things I wanted to put together to make my sound. So, I thank him for that.

KS: Did you ever get to tell him that story?

Urban: I did. I told him that story. It was so cool. Because who would have every thought that umpteen years later I would get on the phone with him. He was interviewing for this magazine and I said I gotta tell you this story. I told him the story and he was floored. He said you never know, you are touring the world and in this little town in Australia and you never realize the effect you can have on somebody. For me it was profound.

KS: Did he, then, ask you for a percentage of your royalties?

Urban: He did. Yes.

KS: So you get a record deal in Australia. I imagine that Nashville was your goal all along. You get to Nashville in the early '90s. How did it or did it not match up to your expectations?

Urban: I came to Nashville in 1989 with a demo tape that I thought was pretty cool. I look back now and it was terrible. Terrible demo, crap songs, crap recording. I don't know what I was thinking, but it's all relative to where you come from. Where I was from, it was pretty good. From Nashville, not so good. God bless the people who listened to it, who supported it, but I was way out of my league. I loved Nashville the second I got there and I didn't want to leave. I just wanted to stay.

KS: You initially tried your hand in the professional songwriter circle where you guys scheduled sessions and all that. It was tough and my understanding was that didn't necessarily jive with you, that sort of scheduled songwriting.

Urban: No, because I don't really think of myself as that way. I think of myself as a singing guitarist, entertainer and I can write a little bit. That's probably the order I put everything in. Nashville is such a writer's town as you know. Clock work. At 10 a.m. we are going to show up. I'm going to sit in the window's room with a yellow legal pad and an acoustic guitar. We're going to write a song with this guy whom I just met. Such a strange thing you know. But from that I learned so much about writing. I learned a lot about how I didn't want to write as well. The way I didn't want to create because it was uninspiring which pushed me over to the way I wanted to create. Working with my drum machine, working with my ganjo. Letting it be more liberated.

KS: When we spoke a couple of weeks ago for the interview that's in the paper today, we talked a little bit about the balance between inspiration and discipline. It takes both. You have moments of inspiration. It takes discipline to take those moments of inspiration and actually make something out of it.

Urban: Yes. There is every now and then a lightning bolt hits and the whole song is done. You nailed it. But other times you need discipline. You know as a writer you need that. You have to sit down and write. You have all these wonderful ideas. You have to build that out.

KS: I know about the lack of discipline. When you look at songs what do you look at initially? What generally grabs you when you are looking at songs to record or working with other people that may have the genesis of an idea? What attracts you to a song initially?

Urban: It could be anything. Turn of a phrase, a melody. The way a lyric hits at that melodic moment. Those combinations of things. I heard Bono talking one time about one of the Brian Wilson songs "love and mercy is what you need tonight"(sung) it not the most bold, fresh, original phrase. When you put the same phrase with a different emphasis on the words in the phrase, with Brian singing it, the whole thing becomes magical. Anything can get my attention.

KS: Obviously at this point in time, you are looking at the cream that comes out of Nashville. You are looking at your pick, I imagine, when you are making an album, of songs that comes out of Nashville.

Urban: I get to look at a lot of songs, but it's a town where everyone is looking for a great song particularly for a lot of people who don't write. There are a lot of artists who don't write. It's never ending. Waiting for that song that comes along. For me it was a song called "Cop Car." I love it. It was such an interesting story about falling in love in the back of a cop car. I had never heard that before and it was such a strong image and I could relate to the song. (laughing from the crowd)

KS: Was there a point in your career that you realized that 'okay, I'm going to be able to do this forever?' What was the point when you realized 'I'm in,' 'I'm established?'

Urban: I don't know. I always felt like I can play in a club and make some money to pay the rent and pay the utilities. That was early on. I quit school when I was 15 and I was playing in a band five nights a week, four hours a night at 15. So I felt like I'm doing what I'm gonna do. I talked to my mom and dad and (they) said you can leave school when you are 15. I always say this in a way to kids and parents not to support this, but for me in my particular journey, I really wasn't gaining much from school. I was at a public school and the curriculum was pretty basic. I really wasn't learning anything by then. I wanted to get out in life, and start really learning and get to learn what I really want to do, that is playing music. I was lucky to have parents who supported that. I think from then at 15. I can cover all my bills by just playing music.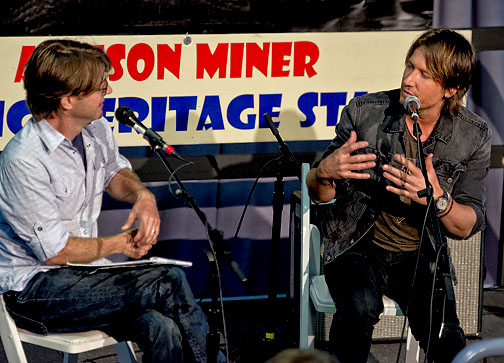 KS: So, FYI everybody we are going to take a few questions at the end. Please no American Idol auditions. Turning to Keith, There is kind of a percussive nature to your songs. You write on an instrument that a lot of people may not be familiar with, called the ganjo?

Urban: Yes, I do. Do you want to hear it? I don't have the one I normally use, but I have this one. It's a six-string banjo. I never say I play banjo. I can't play banjo because it has five-strings and out of respect for banjo players, I say I can't play a banjo. I was in a band called the Ranch in the early nineties and we recorded an album around ninety-five, ninety-six. I had a song I wanted a banjo on and a guy came in to play on the session. I was trying to translate my ideas to him and it was so frustrating and I remember thinking I wish I could play banjo, but there is a peg over here and it has five strings. I remember thinking I wish they made a six-string banjo. I could do my thing. I walked into a music store two days after that. I saw a six-string banjo and it was like ah!!! The light was shining on it. I bought it. I took it to the studio and I played it on the album. Everything kind of clicked. I put it on another song and then another song. It's been a part of so much of what I've done over the years even though its not featured heavily in a lot of cases. I've written on ganjos. Things like (he starts to play).

KS: Talk a little bit about synergistic engagement with an audience. What you just did with the audience.

Urban: I don't know really. Either we are all here in this moment or we're not. That's really it. I find you go out and you play and I learned something one night. I was playing in a club in Australia. I thought the audience was just not into it. I thought I was playing my butt off. I came off stage and I said to the drummer, "God, what's wrong with the audience?" He said, "Did you ever think it might be you?" Voice from the crowd: No way, brother.

Urban: That's my manger! (laughter) Keep the faith, man. It was a great thing to hear because it has never left me. So, let's figure out what it takes to get everybody engaged.

KS: If you feel like its not necessarily working, will you go to an acoustic thing to jazz it up a little bit? Do a cover song or an Air Supply song maybe?

Urban: Sometimes it's like meeting your girlfriend's friends for the first time. In that you just want to make sure that they know who you are. If you give too much too soon and they go 'whoa, whoa.' Let me get to know you a little bit. Just ease into it.

KS: The first time you played this festival in 2006. You were a little concerned that this was a 'Jazz' festival. Was this going to be my kind of crowd?

Urban: I just wanted to make sure everyone was cool that I was here. It's a jazz and heritage festival. Well, not jazz and probably not heritage. This must be the end. (laughter)

KS: You are working on a new album now. There's been a lot of change in Nashville. What is considered a country song has changed in the last few years. So, as an artist, do you think you can do pretty much what you want in the context of country music?

Urban: I guess I don't think about all that stuff so cerebrally. I just try to make a record that feels right for me. It just must feel authentic at any given time and capture where I'm at. Really the albums are like photographs. They are an accurate photograph and each one I've made so far are all accurate. I mean they are what they are. That's the haircut I had in 1989. Sorry. I wouldn't have it now. That's what it was then. I look back at all my records so far and I can at least say they were accurate.

KS: If you want to start lining up to ask questions, start cueing up at the microphone in the aisle. Do you find it hard sometimes to sing songs from early in your career? Are they still contemporary for you still?

Urban: Yeah, because they mean something different. It's like rereading that book you love if you haven't read it for a couple of years. You won't read it the same. The words haven't changed, but the way you interpret it can change.

KS: Well, all right, maybe you'll play something else at the end. In the meantime, we will take some questions from the audience.

AM: Two questions for you. One of the big transitions in country music for me was when "Urban Cowboy" came out in the '70s. It was like the movement went from disco to country. I'm curious as to what it was like in Australia during that time and did it have an effect on you personally? Number two, I have to ask you about Nicole Kidman.

Urban: Who? (Laughter) Oh, yeah, that obscure, but talented actress.

AM: How did you meet her and how did you fall in love?

Urban: How long do you have? Your shirt says 'one thirsty puppy.' The Urban Cowboy" movie was a huge hit in Australia. It sparked a lot of interest in these massive dance clubs. Like Gilley's with the 27 acre dance floor. It was crazy, that movie and the music, and everything. It probably had a big influence with what I was doing at the time. It was 1980 I think when that movie came out. It's interesting because that film in a lot of ways was a bit of a thorn in the side of Nashville, too. I didn't know much about that until I got to Nashville in the late eighties. There was a lot of the town looking back at that time with a bit of a cringe. They were willing to forget that time ever happened. Country is a funny thing because it comes in to huge popularity at any given time and then it sort of goes back to doing what it was doing. It has always done that. The thing that I love about that is that it always recalibrates itself. It takes aspects of pop and whatever is happening at the time, uses it and tries not to lose its identity. It continues to grow and be strong. What is country is such an age old question. Chet Adkins, when he put strings on a country record, a lot of the town thought that was disgraceful to put a huge orchestra on a country record. What's an orchestra got to do with country music? Where's the pedal steel? Where's the fiddle? Chet made no bones about the fact that they were losing a lot of market share to pop music in the late fifties. They went to rock 'n roll and pop. 'We've got to make country music more palatable to the masses.' Countrypolitan is what happened to country music in the late fifties and sixties. And then you saw artists like Glen Campbell and songs like "Wichita Lineman" and "By the Time I Get to Phoenix." They are pretty lush, sophisticated songs for what had been country music. Even then it was moving and finding its way. Today it's the same as it ever was.

KS: Nicole?

Urban: How did we meet? Fate. That's it.

Next AM question: My girl friend loves you and she is here. Can we get a picture with you?

Urban: Sure! Technically that is a question. Mr. Urban jumps over the rail to pose for the photo.

AM: Hi, my name is Diane. A few years back, I was fortunate enough to attend one of your national bar-b-que's. So, you would ask for a couple of song requests and I was there with my then boyfriend who became my then husband. I shouted out for "Sweet Thing." That was his nickname. It was based on your song. Unfortunately, my husband passed away last year. I was wondering if you were playing that tonight?

Urban: We will now!

AM: I'm Barbara. I want to thank you so much for all the great songs and the great music and turning my ear to country music. The one thing I am curious about is that I have been to hundreds of shows and no one captivates an audience like you. You come down to your audience and you are not afraid of these wild, crazy women. They want to let you know how much they love you.

Urban: It's not just women. (Laughter)

AM: Does that scare you? Why do you feel the need to get that close to your fans when no one else will?

Urban: I think it comes from playing in the small clubs. I just dropped by the "Howlin' Wolf" last night. I remember playing that club specifically. It goes back to that question about when I knew it was happening. We would pack this place out. Everybody knows these songs. That club was really special place in my heart. That place is one of my favorite places to play, like this. Everybody is up close. Where you can lean on the stage. That is the best. The band will never play as good as they do like that. In the big arenas, you can't do it like that.

The session ended with Keith performing "Raise 'Em Up."