Story by Andy Argyrakis and Mike Kane
Photos by Andy Argyrakis

Last year around this time, New Orleans wasn't all that worried about staging its annual Voodoo Music Experience, but rather rebuilding in the recent aftermath of Hurricane Katrina. Though the event's status remained in a constant state of flux, a dialed down version took place Halloween weekend marking the first major post disaster event. In one sense, the Nine Inch Nails-led soiree was a triumph as the first step to reclaim the city, though it was also streaked with sadness given the vast destruction surrounding the grounds. A lot of positive relief efforts have proven fruitful ever since, while the region's musical soul has been steadily rebuilt thanks to Arlo Guthrie's "Ridin' on the City of New Orleans" tour, Mardi Gras and the return of The Jazz & Heritage Festival.

Head honchos

As a result of the gradual resurgence, it was only fitting for Voodoo to expand back to a two day event, beefing up its line-up with additional star power in hopes of attracting concertgoers from the gulf coast and beyond.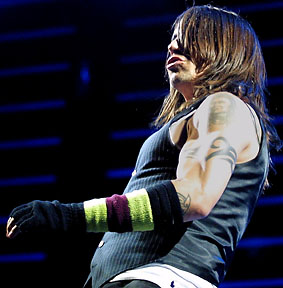 The Red Hot Chili Peppers headlined the first night, merging its soulful rhythms with sun-soaked rock, serving up quite a potpourri of party-flavored tunes. The group seemed to be in the spirit, at least more than it did during a sluggish Lollapalooza show, turning in less of its flat footed double disc Stadium Arcadium and a more ample assortment of its spicy flavors. "Scar Tissue" highlighted singer Anthony Kiedis' charisma early on, "Blood Sugar Sex Magik" was propelled by Flea's funky bass lines, while "Dani California" was the current disc's best example of the band's vivacious personality. But even with those bountiful steps forward, the group gave way to several long winded solos that walked closed to the self-indulgence line and crossed over on several occasions.

The following evening featured funk of a different breed from Duran Duran, who sported some love for Sly & the Family Stone during the horn laden single "Notorious." Throughout the weekend's 90-minute finale, Simon Le Bon and company cruised through its catalogue of sweet synth sounds, adding a slight R&B twist with female background accompaniment and a saxophone player. Aside from a handful off the current Astronaut album, familiar favorites such as "Hungry Like a Wolf," "A View To a Kill" and "The Reflex" recreated a classic 80s club vibe. Those tunes, along with "Wild Boys" and "Rio," were also tangible examples of how current dance rockers The Killers, Kasabian and even Interpol to a certain degree gleaned influence from the group, keeping Duran Duran cool in the midst of its campy glam appeal.

All the rage

Aside from the top two on the bill, there were several other reasons to celebrate, including an extremely well attended set by My Chemical Romance. Though the group is currently one of the hottest, teen friendly acts in alt rock/emo/neo-punk circles, it actually boasted the stadium filling grandeur of old school Queen with the intermittent goth nuances of The Cure or Morrissey.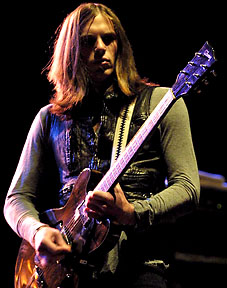 The darkly clad men went totally over the top in showmanship, capturing the attention of even the previously uninterested, especially with the strength of its instrumentally intricate single "Welcome to the Black Parade."

Kings of Leon followed a close second when warming up for Duran, capping off an exceptional week that also found them opening two shows for Bob Dylan in Chicago. The group cut to the chase with its foot stomping garage psychedelics, culling mostly from last year's Aha Shake Heartbreak and similarly structured samples from a future release. In completely different contexts, country barnburner Shooter Jennings continued the legacy of his legendary father Waylon. The young gunslinger offered a Tex-Mex blend of the genre and put to shame any of Nashville's commercial posers, while also incorporating an obvious affinity for rock n' roll grandeur.

Rebellious punk rockers Social Distortion remained fierce in spite of members' escalating ages (recalling the days before Panic! At the Disco and its poppy cohorts were destroying the genre's name), while a more straight forward blender of roots rock and rockabilly branded the Drive-By Truckers' savory sounds. Brand New Heavies and Kinky both demonstrated jazz, hip-hop, funk and Latin slices, though Brazilian Girls took that cocktail sipping vibe to even greater heights with shots of electronica and reggae. Jack's Mannequin (the alter ego for Something Corporate's Andrew McMahon) veered away from the band's watered down pop/punk direction, to offer piano pop a la Ben Folds in both performance style and songwriting structure. And no one could overlook The Flaming Lips, who always turn in an exceptional live show packed with ingenious production values. Wayne Coyne and his crew continued on its 2006 festival rampage with several space rock serenades, body encompassing crowd surfing bubbles, plus a background choir of aliens and singers dressed in Santa Claus suits.

Local legends

Another highlight was a reunion performance by The Meters, featuring its original members Art Neville on organ, Joseph "Zigaboo" Modeliste on drums, George Porter Jr. on bass and Leo Nocentelli on guitar. The core four spent most of the past 25 years apart, prior to which they toured with the Rolling Stones and provided the rhythm sections for Paul McCartney, Dr. John and Patti LaBelle. In listening to these funk masters (arguably the founding fathers of the genre dating back to 1967) it's apparent everyone from the Chili Peppers to George Clinton to the String Cheese Incident were inspired by their licks. And the revived entity went beyond simply flat out funk to incorporate the blues and just about every other New Orleans staple into its riveting set.

Not so hot

No matter how much enjoyment came from the aforementioned, there were still some duds scattered about the diamonds that would've been best omitted entirely from the line-up.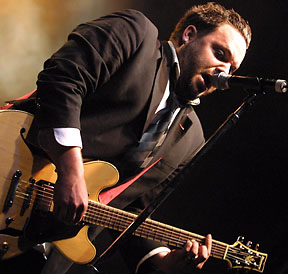 Ozomatli provided a sonic wall of fire, but its salsa ramblings turned tedious and overbearing after continued repetition. Hard rockers Blue October tried to channel the swagger of Peter Gabriel and other 70s prog masters, but resorted to barbaric overtones better suited for Creed or Nickelback. Slidell's very own Juvenile added additional diversity to the bill with his rap and hip-hop banner, but his concert couldn't compare to the studio version of Reality Check. The problem was twofold for the emcee- the first being the constant need to waste time with shout outs and interludes, the second being his lack of a live band and reliance on a less than stellar DJ with an absurd entourage. Wu Tang Clan would've probably been much better, especially considering the troupe's veteran status, but that was impossible to gauge considering they didn't show up. While members were never exactly the most reliable (and reasons for this cancellation remained undisclosed) its slick, street savvy rhymes and members' flavorful personalities would've added an extra flair to the already celebrity packed festivities.