Story and photos by Andy Argyrakis

When the Star Plaza Theatre announced its latest triple bill of Philly soul and old school R&B, the line-up included The Whispers, The O'Jays featuring Eddie Levert, along with Gerald Levert (Eddie's son and one time member of LeVert and LSG with Keith Sweat and Johnny Gill).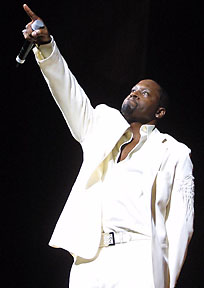 But in between the time tickets went on sale and the actual concert date, tragedy struck when Gerald Levert was suddenly pronounced dead on November 10, 2006. Though it's unclear exactly how he passed, many have suggested it was from a heart attack, though regardless of the reason, the "teddy bear" crooner will be greatly missed.

Of course having his father's group, longtime tour mates The Whispers and former collaborator Gill as a replacement on the bill made this second show in a two night stand especially emotional, turning the focus away from each individual artist and onto their fallen friend (who last appeared in Chicagoland with Gill's semi-reunited version of New Edition and balladeer Brian McKnight at Northerly Island Pavilion in 2005). Immediately following this incident, The Whispers were especially vocal on their website (www.thewhispers.com), seeking prayers and support for the entire Levert family, which they continued calling for at the poignant concert.

The group is currently touring behind For Your Ears Only, but poured through its entire thirty year catalogue of quiet storm/R&B hits with an homage paying tone, though members made sure not to forget their underlying club grooves and romantic undertones.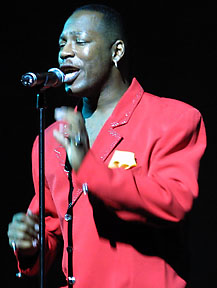 The L.A. Reid/Babyface produced "Rock Steady" served as one of the night's most memorable moments, flashing back with rippling bass beats and dusty appeal. The foursome dipped even further into the vinyl era to unveil "And the Beat Goes On," a dance floor packer akin to the more funky flavors of the Isley Brothers. Of course, none of The Whispers' shows could be complete without chilled rhythms and bedroom tenderness, which arrived via "(Olivia) Lost and Turned Out" and "Keep on Lovin' Me."

In the spirit of "the show must go on," The O'Jays took the stage to a resplendent response, choking back the tears to deliver a polished, hit-filled show of its standards. The Philadelphia-bred band cruised through several of its sassy selections, including "Back Stabbers" and "Use Ta Be My Girl," carried by an obviously shaken though surprisingly strong Eddie Levert. Additional highlights included the funk flanked "For the Love of Money" and the throw down jam "Give the People What They Want," peppered by a nine piece brass section. The crowd and even Gerald's surviving children also joined in loud and proud come "Love Train," arguably one of the group's most enduring selections given its equality-based theme and thick harmonies.

Gill was certainly shaken as well by the recent turn of events, but also pulled off his set of solo selections and Gerald covers with professionalism. Though he hasn't been around nearly as long as the others, the baritone singer possesses an impressive range, that was equally apparent on "My, My, My" and "Fairweather Friend" (an anthem of unconditional support beyond only the positive moments). And while each of these artists have had their fair share of struggles throughout this month, that latter track provided an inspiring message of kinship, reminding everyone gathered to seize each day since the last one could come at any moment.