Story by Tony Bonyata
Photos by Phil Bonyata

They may play to thousands in their motherland, but here in the basement club of Milwaukee's Eagles Ballroom the Australian rock trio Wolfmother were only able to muster up a few hundred fans. Albeit a few hundred appreciative and rabid fans.
Perhaps the buzz surrounding Wolfmother isn't big enough to pack a small club in southeast Wisconsin yet, but after this particular show it certainly will be the next time they come through town. That's because this motley trio delivered an incendiary live show that distilled all the essential oils from early '70s hard rock, while at the same time discarding many of the cliched trappings - save for singer / guitarist Andrew Stockdale's Nagasaki-nuked 'fro. From Stockdale's high-pitched vocal warblings, which at times resembled that of The White Stripes' Jack White (most notably on the high voltage stomper "Apple Tree"), along with thick slabs of Black Sabbath-inspired guitar riffs and stinging leads, to drummer Myles Heskett's rock-solid rhythms and exaggerated stage histrionics of whirling-dervish Chris Ross flying around the stage with his bass and manhandling his keyboard, this was a band successfully staking their claim as one of the hottest new rock acts to emerge in recent years.
The band wasted no time putting the crowd in a collective head-lock as their set blew open with the lead off powderkeg, "Dimension," from their newly released self-titled debut. The threesome continued to blast out song after song as if being shot from a canon. Even though the audience was much too young to remember when hard rock bands such as Deep Purple, MC5, The Stooges and Black Sabbath roamed the earth, they at least got an authentic taste of it through Wolfmother's bombastic homage to dinosaur rock.
Opening for Wolfmother, the Louisiana-based trio deadboy & the Elephantmen delivered a sound set of harrowing rockers ("Stop, I'm Already Dead" and "Blood Music") and beautifully tragic ballads ("No Rainbow," "Evil Friend," "Dressed in Smoke" and "How Long The Night Was") from their Fat Possum debut We Are Night Sky.
While originally being packaged as a boy/girl duo (much in the same fashion as The White Stripes), singer / guitarist Dax Riggs and drummer Tessie Brunet have recruited Houma, LA compatriot Alex Bergeron on bass - bringing a fuller, even more realized texture to many of the engaging compositions performed.
Despite lacking the explosive stage presence of the headlining act that night, deadboy & the Elephantmen, nonetheless, delivered a solid performance with Riggs' deep, passion-soaked vocals that married perfectly with Brunet's simple, yet hard-hitting style of drumming.
| | |
| --- | --- |
| Wolfmother | deadboy and the Elephantmen |
| deadboy and the Elephantmen | Wolfmother |
| Wolfmother | Wolfmother |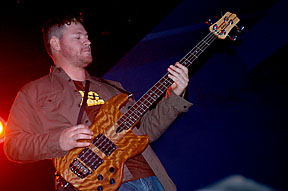 deadboy and the Elephantmen
Here's Your Chance to.... Respond!


Your feedback will be featured on
Rant or Rave within 24 hours.