>Review of Apostle of Hustle and Photos by Matt Schwenke
Review of Andrew Bird by Matt Richter

In the field, the veteran bird watcher typically brandishes a worn species guidebook, dog-eared for quick reference to anticipated winged species that most likely will show their plumes. At Alverno College's Pitman Theatre, however, myself and other seasoned Bird watchers knew better than to carry dog-eared expectations of the evening's performance, and anticipate only an open-mouthed, awe-inspiring set.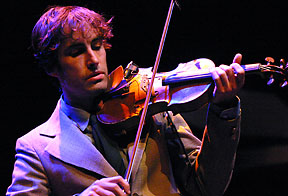 True to form, Andrew Bird delivered a night unique to his past two visits to Brew City in 2005 and 2006, mixing new material with old in a memorable show tailored to the nondescript auditorium.

Singer, songwriter and multi-instrumentalist Andrew Bird represents a new species of talent among today's musicians. Classically trained, armed with a BA in Violin Performance from Northwestern University, this Chicago native has for more than a decade enjoyed a light rain of critics' labels, each attempt to categorize his sound falling harmlessly on his crinkled gray sport coat before beading up and brushing off. The only label that sticks is original. Bird's blend of rock, folk, classical and pop, of vocals and vibrato whistling, of violin, guitar and glockenspiel, have earned him accolades across the board of today's musicians as well as a devout following. Stopping through the Midwest on a spring tour to celebrate his seventh and latest studio release, Armchair Apocrypha, Bird brought his two now usual live cohorts, drummer and keyboardist Martin Dosh and multi-instrumentalist Jeremy Ylvisaker, to a larger, quiet crowd on Milwaukee's south side.

From the upper balcony, thin cracks run down pale-cream cement walls to a crowd of 20-somethings to 50-somethings shuffling to their seats. The bland, tall auditorium narrows toward a low stage littered with cords and unmanned instruments.

As Dosh sits behind a drum set and Jeremy grabs a bass guitar by the neck, Bird bends to retrieve his violin. He lowers his chin to meet the dark wood, and pushes and pulls the bow to create a haunting, familiar sound. He records a few notes, then loops it and switches to guitar. He takes off his shoes, revealing red-toed socks, and starts to pick the strings and whistle, adding layers to produce a rich cacophony of instrumentation seared by his unparalleled creativity. Throughout the night, he meanders between new material from Apocrypha's slightly louder titles backed by Dosh and Jeremy like "Fiery Crash," "Spare-Ohs," and "Heretics"...and older tracks from past albums...more subdued and melancholy, some he plays solo.

From fresh songs sporting a faster tempo and unique layers to quieter tunes, Bird spouts poetic lyrics in a delicate voice as he jerks his shoulders back and tips his head to his own sound. In "Plasticity," a song he wrote while in a dark hotel in Normandy,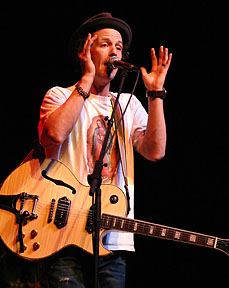 Bird never stands still, always pacing, stepping on a pedal to record a loop, or quickly switching instruments. His drive for perfection and pride in his work shines through during a Bob Dylan cover; Bird plays the opening notes over and over again, each time mumbling to the audience, "No...Almost, but not quite right," before finding his mark and playing the rest of the song.

From quiet corner taverns to sold-out auditoriums, Bird's assent to singer/songwriter fame remains unfettered by clingy labels. His Pitman Theatre performance reinforced for Brew City natives what intrigued ears across the nation already understand: his genre-defying sound bucks contemporary trends and fuels a growing need for more things Bird.

Less of anomaly, but no less palatable or intelligent along side Bird and company, the Toronto-based five-piece Apostle of Hustle, who is fronted by Broken Social Scene guitarist Andrew Whiteman, served as a noteworthy supporting act with some infectious grooves and texture-laden songwriting of their own-- notably "National Anthem of Nowhere" from their 2006 release with the same title. Somewhat unique in arrangement, and more importantly so in actual use of instruments, percussionist Danielito "el suerte" Patanemo bridges a wide gap with innately grounding, world beats, between "Dead End" Whiteman's rockabilly flair for lo-fi fuzz and heady lyrics and the progressive mix of synth and guitar from multi-instrumentalist "No End" Justin Mctavish.

Some upright bass by "Mile End" Julian Brown also goes far in expanding their sound. "My Sword Hand's Anger," "NoNoNo" and "A Rent Boy Goes Down" leave the band defiant to any one particular label yet somehow rather universally digestable-- much like Bird. Perhaps making adjustments on the fly (the Pitman theatre show was just their second on the tour) or dealing with some sort of random snafu, the band was slow to heat up, and their opening slot cut their set just as they seemed to be running clean on all cylinders. But regardless, this group is stoking a signal fire up north that should catch attention well beyond their borders.