Review and photos by Tony Bonyata

Singer/songwriter Ryan Adams has been many things; frontman for the influential '90s alt. country band Whiskeytown, successful solo artist (garnering both Grammy nominations and glad-hands from high profile artists such as Elton John), along with also joining the ranks of rock & roll's enfant terrible - where's he's been known to perform staggeringly shit-faced, as well as treating some journalists and audience members alike with belligerence (misunderstood or not, the terms "jerk," "egotist" and "asshole" have been liberally used in conjunction with his name over the years).

But his intimate, low-key performance last Tuesday night at the historic Biograph Theater in Chicago's Lincoln Park neighborhood (where notorious gangster John Dillinger was gunned down in 1934 after exiting the movie-house) found Adams sharp, sober and in phenomenal vocal form. The 32 year-old brought along his five-piece backing band The Cardinals who, through their twenty-song set, rarely picked up enough steam to break a sweat.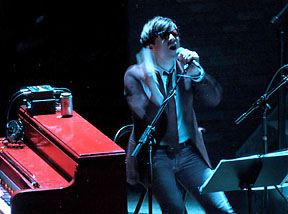 This certainly wasn't their fault, however, as they displayed both amazing musicianship and picture-perfect arrangements. The fact was that the majority of the setlist Adams chose to perform from his four most recent albums with The Cardinals (Cold Roses, Jacksonville City Nights, 29 and the soon-to-be-released Easy Tiger) either fell under the category of sad sonnets, aching ballads or comfortable country numbers.

Adams, preppily clad in sport coat, tie, white oxford shirt and horn-rimmed glasses, sat amidst the band for the entire performance without ever once picking up an instrument. But despite not standing for the entire night, the singer squirmed in his seat with twitching limbs like a fidgety sugar-buzzed pre-teen. Considering that the small stage was so poorly lit for the entire show, though - with just two overhead blue lights which gave the impression they were performing outside by moonlight - it was probably best his arms and legs jerked as if being manhandled by a novice puppeteer, if only to identify which band member the audience had paid to see. But whereas Adams' erratic onstage antics in the past have been fuelled by liquor and drugs, these quirky histrionics were instead an obvious focused passion derived directly from these more introspective compositions and this talented group of musicians. Songs such as the country-fried opener "Please Don't Let Me Go" and the slightly more spirited numbers "Let It Ride" and "Halloween Head," the latter from Easy Tiger, found Adams and his band in fine form, while numbers such as "Blue Sky Blues", "Carolina Rain," both from his 29 album, along with the gospel-tinged "Blue Hotel, a song he penned for Willie Nelson's 2006 Songbird LP, showcased Adams' amazingly crystal-clear voice (the stellar sound in this tiny 299-seat theater didn't hurt either).

While much his newer material from Easy Tiger, such as "Two," "I Taught Myself How To Grow Old," "The Sun Also Sets" and "Goodnight Rose" were warmly received by the sold-out crowd, it was two of his earlier solo compositions ("My Winding Wheel" from his debut solo effort Heartbreaker, and "Goodnight, Hollywood Blvd." from his 2001 breakthrough album Gold) that would get the audience shouting in approval. Surprisingly, the crowd also enthusiastically embraced a stripped-down but impassioned cover of grunge-metal act Alice In Chains' "Down In A Hole."

Despite some past creative missteps (most notably his affected 2003 Rock N Roll album) Adams' recent output and live performances with The Cardinals finds this often-misunderstood, enigmatic artist at the top of his game as he embraces his own Americana roots.