Review by Matt Richter
Photos by Matt Schwenke

A chilled April wind and light rain kept sidewalks wet and a small crowd of smokers huddled near the entrance to Brew Cityís renowned Pabst Theatre Thursday night. The venueís ornate plush interior, with deep reds, dim light and dark woodwork, combined with the cold Midwestern spring weather, didnít aptly forecast the eveningís performance: a steamy Latin / African world beat band, heated by heavy brass and infections rhythms more suited to a sweaty summer New York block party.

As I pushed past a younger-than-normal Pabst crowd and followed the red carpeted aisles down front,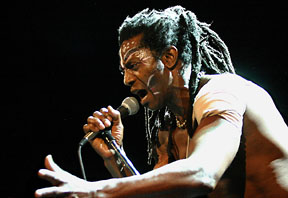 the audience and atmosphere began to buzz with energy. With the first few rows of seats removed and the stage slightly pulled back, the extra space down front gradually filled with eager beer-fisted onlookers. College-aged patrons flowed into the first floor and waited impatientlyósitting, standing, chatting with friends and eyeing the empty stage in obvious anticipation. The lights dimmed and a parade of musicians 11-strong found their spots. Immediately, horns blared and the beat picked up, and if you pressed your ear to the floor, you could hear hundreds of toes start to tap, prodding the Pabst into a feverish dance that lasted throughout the night.

A mixed breed of jazz and traditional Nigerian music, infused with a throng of African and Cuban influences, the unique and irresistible funk/soul/Latin jazz known as ìafrobeatî was born in Lagos in the late 1960s by Fela Anikulapo-Kuti and his band Africa 70. Each inspired by this revolutionary world sound, an eclectic collection of Brooklyn-area musicians, led by baritone sax player Martin Porna, gathered to experiment with their own version of afrobeat at a show at St. Nickís Pub in Harlem, May 1998. Antibalas was born.

Over the next four years, the band (whose name means ìbulletproofî in Spanish) grew from seven to 17 players, each adding equally to the collective co-op of their own flavor of afrobeat. Throughout their near decade-long career, Antibalas has turned out four critically-acclaimed albums, each branded by the groupís signature sound, but itís their high-energy live performances that built their now-international following.
Swinging through the Midwest as their spring tour heads east, then puddle-jumps to Europe through the first half of the summer, the band stopped in Milwaukee to push tracks from their recently released fourth album, Security (ANTI- Records) home to Michael Franti, Tom Waits, Blackalicious and others) along with older material to the delight of Brew City natives aching for a little heat.

Filling the stage with multi-instrumental talent and contagious exuberance, 11 members of the Antibalas movement belt out brass and stomping beats over a sea of bobbing heads. Led by tenor sax player (who was also the eveningís conductor) Stuart Bogie, powerful horns blow Latin-influenced notes over a solid rhythm laid down by drummer Chris Vatalaro and percussionist/vocalist Amayo (native to Lagos) who pounds conga drums and lets fly a tirade of incoherent chants and vocals. Bass player Nick Movshon adds quick fingers to guitar play by Luke OíMalley and Marcos GarcÌa, and keyboardist Victor Axelrod braids electric keyboards with the instrumentation to top off Antibalasí original sound. As the band members find their groove, all sway and step in unison, infected by their own energy pouring over the stage and enveloping the incited crowd in a sweaty, gyrating afrobeat trance.

The players kick off their set list with a track from their first album, then mix in songs from their latest studio release. In "Beaten Metal" (Security), riveting horns flirt with an African beat as Amayo retrieves a thin sheet of metal from behind the drummer and shakes it dramatically to produce a thunder-esque sound. "Government Magic" (from their album by the same title) highlights the talents of the two trumpet players, Eric Biondo and Jordan McLean, while in "I.C.E." (Security), the band temporarily slows their pulse before rising again to a frantic brass-led rhythm. The band breaks from originals to cover Bob Marleyís "Rat Race," complimenting the songís reggae roots with their afrobeat influence, making it their own.

Few people are masochistic enough to search out a fever, yet that is precisely what Pabst patrons were hunting down Thursday evening. Judging by the mobís wide eyes, flushed faces and sweaty brows, every audience member that night found what they came for: a momentary hot flash of infectious rhythms and horns unique to contemporary commercial radio and chart-topping artists.