Review by Tony Bonyata
Photos by Matt Schwenke

Last Sunday marked The Arcade Fire's third consecutive sold-out show at the grand Chicago Theatre in support of their second full-length album Neon Bible. And while that album didn't burn as white-hot on record as their brilliant 2004 debut Funeral, when this Montreal-based ten-piece band unveiled these newer songs onstage many of them took on more depth and meaning, while also standing every bit as tall as their previous material.

Despite the stage's chokehold of upright bass, large pipe organ, guitars, keyboards and plethora of percussive instruments - not to mention other various neon props and four round video screens - the ten members not only fit comfortably within their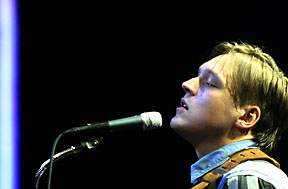 confines but, with fleet feet and flailing limbs, somehow seemed to create even more negative space to work within their tight quarters.

Led by the husband and wife team of frontman Win Butler and multi-instrumentalist Regine Chassagne The Arcade Fire's performance was filled with power, exuberance and, quite often, a magical sense of mayhem as the majority of the members played musical chairs with the varying instruments, showcasing them as one of the most musically diverse and multi-faceted rock acts today.

Opening with their most recognizable song from Funeral "Wake Up" (a song they purposely sidestepped from their previous two Chicago performances), the tempo and tone of the evening was immediately cast as the band delivered an intoxicating, euphoric version of the song. Richard Perry proceeded to feverishly pound the daylights out of a large tom-tom as the song's anthemic harmony had the entire audience singing along within just the first few seconds of the show.

For "Keep The Car Running," from Neon Bible, Win delivered spiked vocals along with an earthy mandolin as Chassagne added the eerie and exotic sounds from her wind-up hurdy-gurdy. While the singer, along with the two horn players and two violinists, held their respective positions for most of the evening, Butler's brother Will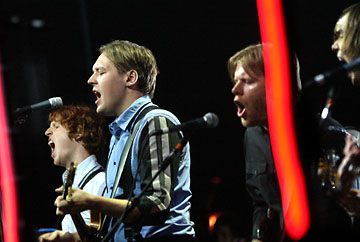 scurried around the stage pouncing on keys, percussions and bells with equal intensity, and at one point during "Black Mirror" was driven into near spastic convulsions from the strength of the performance.

Many of the songs from Neon Bible seemed to take on a new life onstage, and this was most evident as Chassagne shimmied-and-shook throughout the band's impassioned take of "(Antichrist Television Blues)" and "My Body Is A Cage," which on record tends to drag on a bit, but was absolutely hypnotic live. This song featured a mesmerizing, if not slightly disturbing, presentation where a live video of Win's face singing the number was projected on the head of a cardboard standup of his own body. This, along with the song's climatic ending with crashing percussions and disorienting pipe organ, turned out to be one of the most engaging moments of the evening. "No Cars," also from Neon Bible, likewise, was a show-stopping phenomenon with a wonderful marriage of strings and horns along with Chassagne now on accordion and the entire band inciting the crowd with their rallying call-to-arms shouts of "Hey!" throughout.

Win turned the spotlight over to his wife for a beautiful rendition of "Haiti," which, with rich red curtains and up-lit floor lighting on her, gave the appearance of a 1920s era Berlin cabaret act. Expanding from the windswept Caribbean breeze that wafted through the recorded version, the song culminated into a cacophonic discord of horns and strings, which both dizzied and delighted the sold-out crowd.

Closing out their 90 minute set with a stunning rendition of "Neighborhood #1 (Tunnels)" Butler cried, "as the day grows dim, I hear you sing a golden hymn, the song I've been trying to sing." Not only did he nail every one of his band's sixteen 'golden hymns' through their stirring performance, but also collectively proved exactly why The Arcade Fire are, arguably, the most important rock band today.
The Arcade Fire 05.20.07
Chicago Theatre setlist
Wake Up
Keep The Car Running
(Antichrist Television Blues)
Black Mirror
No Cars Go
Haiti
Neighborhood #2 (Laika)
Intervention
Neon Bible
My Body Is A Cage
Windowsill
The Well And The Lighthouse
Neighborhood #3 (Power Out)
Rebellion (Lies)
Ocean of Noise [encore]
Neighborhood #1 (Tunnels) [encore]