Story and Photos By Andy Argyrakis

Though last year was South By Southwest (SxSW) Music Festival's twentieth anniversary, organizers still treated the 2007 edition like a milestone commemoration. The number of artists was at an all time high of nearly 1,200, parties were thrown by virtually every trend setting magazine (Spin, NME, Blender, Paste, Alternative Press, BurnLounge) and countless key record labels (both indie and major), plus participants ballooned to such overwhelming degrees that it was nearly impossible to catch a cab between March 14-18. Yet even in its grandeur and overwhelming appearance, SxSW is still the music lover's dream to set their sights on brand new sounds (often debuted in America for the very first time) and catch up with legends from yesterday who never go out of style. Here's a closer look at the latest and greatest, which should serve as a solid gauge for what CDs to pick up, MP3s to download and acts to watch for on the concert calendar:

Where It's At

The festival's clear cut headliner was Pete Townshend, who not only gave a keynote address covering his history with The Who through the solo years, but also performed an intimate concert. While it was satisfying to hear about the band's beginnings and his desire to continue with Roger Daltrey (even with the deaths of Keith Moon, and more recently, John Entwistle) the tunes he unveiled at La Zona Rosa were priceless. Whether it was a deep cut from the epic rock opera "Quadrophenia"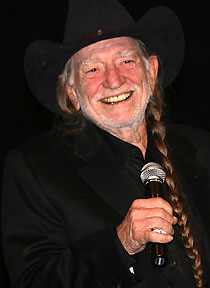 or the harmonica laden solo smash "Let My Love Open the Door," Townshend was a ball of acoustic fire. And unlike the gargantuan arena settings he usually plays, the close confines allowed for ample projection of the new, soft spoken piano ballad "In the Ether" (from The Who's "Endless Wire" album), along with the band's classic "I Can't Reach You."

Iggy Pop led The Stooges through two action (and attendee) packed appearances, starting with an Austin Convention Center interview and public Q&A session, addressing everything from the early days of punk to this highly anticipated reunion. Pop was in especially congenial form, colorfully interacting with faithful and drawing even the most casual fan wholeheartedly into his magnetic presence. From there, the troupe hit Stubb's to perform career spanning classics and new tunes from The Weirdness (Virgin), which despite releasing to mixed reviews, resulted in an incendiary live display.

He's an artist, activist and Farm Aid co-founder, but now Willie Nelson can add record label executive to his resume. The living legend uncorked Pedernales Records, a chance to give unknown but incredibly talented artists a national platform without the red tape of a major label. He's keeping the first act signed all in the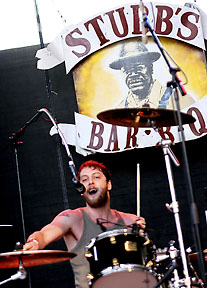 family in the form of 40 Points, featuring his sons Lukas (guitar/vocals) and Micah (drums). A short performance unveiled a rock/reggae/funk/blues base over striking, smoky vocals.

While the band name The Fratellis may be still somewhat unknown at the moment, that's likely to change very soon given its extraordinary Spin party performance at Stubb's. The Glasgow-trio featured much of its debut CD Costello Music (Cherry Tree), which combines old fashioned American rock n' roll with modern day Brit-pop. The project has already been devoured overseas and the group has some celebrity fans, including Townshend (who even appeared during a riveting version of "The Seeker").

When Public Enemy debuted two decades ago, co-leaders Chuck D and Flavor Flav were always outspoken with their political beliefs. And here they were over fifty tours into their career promoting anti-war messages, while calling all to "Fight the Power." Though the Town Lakes Stage concert didn't start punctually and was led by merely D for the first few songs, Flav eventually got his act together and the pair's chemistry was undeniable.

One additional area of the festival's diversity came with its incorporation of a comedy sketch group turned television show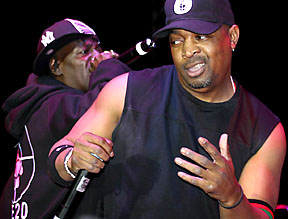 "The Whitest Kids U' Know." Attendees were treated to a live taping of the Fuse TV program at the Blender Bar, featuring several hysterical shorts about eating in a fine dining restaurant, grammar school recess and making movies. Aside from being worth watching live, it's sure to translate well to tape on the cutting edge alternative music network.

Fuse was also on hand rolling cameras throughout the entire Alternative Press party, with footage likely to creep up on "Steven's Untitled Rock Show." The shindig was headlined by Jack's Mannequin, otherwise known as the side project turned smash hit by Something Corporate's Andrew McMahon. Along with a green bead wearing band (since it was St. Patrick's Day), the guys plowed through punk spiked piano pop, reminiscent of Ben Folds or Joe Jackson with occasional (though thankfully not over indulgent) doses of emo.

Despite being largely viewed as a one hit wonder, Thomas Dolby has been an innovator for the past twenty years when it comes to merging music and technology. His SxSW stop included a Day Stage concert performed solely on his laptop, though come the finale song "She Blinded Me With Science," he was joined by a three piece horn section, conjuring up a welcome bit of new wave nostalgia.

Paste Magazine's party at Maggie Mae's featured headliner Sondre Lerche, who was fresh off a tour with Elvis Costello. The Norway born singer/songwriter may only be in his twenties, but his impressive ability to merge punk-inspired power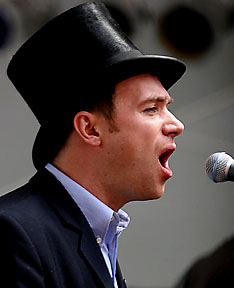 chords a la Costello and The Clash with gritty indie rock (think a slightly less brash Ted Leo) was well beyond his years.

Please Be Sure To Pass

Speaking of The Clash, bassist Paul Simonon recently joined the super group of sorts The Good, The Bad & The Queen. The band also features Blur/ Gorillaz front man Damon Albarn, The Verve guitarist Simon Tong and Africa 70/Fela Kuti drummer Tony Allen, who just turned in a self-titled CD on Virgin. Though the record's been fawned over for its gentle and charming harmonies, along with lush, orchestrated arrangements, the concert was a disappointing dud. Of course the musicians were competent and their show at The Fort even included a live string section, but the presentation was lethargic and the crowd's reaction lackluster.

While it may have appeared like a winner on paper, a DIRECTV concert taping with Razorlight at the Lonestar Lounge was far from what it was cracked up to be. Sure, the alternative rockers are escalating with fame and the backing of Universal, but this Anglo-Swedish blend proved that like its self-titled CD, blandness and boredom infiltrate its shows. Though well attended, the set was weighed down by generic, Strokes-sounding guitar jangle and arena rock staleness that never developed with the sharp edges its moniker implies.

Packed With Panels

Who says rock stars don't have a heart? Tom Morello, who first found fame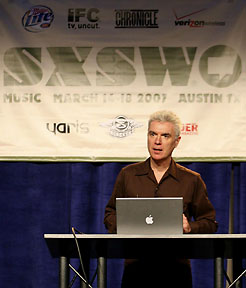 in Rage Against the Machine, then Audioslave and currently solo (before this summer's Rage reunion) participated in an Austin Convention Center panel called "Doing Service, Giving Back." The talk focused on encouraging musicians, press, fans and anyone else gathered to give back to their communities and charitable causes, simultaneously helping someone else and finding inner peace. From there, Morello took the stage in a stripped down format to preview One Man Revolution, out April 24 on Epic.

Though he didn't perform, David Byrne sure lived up to his Talking Heads' history by chatting up a storm during an Austin Convention Center seminar. Despite being best known within the group (thanks to the hits "Burning Down the House," "And She Was" and "Once In a Lifetime"), the now solo singer's kept his pulse on today's trends. Byrne spoke candidly about his positive and negative experiences with record labels, suggesting they should focus on marketing music with artists' and fans' interests in mind, rather than going solely for the green (which would in turn satisfy all parties in the puzzle). As for new material in solo contexts, he hinted that talks with Nonesuch Records (also the home of Wilco) are on the table, though admitted contract negations have taken up the last year. "Now that's making music," he sarcastically said, promising the delay would end soon.