Story and photos by Matt Schwenke

In stark contrast to the wintry weather that greeted them in Milwaukee, The Autumn Defense, headed by Wilco extracts and multi-instrumentalists John Stirratt and Pat Sansone, were more like spring with their silky melodies and humid tones, and the early 70's, AM radio warmth that emanated from their folky ballads was comfort enough to gather the crowd in as if lulled by a crackling fire.

Touring in support of their self-titled third album, The Autumn Defense's Wilco roots laid bare with the catchy pop appeal of "Estate Remains," the dynamic, Americana sway of "Spend Your Life" and the masterfully arranged stirrings of "Canyon Arrow"--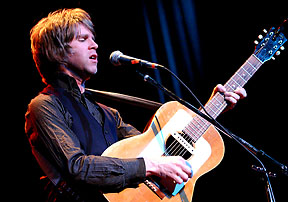 all from the new album. But those roots weren't relied upon. Forging their own unique sound with acoustic guitar or piano often leading the way, "City Bells" took their folk into a jazz lounge and gave it a hip sway, while "Feel You Now" took it to bed with a sexy, funk strut.

While Stirratt and Sansone lack the vocal prowess of a Jeff Tweedy, the two were commendable when singing the lead on their own, Stirrat in the pulsing "Long Forgotten Love" and Sansone in the intimate "About to Change," and exceptional when singing in harmony, as evidenced in the airy "Written in the Snow" and an encore performance of Fleetwood Mac's "Sentimental Lady." Though the band isn't as ground-breaking as Wilco, these talented musicians have created a worthy side project that manages to produce art outside the realm of their usual gig

As dynamic as the headlining act, Chicago-based sextet The Singleman Affair, which on record is only frontman Dave Schneider, created wide-open soundscapes with stripped down, yet lush, arrangements of 60's folk and psychedelia textures a la Tim Buckley or John Martyn. From Schneider's debut on the UK label Poptones, Lets Kill the Summer, "Dragon Flies to Find" began with such an eerie hush that Schneider's whistled melody later in the song hit like a cascading rush of water. With the songwriting sensibilities of an M. Ward mixed with the mysterious delivery of a Nick Drake, The Singleman Affair produced a captivating sound that was both folk and progressive rock-- both old and new and worthy of attention.

Nashville native and Los Angeles-based singer/songwriter Ferraby Lionheart, who almost didn't make it to the show due to the weather, also fit the bill rather well and delivered his unique voice and lyrics over dusty guitar and piano pop sounds in an abbreviated set. With an aching timbre a la Rufus Wainwright in "The Fighter" or catchy, toe-tapping piano a la Ben Folds in "Tickets to Crickets," Lionheart is much more stripped down and subtle than the previously mentioned artists, but was no less engaging.