Review and photos by Mary Andrews

Let me state this from the get-go. I am totally biased as I write this review! I have loved, loved Chaka Khan since her days with Rufus. I have never seen her live and, based on that alone, this had to be a great day! Add Erykah Badu to the mix of performing artists and the day got even better! This is the third time I have seen Erykah and she has never disappointed me.

BTW Concerts has assembled a group of festivals mostly in the Western part of the United States that are focused on smooth Jazz (and I might add R &B). Phoenix has been one of the locales for three years. The concert stage appears to be relatively close to the front entrance of the resort and not far from the parking area. When you compare that to other festivals, it is logistically convenient for the concert enthusiast.

When I arrived midday, I could hear the superb sounds of Nick Colionne and J. White. The 'pied piper' was reeling me into the venue with some of the best sounds on this side of heaven. By 1:30 p.m. I was settled in my seat and the sun was beaming full force and 95 degrees. Tom Braxton and Warren Hill played in full throttle regardless of the heat! Warren Hill invited his 14 year-old daughter, Olivia Rox, to sing.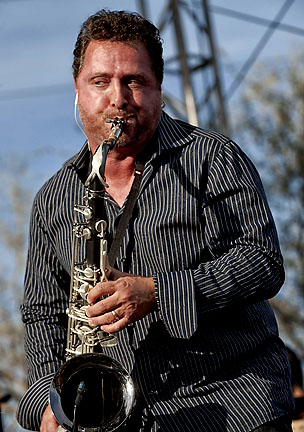 I've got to say her voice and her delivery are going to carry her far in the future! It was fun to watch her proud papa in the background. The next act was referred to as the Three Tenors. The three saxophone tenors consisted of Euge Groove, Richard Elliott, and Gerald Albright. Each one of these performers is a jazz super star in his own right and, together, they delivered an outstanding set!

Next came dusk and Chaka Khan! It was obvious at this point in the day that I was not the only one who was anxiously anticipating her appearance. This was a sold out show after all. Once she got into her groove, she appeared to be in a trance and so was her audience! She sang all of her greatest hits and everyone sang with along with her- word for word. Her voice hasn't lost any of its rich tone or its high pitch and her band and background singers were impeccable! My only complaint, the one hour and 15 minute set was far too short.

How do you follow up such and outstanding set? You bring on "The Queen of Neo-Soul." I'm not sure I know what "Neo-Soul" is but what I do know is Erykah is one of the most commanding entertainers in music! There was a 15-minute delay of the start of her set that added to the audience anticipation. The band played a seemingly long intro and then she walked from the rear of the stage to the microphone like a model on a Paris runway. She sported a high crown Native American hat with her hair extensions flowing down the back of her neck all the way down to the spiked heels of her boots! She definitely knows how to make an entrance! Badu has always been able to create a very intimate concert experience no matter how large a crowd. Tonight was no exception. Badu sang songs from "Baduizm" to "New America." She accompanied herself on an electric drum set. The set seemed to be extemporaneous without a set list and was seemingly over as it began. She wanted to continue with another song, but was told she had to stop. "I'm just getting warmed up."

The final set of the night was Charlie Wilson or affectionately "Uncle Charlie." Uncle Charlie is the name given to him by Snoop Dogg. I have to admit that I was unfamiliar with Charlie Wilson so I was anxious to see how he became the headlining act for the night. The lights came on and a fully choreographed stream of dancers came on the stage started the show. In the center of the 'chorus line' was "Uncle Charlie," dancing in step! The party was not over and Charlie Wilson was there to guarantee it. His history goes back to being the lead singer for The Gap Band and he started an R&B solo career around 1992. This show was a testament of an amazing veteran entertainer who can out sing and out dance those who are less than half his age!

I was sorry that I could only attend one day of this three-day event. I talked to several other people who attended the Friday night show and everyone raved about the Maxwell set. I think BTW concerts are developing a very good concert series in spite of a few bumps!