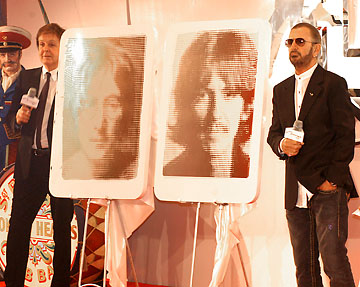 The Beatles reunite for one-year
anniversary of Cirque du Soleil's LOVE
LOVE Theater / The Mirage
Las Vegas, NV
Tuesday, June 26, 2007
Story and photos by Tony Bonyata
Cirque du Soleil LOVE photo - Publicity

Marking the one-year anniversary of Cirque du Soleil's stunning production of The Beatles LOVE at The Mirage in Las Vegas, the two remaining Beatles - Paul McCartney and Ringo Starr - reunited on stage before that night's performance for a dedication in honor of John Lennon and George Harrison. The two other principles joining in the ceremony were John and George's widows, Yoko Ono and Olivia Harrison.

As a throng of fans amassed outside the stantioned entrance of the LOVE Theater to catch a brief glimpse of The Fabs Larry King was inside the theater's lobby hosting the ceremony, where in an apparent aging moment he announced at the outset, "We're celebrating LOVE's one-year anniversary honoring John Lennon and George Hamilton." After a few chuckles broke out from the attending media King asked, "Did I say something funny?" before correcting himself. It didn't help that when he introduced Cirque founder Guy Laliberte he also mispronounced his name as well.

Despite these embarrassing mistakes early on, the twelve-minute ceremony was extremely positive and saw Paul, Ringo, Yoko and Olivia lovingly working in tandem to honor John and George. While there's no denying that Paul and Yoko have had their share of differences since Lennon's untimely death in 1980, here they both seemed to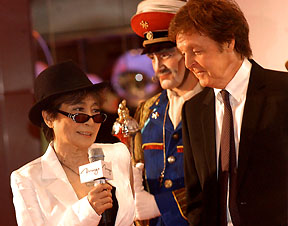 share a loving respect for one another as they stood smiling side-by-side before the unveiling of the plaques.

While this ceremony reinforced The Beatles' predominate message of love and peace that resounded throughout the sixties (and still does to this day) it was also bittersweet as Ringo explained during his short speech in respect to George, "It's an honor for me to do this today. It's not really a pleasure because I'd prefer the man was standing next to me, but this is life as we know it. George was a great musician and a dear friend. I love him and I miss him. God bless him, and I'm sure wherever he is, he's smiling right now."

George wasn't the only one smiling as the small audience of invited media were treated to Paul and Ringo's still witty Beatle charm as Starr handed the mic over to McCartney. "Now over to Paul." "Thank you, Richard," McCartney said. "Call me Ringo. We're in public," Starr quipped. Which McCartney jokingly retorted, "Thanks, Ritchie."

"Well, as usual he said it all before me," McCartney continued, "so all I can say is 'Turn left at Greenland'," a cheeky reference to Lennon's answer to an interviewer's question of "How did you find America?" from their 1964 film "A Hard Day's Night." "On a serious note," Paul went on, "it's great to be unveiling this because the guys aren't here and the show's been such a great success and encapsulates our music and all the stuff we did together. They were great times and as Ringo said...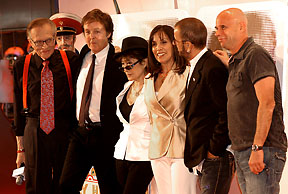 [pauses]...It is very sad, obviously, but moving right along...It is an honor to be unveiling these plaques to them."

Ringo exuberantly counted-off the unveiling with "One, two... a-one, two, three, four" as if intro-ing their 1964 hit "I Saw Her Standing There." The two unveiled plaques were simple, yet tasteful silver dot matrix photos of John and George, which Paul rather surprisingly exclaimed, "I must say, I was expecting a plaque! It's very nice though." Following Yoko and Olivia's brief speeches the event concluded and the plaques were immediately installed on the theater's wall to be permanently displayed.

Those lucky enough to attend the one-year anniversary performance of LOVE later that evening were treated to much more than just one of the best stage shows in the nation, perhaps even the world. Joining them in the audience were none other than Paul, Ringo, Yoko and Olivia and an entire row of other Beatles personnel, which also included Giles Martin (co-producer of the LOVE soundtrack along with his father George) and former road manager, personal assistant and Apple Corps executive Neil Aspinall.

Upon entering the theater Paul, Ringo, Yoko, Olivia and Guy Laliberte were given a standing ovation before the show commenced. As dizzying and exhilarating as this particular performance was, just knowing The Beatles were in the same room, intently enjoying the same show, created a magic aura for both the audience and stage performers alike.

The LOVE show itself that night was a bacchanalia of colorful sights and sounds that perfectly married the creative talents of The Beatles' music (which the Martin's so meticulously reworked from The Beatles' masters to accompany the visuals) with the creative imagination of Laliberte and his cast and crew of the Cirque.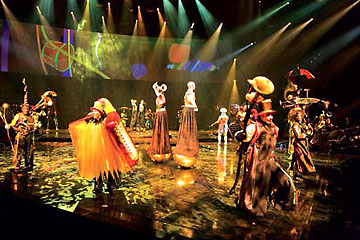 It was a mix of poetic dance (both classic and modern), daredevil acrobats, acting, puppetry, eye-popping costumes, state of the art lighting & sound, mechanical wizardry and hydraulic engineering that magically brought The Beatles' music to life. LOVE is a truly remarkable experience that must be witnessed to be believed.

As the show came to a climactic finale during "All You Need Is Love," where the entire cast paraded around the parameter of the stage, the Beatles entourage in the audience (and most notably Paul) gave the troop a resounding standing ovation before the entire room turned towards The Beatles to do the same. Paul and Ringo were then called down at show's end for a very special curtain call, where they ran about the stage with the same youthful, madcap exuberance as they had 43 years earlier for the filming of "A Hard Day's Night."

Touching, heartfelt and bursting at the seams with boundless optimism, Ringo was right on the money with his remark earlier that day as the smiling presence of both George and John could undoubtedly be felt with them in the room at this very moment. And with such a loving camaraderie shared between Paul, Ringo, and George and John's widows this was, perhaps, the closest thing to a Beatles reunion as we've ever seen (or at least felt) since their break-up. Apparently love is still all we need.