Blige Blends Substance With Style
Mary J. Blige
Riverside Theatre
Milwaukee, WI
Feb. 14, 2002

Blige gets it goin'.

Review and Photos by Terry Mayer


A nearly sold out Riverside crowd came to life as Mary J. Blige appeared behind a transparent curtain, highlighted by dark and atmospheric lighting and started singing the opening strains of "Love." A very appropriate start considering it was Valentines Day. From the start Mary had the Riverside's temporary inhabitants entranced and hanging on her every soulfully soaked word.
One of today's most talented and enigmatic artists, Blige mixed hip-hop, soul and R&B to form a style that is all her own. With her recent album No More Drama her concert was anything but. Mary took everyone in attendance on an emotional tour of life, from Lauryn Hill's jumpy "All That I Can Say" to favorites like the rhythmic bounce of "Be Happy." Dressed to the nine's in a skin hugging metallic leather coat and gigantic see-through plastic glasses, that would've made Bono envious, she strutted the stage shaking her hips to every beat change. She then took a seat at center stage, approached the mellowness of "Keep Your Head" in a subtle and reverent tone and flowed into the slightly moving steadfast "I'm Going Down." With brazen conviction, she sang with a passion and rawness reserved only for Aretha Franklin and Tina Turner. With "He Think I Don't Know," Mary not only connected to the ladies in the audience about a soulful and personal torment, she bent down to hold a woman's hand - held tight with a grip of sincere connection and understanding.
She is a singer whose voice is a potent musical instrument equipped with a grand range and scope. Many times the music would explode from Mary's mouth, as she would grasp her hands into a fist and let them enhance the importance and significance of her words.
As darkness engulfed the faithful, the familiar piano solo of "The Young and the Restless" theme rang throughout the theater as Mary strayed into the early evening's climax - "No More Drama." Fittingly brash, yet tender at the same time. Changing into a sexy white jumpsuit and sporting a hip Fedora, she peered out from under the hat's rim and coyly winked to the audience. As a piercing piano solo echoed throughout the darkness, Blige bit deeply into the jaunty chorus of "Keep Your Head." Her blender of soulfly favs mixed with the sweat of her brow into a rainbow colored shake on "Beautiful Day" and "Never Been" which whetted each and every fans sweet tooth. As the evenings treats started to wind down Mary stated that this song is "strictly for the fans, for without you there is no Mary J. Blige." In appreciation she serenaded all on "You Are My Everything." After the lights stayed dim, the crowd demanded more with chants of "Go Mary, Go Mary" as a blast of confetti showered the theater like a Super Bowl victory parade. She got things percolating with the hot and heavy, hip hop strains of "Family Affair," her biggest hit off of her current album.
Mary laid everything to bare in her personal, yet confident performance. No church needed for this group, as they said enough "Hail Marys" to forgive them for the next month or two.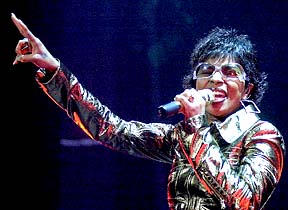 Mary J. Blige
Here's Your Chance to.... Respond!


Your feedback will be featured on
Rant or Rave within 24 hours.