Story and photos by Andy Argyrakis

The House of Blues Chicago is known for staging its fair share of legendary benefit concerts over the past decade, from The Who up close and personal to the double bill of Robert Plant and Pearl Jam, complete with a set of collaborations. Thanks to the John Entwistle Foundation, that tradition continued with the Classic Rock Cares bill, headlined by AC/DC's Brian Johnson and Cliff Williams, who blazed through the band's mighty cannon with a little help from former members of The John Entwistle Band, plus Joe Lynn Turner (of Deep Purple and Rainbow fame) and surprise special guest Robin Zander (front man for Cheap Trick).

The headliners took the stage to a jam packed club with almost everyone decked out in old AC/DC tour shirts, some frantically waving record albums and random memorabilia.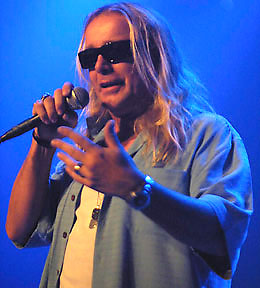 And the core players delivered exactly what was expected with consistency and almost unparalleled showmanship, providing one sing-a-long after the next during what's likely to be a once in a lifetime experience in such an intimate environment. Even though it's been over half a decade since the band launched a full-fledged tour, the pair didn't miss a step, plowing into "Back In Black" and "Whole Lotta Rosie" with sheer charisma and axe grinding attitude. Other overwhelmingly received oldies included "Hells Bells," "T.N.T." and "You Shook Me All Night Long," which remain three of the most memorable fist pumpers in the history of rock n' roll that have simultaneously rubbed off on just about any revelry-based band of today.

Yet Johnson and Williams didn't just stay glued to the past, insisting that AC/DC will be getting back into the studio and presenting new cuts that could possibly end up on a forthcoming album. One particularly notable rabble rouser boasted the chorus "The dog's got the munchies/The cat ate the stash" indicating the gang holds true to its party hearty playbook. When the band returned to its vintage era for the all-star finale "Highway To Hell," it was clear the guys' deal with the devil is still in tact and their live show remains hotter than hell itself.

Prior to the main set, Zander's surprise appearance included a somewhat choppy though well intentioned tribute to Entwistle via "My Generation," though he stood on much more confident and collective ground come Cheap Trick's "Dream Police." Opener Joe Lynn Turner capitalized on his lengthy run with Deep Purple by performing "Woman From Tokyo," "Smoke On the Water" and "Hush" with true to form psychedelic arrangements. But no matter who took the stage, the important cause was always at the center of the spotlight, which seeks to provide free and easy access to music education for underprivileged young people. Through concerts and auctions, proceeds help purchase instruments, while other outreaches include disaster relief and collaborations with the American Red Cross. To catch more on the organization and additional information about this select city tour, log onto www.johnentwistle.org.