Story and photos by Matt Schwenke

Two giant-sized, artist renderings of Les Claypool fancifully balancing a lit candle atop of his head hung eerily still at the back of the stage while another image of Claypool as a ship's captain in full rain gear at the helm somewheres, perhaps not far from the seas of cheese, hung prominently between, and though the show would mix personalities akin to both images in this odd dichotomy, Claypool was decidedly "Fancy"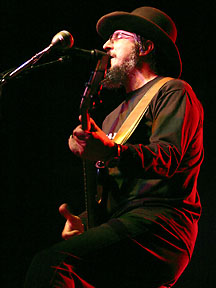 with his performance, favoring drawn-out improvisational instrumentation and solo sections to the calculated and direct attack of a captain persona.

"Highball with the Devil" opened the set with its loose assemblage giving multi-instrumentalist Gabby La La and saxophonist Skerik time to solo, while "One Better" followed with a more direct approach that sat heavily upon the strong rhythms of Claypool's bass, the percussion of Mike Dillon and drums of Paulo Baldi. "Long in the Tooth" featured Claypool with bow on electric upright and trading phrases back and forth with Skerik on baritone sax.

Talkative with the crowd from the beginning, Claypool's image as purveyor of odd sights and sounds morphed throughout the night, as he first left the stage to return wearing a pig mask and later leaving to don a "Planet of the Apes" looking monkey mask, an Elvis hairdo with shades to match and, finally, psychadelic ram horns with large goggles. Equally as diverse, in an extended drum/percussion section where the other members of the band left the stage, Dillon and Baldi pounded out a host of rhythmic styles, from tribal sounds to jungle beats, only to be joined later by Claypool beating a strange tubed instrument. To end the set, "D's Diner" got the crowd shouting the call and response lines of the churning tune, while a jazz interlude with vibe solo furthered the bands diverse range displayed throughout the night.

Wearing the curly horns and goggles as headgear, Claypool opened the encore with a beautiful display of harmonics on his bass while explaining that the song he would be leaving the crowd with, "Lust Sting," was inspired by genital herpes. Though the show lacked any one noticeably strong climax of frenzied jam, a constant display of creativity and experimentation in form was heavy throughout, and a diverse crowd gave much applause.