Clutch crack open their Book of Bad Decisions for
The Town Ballroom in Buffalo, NY
Clutch/ Big Business
Town Ballroom
Buffalo, NY
March 18, 2019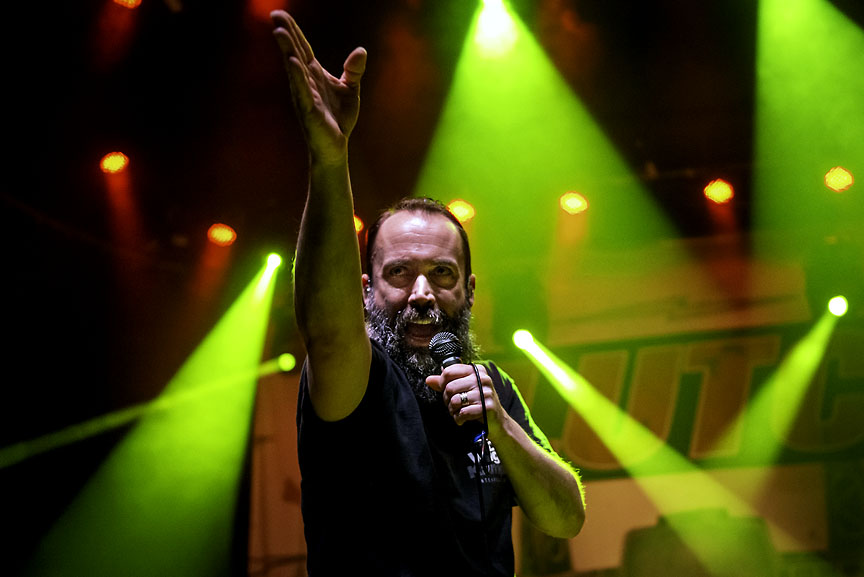 Clutch
Review and photos by Johnny Hall

Maryland rockers Clutch once again made a stop in Buffalo, NY on Monday March 18th, this time on tour for their latest release "Book of Bad Decisions." The twelfth studio album from the band is a fuzz-filled album of the bluesy rock and imaginative lyrics that Clutch are known for. Their live shows are legendary, and this show was one fans will remember for years to come.

Big Business opened up the night with their stoner / sludge rock sound. Hailing from LA, the two man group is made up of Jared Warren on bass / vocals and Coady Willis on drums. The duo also hold down the rhythm section in the punk band The Melvins. Big Business played an approximate 40 minute set that grabbed the audience and lead them on a sonic joyride of melodic fuzz filled songs. This was the second to the last show for Big Business with Clutch, who wrapped this leg of the tour the following night in NYC.

Clutch hit the stage to the tracked song "We Need Some Money" off their Psychic Warfare release. The band opened with a fan favorite "Big News I," immediately hitting their stride. Frontman and vocalist Neil Fallon's charisma and stage prowess made him appear like a eccentric pulpiteer preaching the good word from the pages of a Book of Bad Decisions. Tim Sult on guitar was a riff master, making his Gibson sing in a way that perfectly accompanied Neil's distinctive voice. Jean-Paul Gaster hammered the drums. He masterful playing provided the solid backbone that Clutch songs are built on. Bass player Dan Maines made playing his Rickenbacker bass look easy. He flawlessly kept the groove for the band, with his bass lines running the gamut of musical styles from jazz to blues to rock. These consummate performers know how to work a house and that they did to the sold out Town Ballroom, playing a fifteen song set of crowd favorites as well as songs off their newest release. The raucous crowd surged at the powerful music blasting from the stage, whipping the center floor into a massive mosh pit, often sucking in unsuspecting fans into the chaos.

After a small five minute break Clutch came back onstage to delight of the fans and played a two song encore of crowd favorites "The Regulator" and "The Dragonfly"

Clutch never disappoints with either their albums or their live shows. They have been consistently producing spectacular music since 1991 and "Book of Bad Decisions" is no exception. This tour is definitely a must see for any fan.
Clutch Set list:
1. Big News I
2. H. B. Is In Control
3. Mice and Gods
4. How to Shake Hands
5. Emily Dickinson
6. A Quick Death In Texas
7. Open Up the Border
8. Space grass
9. A Shogun Named Marcus

10. Gravel Road
11. Gimme the Keys
12. In Walks Barbarella
13. Hot Bottom Feeder
14. Electric Worry
15. Fortunate Son ( CCR cover)
16. The Regulator
17. The Dragonfly

Related articles:
Clutch (2018 Beale Street Music Festival) - Festival review - Memphis, TN May 2018
Clutch/ Zakk Sabbath/ Kyng - Concert review - Buffalo, NY September 2016
Lamb of God/ Clutch/ Corrosion of Conformity - Concert review - Binghamton, NY May 2016
| | |
| --- | --- |
| Clutch | Clutch |
| | |
| --- | --- |
| Clutch | Clutch |
| | |
| --- | --- |
| Clutch | Clutch |
| | |
| --- | --- |
| Big Business | Clutch |
| | |
| --- | --- |
| Big Business | Big Business |
Return to Reviews
Return to Livewire
Copyright © ConcertLivewire.com™; All Rights Reserved