Story and photos by Phil Bonyata

Having been frontman of two of the biggest bands in the last 15 years with Soundgarden and Audioslave - Chris Cornell finds himself on the outside looking in. Audioslave members jumped at the chance to rejoin with mercurial frontman Zack De La Rocha to ressurrect the mighty Rage Against the Machine. That left Cornell in the unemployment line. It was no surprise that Cornell's canon would cull heavily from the vaults of the two previously mentioned bands.

Looking rock star cool in a white t-shirt, tight jeans and tan boots Cornell, at 42, hasn't seemed to have aged a bit since his heady days with Soundgarden.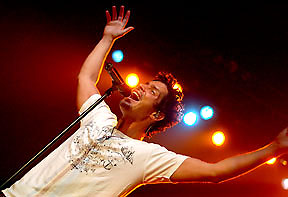 Opening with "Let me Drown," Cornell and his hired hands seemed to flounder a bit looking for their groove. Things picked-up quickly with Soundgardens' "Outshined" and Audioslaves' "Show Me How To Live." While Cornell's undeniably powerful voice gave the songs' backbone - the spirit was missing - vacated by the pedigree and caliber of musicians in his previous bands.

Touring behind his second solo album - Carry On Cornell has reached into the untested waters of lighter rock and soul balladry. "Safe and Sound" and "You Know My Name" were perfect examples of why Cornell needs to stick with hard rock. Awkward lyrics mixed with clumsy musicianship sunk the songs right out of the gates. Even "Can't Change Me" and "Wave Goodbye" off of 1999's crisp Euphoria Morning fell flat musically. Cornell's voice soared over and ultimately flattened the lackluster rhythm section.
More Soundgarden classics ("Rusty Cage," "Spoonman" and "Black Hole Sun") along with Audioslaves' "Cochise" rounded out the evening's jagged trip down memory lane.

Openers Juliette and the Licks shone much brighter with a show built on rock star abandon and wonderfully fuzzed-up guitars. Lewis' movie star status is set in stone with such modern film classics as "Natural Born Killers," "Kalifornia," "Cape Fear" and "What's Eating Gilbert Grape." Although her film career has somewhat floundered since she starred in those great films from the late '80s to mid '90s - she apparently has another role left in her - rock 'n roll star. "Inside the Cage" from 2006's Four On the Floor exploded like a stick of dynamite. Lewis growled and snarled the lyrics as she pranced and prowled the stage like a menacing leopard. Her vocal range, while limited, was choke full of rock 'n roll piss and vinegar. Lewis looked the part as well with black spiked high heels, black and white striped form-fitting pants with knee pads, yellow fishnet shirt and two Indian feathers striding atop her ample mane.

Other scorching numbers from Four On the Floor were "Sticky Honey," "Get Up" and "Hot Kiss." Lewis has picked apart the eccentricities of P.J. Harvey and the brute passion of Patti Smith and is rebuilding them into something all her own. Closing the short and fiery set with the broken down soul of "You're Speaking My Language," from the album of the same name, Lewis and company busted down the song's core structure and let the shattered pieces fall where they may.