Story by Robin Mayer
Photos by Terry Mayer & Phil Bonyata

Reba McEntire, Martina McBride and Lori Morgan, three premier ladies of country music, brought their shows to the 2007 Country Thunder stage this weekend. Whether it was a ballad or an upbeat rocking number, these three easily entertained a appreciative country-music-loving audience.

Reba McEntire rose up through a multi-tiered stage set to appear at the top tier like a rock star. She opened her show with a lively version of "So Good Together" from 1999's album of the same name.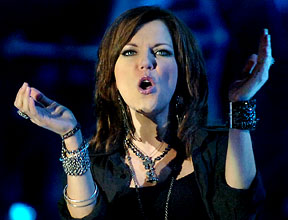 She continued with two songs from 2005's Reba's #1's, "The Heart is a Lonely Hunter" and "Whoever's In New England." McEntire's infectious smile positively beamed across the stage as a light rain fell over the audience. "Who did the rain dance?" she laughingly asked.

McEntire is one of those performers that you can visualize sitting down with you in your kitchen with a cup of coffee. She chats with the audience, tells stories and comes across as incredibly personable. During Thursday night's performance, she talked about dreaming of being in the movies as a kid. "I'd ride across the plains on a nice Quarter Horse with maybe Robert Duval as my co-star. Instead my first co-stars were a bunch of worms!" referring to her first movie "Tremors." With that little bit of humor, she launched into "Why Not Tonight" from the movie.

In an era of rock/pop/country crossovers, Reba is true country, from her Oklahoma accent to her country sound. She has a powerful voice as do some of today's young performers but unlike some of today's young country artists,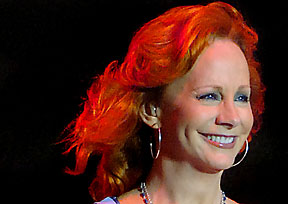 she knows how to use that power by bringing highs and lows to each song. She doesn't just belt out a song; she tells a story with each note.

Martina McBride entered a dark Country Thunder stage on Friday night dressed in black. A lone figure in a single spotlight, she opened the show with a strong, plaintive ballad "Do It Anyway" before she picked up the pace with such hits as "Wild Angels." a current number one hit on the country charts and "My Baby Loves Me."

McBride's sense of humor was evident when she introduced her brother Marty Shift to the stage to sing the duet "Trying To Find a Reason", which she originally recorded with Keith Urban. "How did I get from singing a love song with Keith Urban to singing a love song with my brother?" she laughed. The song was a pretty ballad with some mellow, fluid guitar work. Although McBride's sound edges more towards the boundaries of rock, she did a good job of bring the audience up and down with a nice mix of ballads and up-tempo songs.

Lori Morgan gave her performance early Saturday evening, sparkling on the stage in silver heels. Morgan is a country veteran. She was cutting edge at times in her 1980's heydays in costumes and hair (remember that short, spiky cut she sported when everyone else had big hair?). However, she has always been very country in the tone of her songs.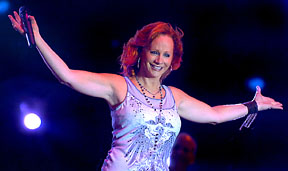 Even her current music is more reminiscent of older country music.

She opened her show with "Feeling Very Maryland" from her forthcoming album and followed that up with the older hits "Watch Me" and "Except For Monday". Her show was sprinkled with old hits and new songs.

Morgan is not the vocal powerhouse that McEntire and McBride are. Her upper range is a little weak and feels strained, particularly on the upbeat songs. However, she utilizes the beautiful, rich timbre of her lower vocal range in her ballads. This was very evident in the new song "Mirror, Mirror", a sad, pretty song that will also be included on her new album.

Morgan was the consummate country artist pro as she strutted up and down the Country Thunder runway. She greeted audience members and signed autographs as she ran through her extensive song catalog. That she could strut in those 4-inch silver heels was most impressive!

In all, there were three very different performances from these three ladies of country music. They each brought their individual style to the Country Thunder stage and left behind a satisfied audience.