Story and Photos By Andy Argyrakis

The blues staple "Sweet Home Chicago" has been sung literally countless times throughout the globe, but never quite like it was when Eric Clapton's Crossroads Guitar Festival touched down in the Windy City. Aside from Slowhand dishing up some fiery licks was the city's very own institution Buddy Guy, howling along loud and proud alongside an all-star backing chorus (including Jimmie Vaughan, Robert Cray, Hubert Sumlin, Johnny Winter, John Mayer and a whole host of other guitar slingers spanning multiple generations).

And though that resounding encore sent concertgoers on their merry way, the twelve hours that preceded the unforgettable jam session were loaded with immeasurable star power- from old time rock n' rollers to classic country stars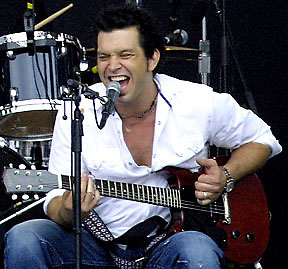 and the current class of pop players. However the second main climax of the night was set deep into the past for the historic reunion of former Blind Faith band mates Clapton and the incomparable Steve Winwood (who deftly switched between organ and guitar during a riveting collaboration).

Though the pair officially performed together last in 1969, it seemed like only yesterday when blazing through the band's "Presence of the Lord" and "Can't Find My Way Home," two lushly textured barnburners steeped in psychedelic pretenses. After dipping back to Blind Faith's now classic (and only) album, the guys traded licks between other band avenues, including Winwood's time in Traffic with "Dear Mr. Fantasy" and Clapton's foray with Cream come its classic rendition of "Crossroads."

Given Clapton's status as the organizer, ringleader and runaway headliner, he also teamed with several others throughout the marathon, including The Band's Robbie Robertson for Bo Diddley's "Who Do You Love?" Although that heroic axe grinder wasn't present due to ongoing illness,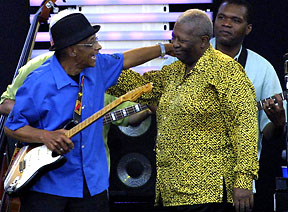 the equally legendary B.B. King filled up the sold out house with his enormous presence. Despite not performing with Clapton, King offered praises for his efforts with the Crossroads Centre, Antigua (which provides treatment and education to those suffering with chemical dependence and/or compulsive addictive behaviors). After the monologue, King and a backing cast (including Sumlin, Vaughan and Cray) kicked into "The Thrill Is Gone," which went over so well it prompted the 81-year-old B.B. to quip "when they finally lay me out to rest, the last voices I want to hear are yours!"

Fans hoping for a breather had very few in sight as the continuous sting of performances turned over at a rapid pace. There was an eclectic Vince Gill set that traced his country and western roots, though he was generous with the spotlight, offering Sheryl Crow and Alison Krauss center stage for the gripping ballad "Strong Enough." Clapton also came out to provide some fast action finger picking, inspiring Willie Nelson to pop out of the shadows and deliver his seminal "Crazy," along with the Crow accompanied "On the Road Again."

Rounding out the experience was an entirely instrumental and occasionally self-indulgent Jeff Beck (who oddly neglected to join in on the collaborative spirit). Tex-Mex rockers Los Lobos also leaned towards the long winded side during a surprisingly late evening slot, which should've been swapped with the much more engaging afternoon action of pedal steel prodigy Robert Randolph (backed by the Family Band). Clapton band members Doyle Bramhall II and Derek Trucks (joined by Winter), also turned in spirited blues and roots rock blends, while the fresh faced Mayer ditched his usual college rock wimpyness for a blustery cover of Ray Charles' "I Don't Need No Doctor."

All in all this year's Crossroads line-up was truly a once in a lifetime experience, which despite the occasional dip in the road, was generally a constant highlight reel. But perhaps movie star turned event host Bill Murray said it best when summarizing the entire experience: "Not bad for a Saturday night don't you think? And make sure you go away from here and buy as many blues albums as you can!"