Story and photos by Phil Bonyata

The Black Crowes are finally going back to the depth of their roots. They are realizing that home lies firmly in the walls of their tight and fiery spurts of boogie-rock.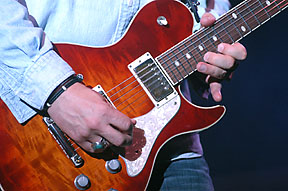 The Black Crowes still do the Stones better than the Stones do today.

Singer Chris Robinson voice was raspy and raunchy as ever while wailing each word with Southern baptist conviction. Brother Rich's slicing blues soaked guitar riffs were married beautifully to Chris' soulful lyrics. Chris has apparently shopped at the local hippie commune's thrift store - sporting an army jacket, long hair and full beard and enough beads to make any Mardi Gras reveler envious. Having two gospel singers on Chris' side only enhanced the southern gravy delights of "She Talks to Angels" and the barn burning fire of "Jealous Again." Chris Robinson naturally swayed and gyrated harder as the melodies became more crisp and the chorus' more intense. The Black Crowes also were careful not to let the noodling get out of hand and relied more on tempo then pacing. With muscles flexing and chests pumping The Black Crowes once again proved that they are still the kings of Southern-fried, boogie-blues hard rock. Just don't tell the Stones that.