Story by Tony Bonyata
Photos by Phil Bonyata

The Decemberists' sold-out show last Monday at Milwaukee's ornate Pabst Theater showcased not only a band at their creative zenith, but also one capable of intertwining music, theater, emotion and even a bit of light-heartedly hi-jinx into their performance. During this leg of the tour in support of their recent release The Crane Wife bandleader Colin Meloy led his indie minstrels through dark telling tales and fantastic yarns of dead soldiers, French legionnaires, pickpockets and mariners lost in the belly of a whale.

The show opened with "California One/Youth And Beauty Brigade," the closing track from their 2002 Castaways and Cutouts debut album, which, with ghostly pedal steel guitar, rich accordion, upright bass and Colin's engaging vocal delivery, was stunning kickoff to a night otherwise dominated by the many sprawling, epic songs from The Crane Wife. "The Perfect Crime 2" incorporated a decidedly Supertramp-like approach, while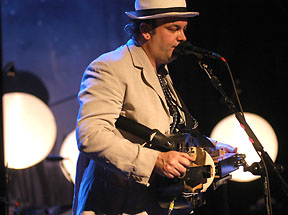 "The Island, Come And See, The Landlord's Daughter, You'll Not Feel The Drowning," forced Meloy's limbs into David Byrne-spasms that twitched in time to the song's heavy prog rock leanings towards bands such as Yes and Genesis. By the end of the number the entire ensemble huddled together mid-stage with the addition of violin and cello for a lovely conclusion to this nearly twelve-minute composition. Even the heavy mathematical rhythms of King Crimson could be heard on "When The War Came," which was further evidence that, as of late, this band sounds as if they've been pilfering through their uncle's record collection of '70s classics for creative ideas.

At one point during the number "Sons and Daughters" Meloy stopped the song to pay tribute to the Virginia Tech students slain earlier that day and asked the audience to join along with the song's final refrain. As the crowd sang, "Hear all the bombs, they fade away" over and over, a moving sense of peace and hope emerged through the communal spirit of the thousands singing along.

In addition, there was also a good measure of levity throughout the evening, both musically and through onstage banter in-between songs. In what Meloy referred to as "on-the-road hi-jinx" he insinuated that this particular Wisconsin crowd may be a bit sedate and out of shape. Encouraging his fans to stay fit, he led the crowd through a mid-show calisthenics workout of knee-bends, mild jumping and aggressive pogo-ing all to a smile-inducing polka ditty. While some Wisconsinites in the crowd took offense to the weight comment, most couldn't resist joining in for the brief Polka-infused workout (this was Milwaukee after all.)

Running through other gems from their latest effort, they ambled through the jaunty pop of "O Valencia!," as Meloy cried, "And I swear to the stars, I'll burn this whole city down," while the band climaxed into an energetic, spirited ending as if they all really meant it. On "Yankee Bayonet (I Will Be Home Then)"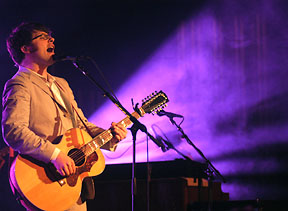 the band was joined onstage by Shara Worden (of opening act My Brightest Diamond), who delivered a beautifully poignant duet with Meloy. Despite the somber love story between a girl and dead Civil War soldier, the tune, as well as The Decemberists' entire performance that evening, was nothing short of uplifting and riveting.

Prior to Worden's headlining duet, however, she and her band My Brightest Diamond delivered one of the most incendiary, jaw-dropping performances this city has witnessed in some time. With just her stripped-down rock accompaniment of drums and bass, Worden handled vocal, guitar and key duties with command and bravado on numbers from My Brightest Diamond's 2006 debut Bring Me The Workhorse.

From the thick, opium-laced psychedelic number "Magic Rabbit," where Worden's voice quivered and howled - not unlike P.J. Harvey in her prime -as the band foraged head first into a bombastic climax with all the dynamics and tight-but-loose dexterity of Led Zeppelin on one of their better nights. And as musically talented as she and her two comrades were, Worden's secret weapon was undoubtedly her voice, which I dare anyone to show me a more inspiring young talent than this today. And speaking of Zeppelin, Worden traded the grunge of her electric guitar for the otherworldly sound of her organ on an electrifying, dead-on version of their song "No Quarter." While many of the younger fans may not have been familiar with the 1973 original, they were, nonetheless, still drawn in closer to the magic these three were capable of conjuring up for this stunning remake.

Along with Worden's penchant for rock, on record she also mixes strains of opera, chamber music and cabaret in for interesting measure - the latter evident on a beautiful cover of French chanteuse Edith Piaf's lovely 1949 torch-song "Hymn To Love." Strapping on her black electric guitar the band unleashed "Disappear," an intoxicating track from Bring Me The Workhorse that structurally and vocally was reminiscent of Bjork. The trio finished out their set with the aptly titled "Freak Out," a hedonistic mix of dance-floor sleaze and snotty punk attitude.

Shara Worden and her pseudonym/band My Brightest Diamond are definitely one of the most engaging new acts out there today. And it took nothing more than this all-too-brief but truly amazing performance to prove it.