Story by Robin Mayer
Photos by Terry Mayer

The Dave Matthews Band strolled into Alpine Valley Music Theatre Saturday night for the first of two sold out shows. Non-stop rain that plagued the Walworth County area for the past two weeks could not deter fans of the band from attending the party that is a Dave Matthews Band concert.

The evening began with audience members slipping and sliding throughout the venue from record rainfall. The mud, however, did not put a damper on the festivities.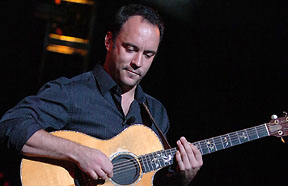 A mud-streaked audience happily sang their way in unison through preliminary DMB tunes that were played before Dave and his entourage took to the stage.

Seemingly surprised to see such a huge outpouring of DMB adulation, the band began their set with "Dreaming Tree" from 1998's Before These Crowded Streets and continued to work their way through their extensive discography. Songs included radio favorites "Crash Into Me," "Stay" and "Dream Girl" as well as early releases such as "The Song That Jane Likes" from 1993's Remember Two Things.

"Loving Wings" included a beautiful solo from jazz trumpeter Rashawn Ross. His smooth notes lulled an otherwise boisterous crowd into a moment of quiet before they were off again, singing along note for note with front man Matthews.

The party atmosphere continued throughout the evening and I would like to say that I heard every song played. However, the voices of the audience far overwhelmed those of the band. If you want to listen to the music of the Dave Matthews Band, put in a CD or turn on your iPod. If you are looking for a party, see him in concert. It is a giant sing-a-long and dance-a-thon that will keep any DMB fan blissfully happy.