Review and photos by Mary Andrews

Steve Earle quietly came on stage to introduce his opening act, The Mastersons. "One of the reasons I tour is to be able to introduce new and talented musicians like The Mastersons." They are a duo consisting of Chris Masterson (guitar, pedal steel, and vocals) and Eleanor Whitmore (fiddle, keyboards, mandolin, and vocals). Whitmore started playing fiddle at the age of four and played in the family band as a child. She studied fiddle with Texas swing master Johnny Gimble. Masterson was playing blues in Houston clubs at the age of 13. Both members have the 'chops' that come with their prestigious musical upbringing! They are promoting their recent album, "Birds Fly South." In addition to playing a 30-minute set opening the show, they also are a part of Steve's Dukes and Duchesses Band. Earle's band has two other members: Kelly Looney (stand up bass and electric bass) and Will Rigby (drummer).

Mr. Earle appeared on stage addressing the first issue on his agenda. "I was asked to join the musicians boycotting performances in the state of Arizona to protest SB 1070."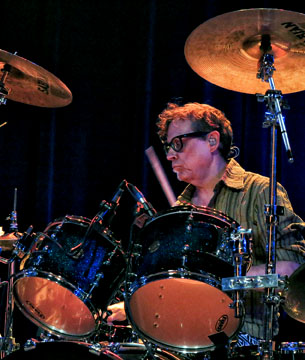 It seemed like a good idea at the time, but the sound strike did not seem to accomplish much. When you look at the size of audiences that I play, there is not much economic stress placed on Arizona and I would have been better off playing in Arizona and harassing Governor Jan Brewer instead!' The announcement brought a huge cheer from the crowd and the show began!

Politics took a second seat during this 30+ song set. I lost count because he had either two or three encores at the end. He played all of his new album, The Low Highway. He sprinkled songs from all of his albums going back to the '70s (before he had a record contract). One of the most humorous moments was when he sat down to play the piano on "After The Mardi Gras." "I learned to play piano as a kid. I learned songs like 'Hey Jude.' It was hard to carry around when I started hitch hiking'. I gave it up."

Other memorable moments included: Eleanor Whitmore played the part of Lucinda Williams on the delicious duet "You're Still Standing There" with Steve.

Steve donned the banjo and an introduction to the song 'Warren Hellman's Banjo'. Warren Hellman was the late big time supporter of music and ultra wealthy. He funded the Hardly Strictly Bluegrass festival in San Francisco, which is a FREE festival for all. Earle played the festival last weekend. Earle joked that Hellman was the only 'investment banker' I ever knew. 'I live in New York City and you never see an investment banker!'

Mr. Earle compared himself to Woody Guthrie, but not the way you would think. He named Dylan, Springsteen, and others who write about things that they have not seen first hand. 'Woody Guthrie was the only songwriter who witnessed the depression first hand in the 30s. I now see block long food lines at a church close to where I live that I have never seen before and it is happening all over the country. I am beginning to think we are back to the same desperation that was seen after the depression.'

Finally there was a very revealing and vulnerable side to Steve Earle. He revealed that he is 58 years old and at the age of 55 he had a son. This is something that you take very seriously at that age because you don't know if you will see him grow up. 'I started developing a healthier life style, going to the gym and such. At the age of two, my son was diagnosed with autism.' Statistics are showing that 1:50 are diagnosed with this. That is worse than AIDS. No one knows the cause of autism and we are desperately trying to find the cause. It is not genetic. It has to do with the environment, but we don't know what.' From that point, he sang a song he wrote for his son, 'Remember Me."

From here Steve lightened up the mood and pace with some country, rock, and blues. The audience was dancing in the aisles and in front of the stage. After almost three hours of entertainment, he decided to call it a night. This was a decision that brought on many protests from the audience. Has Steve Earle lost his political edge? Hum, I don't think so!