Review and photos by Tony Bonyata

Alright, I've got to admit that I've never been a fan of modern emo-rock and mall-punk. Much of it just seems too forced, calculated and insincere, not to mention the bad name it gives to "real" punk rock. That said I must also admit that after walking out from Fall Out Boy's headlining show for the Honda Civic Tour at the Bradley Center last Thursday I was more than mildly impressed.

Maybe it was the show-stopping pyrotechnics throughout the entire evening - from the ear-deafening, heart-stopping explosions and huge video screens to the indoor fireworks, giant flames and showers of silver confetti. Or perhaps it was because this Chicagoland foursome actually turned in a solid performance that mixed musical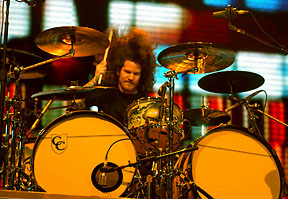 dexterity with deft stage antics (most notably from guitarist Joe Trohman and sweatshirt-hooded bassist / teen-throb Pete Wentz, who both feverishly worked every inch of the massive, sprawling stage like two hopped-up banshees).

In the end, however, I believe my satisfaction came more through the eyes of my twelve year-old son who rode shotgun with me to this show. Not only was he already a huge Fall Out Boy fan prior to the show, but this also marked his first official concert. It was through his own enthusiasm - witnessing the young moshers near the front of the stage, the hundreds of screaming girls pushing closer toward their heroes and the visual stage circuses that a band with FOB's pocketbook could afford - that I felt not only the sense of nostalgia for some of my own earliest concerts, but also, more importantly, the inherent, rejuvenating power of rock & roll.

One thing that seemed surprising, however, was the fact that despite the band's immense success (they've sold over two-and-a-half million CDs in the U.S. alone, with their latest album Infinity On High recently topping the Billboard 200 chart at #1) the audience turnout was less than stellar. Not only was the entire upper level of the Bradley Center curtained-off, but there were also many other empty seats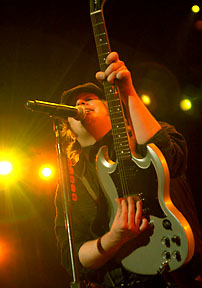 through the auditorium. Those that did turn out, though, were treated to many of FOB's greatest hits such as "Dance, Dance," "Thnks fr th Mmrs," "This Ain't a Scene, It's an Arms Race," "Thriller" and "The Carpal Tunnel of Love," the latter from their latest album which was also accompanied by an animated video of Happy Tree Friends, which, with its over-the-top graphic violence, made The Simpsons' Itchy & Scratchy cartoons look like one of the more tender scenes from Bambi. The foursome also ripped into a grin-inducing, dead-on (albeit more hard-rocking) version of Michael Jackson's "Beat It."

While lead vocalist Patrick Stump's stage presence was lackluster at best, his passionate vocal delivery, nonetheless, married perfectly with the ensuing mayhem of Wentz, Trohman and powerhouse drummer Andy Hurley, who was situated behind his drum kit nearly a Chicago city block from the front of the stage. Luckily with the help of Wentz and Trohman continually running up on the massive drum riser to either jump off the bass drum or the riser itself, it kept Hurley in the crowd's eyes. But for those that weren't paying attention, a second drum kit magically flipped up from the floor of the front stage later in the show , where Hurley delivered an impressive drum solo as Wentz and Trohman appeared on the opposite end of the arena to prance about a customized FOB black Honda Civic (gotta pimp the sponsors, you know).

Bands such as Fall Out Boy certainly aren't going to shake-up or alter the state of rock & roll, but with the driving power of that genre in their music, live show and gut, they do a helluva job carrying the torch for yet another generation. As my son and I drove home that night in my own black Honda Civic purchased not even a week before, somehow Dad seemed just a little bit cooler - even if I did have Led Zeppelin blaring out of my car speakers.