Story and Photos By Andy Argyrakis

Anywhere within the immediate vicinity around the Country Music Hall of Fame and Museum is considered to be sacred ground in Nashville, including the adjacent Hall of Fame Park placed smack dab in the center of downtown. Aside from being an incredibly beautiful and spacious area to relax, it's now the site of artistic royalty thanks to the newly installed Music City Hall of Fame.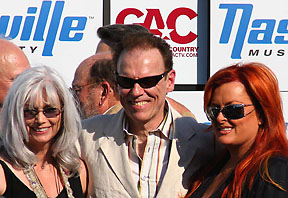 Though it may not be nearly as known as the Hollywood archetype of the same association, this particular place of honor is quickly catching up, thanks in part to a brand new class inducted right in between a busy city week that included the Country Music Television Awards and the Gospel Music Awards.

Though stars of both genres were present on the class list, the styles were boundless, also including the early days of rock n' roll, roots music and artists with unmistakable vocal prowess. In terms of that former category, The Crickets were the first announced during a jam packed courtyard ceremony, which was also met with a historical timeline of the act's seminal career. Aside from being one of the first American rock bands on the books, the group also influenced everyone from the Beatles to the Rolling Stones, (along with countless others in the subsequent generations).

Following a short but sweet acceptance speech, fellow industry influencer Emmylou Harris took the microphone in honor of her undisputed role as the godmother of country music.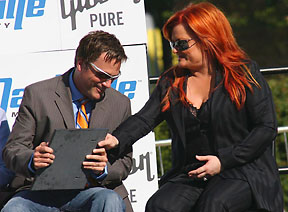 The next inductee John Hiatt admitted that legendary singer/songwriter was indeed an influence, though a quick run through of his resume also reminded all that his works have been recorded by the likes of B.B. King, Bonnie Raitt, Don Henley and many more.

Contemporary gospel star Michael W. Smith may have gotten his start as a session player and songwriter with Amy Grant, but has since established himself as a multi-million album seller with three Grammy Awards to date. Equally prolific was the finale induction of Wynonna Judd, who despite some recent time in the tabloids for her recent divorce, rose about her circumstances for a heartfelt and humble thank you to supporting fans (who've been with her from The Judds years to solo superstardom). It was a moving end to a historical event that may have merely tipped the iceberg of Nashville's endless talent pool, but will continue to be celebrated throughout bi-annual presentations.