Story and photos by Andy Argyrakis

Long before Ricky Martin was shaking his bon bon (outside of Menudo that is), Stevie B, TKA and George Lamond were conquering the American club scene with Latin-infused dance singles. Before the Pussycat Dolls were probably even born, the Cover Girls were injecting rhythmic influences into R&B infused pop. And prior to Rihanna, Kelis, Omarion and just about any other new class artist with a single first name, Cynthia and Johnny O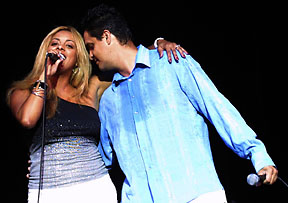 were cranking out the beats faster than even the slickest DJ could flip up vinyl sides on the turntable.

Enter Freestyle Frenzy, the artist collective comprised of all the aforementioned old school acts seeking to revisit the late 1980s and early 90s' peak of the genre, otherwise known as an eclectic, mostly underground mixture of Latin hip-hop with electronic supplementation, the occasional sample and house grooves. Despite only a narrow time frame on the mainstream radar, the cast has been immortalized to varying degrees on the club circuit, maintaining a diehard following in Europe, New York, Miami, and to a certain extent, Chicago.

Though not officially the headline act, TKA with lead singer Kayel (K7) took the top spot in terms of stepping up its game and living up to its frequently asserted title "the kings of freestyle." From the bump and grind appeal of "Maria" to the instantly familiar thumper "Come Baby Come,"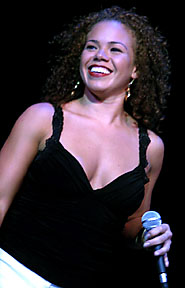 the troupe was dead on with delivery and earned the loudest fanfare of the evening. Finale act Stevie B followed a close second, cruising through a retro catalogue that included the pulsating "I Wanna' Be The One," "In My Eyes" and "Spring Love" (the latter of which was recently remade with rapper Pitbull). The like minded George Lamond also unloaded his slick and sultry selections "Without You," "Look Into My Eyes" and "Bad of the Heart" with both throbbing electronics and the strongest vocals of the show.

Despite keeping up their appearances, the Cover Girls haven't aged as gracefully in the vocal department, implementing somewhat lackluster harmonies throughout the spiced up beats of "Wishing On a Star." Unfortunately, the same limitations plagued "Show Me" and "My Heart Skips A Beat," though a series of sexy dance steps helped temporarily distract from these disappointments. Cynthia's early evening set was generally uneventful outside of a duet with opener Johnny O on the pair's popular "Dreamboy/Dreamgirl." Yet aside from taking the stage to a Timbaland beat, Johnny O's solo show was also less than desirable, particularly his overly confident, almost downright cocky presentation. Thankfully all three of these acts were given shorter sets than the others, and with only four songs apiece, there was still plenty of time for fellow bill mates to revel in their enduring freestyle fame.