Story and photos by Andy Argyrakis

With the massive launch of "Motown The Musical" on Broadway and a subsequent national tour that tipped off in Chicago, the sounds of Hitsville U.S.A. are just as hot as ever with listeners of all ages. On the heels of the latest resurgence, many key acts in its history are hitting the road to celebrate their legacies past and present, which in the case of Gladys Knight paired with The Temptations Review featuring Dennis Edwards, resulted in yet another full house at downtown's crown jewel Chicago Theatre.

"The Empress of Soul" topped the bill bringing the sounds she made famous in front of the Pips through tunes off 2013's equally soulful "Another Journey" to a reverent crowd. Greeted immediately with a standing ovation, the 69-year-old Knight looked ravishing and sounded vocally authoritative while dusting off "I Who Have Nothing," complete with some agile dance steps. It was just one of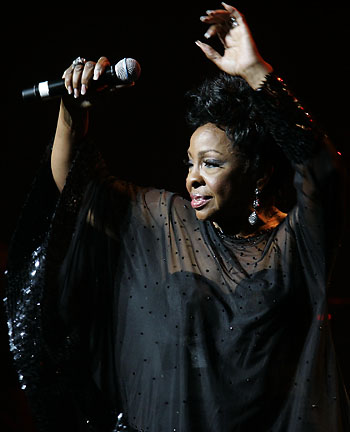 the many from a practically endless hit parade the Rock and Roll Hall of Famer notched up between the 1950s through present day, which found the remainder of the set list juggling between gems like "Love Overboard," "If I Were Your Woman," "Save The Overtime (For Me)" and "Best Thing That Ever Happened To Me."

From the new project, Knight applied her own velvety style to Lee Ann Womack's country hit "I Hope You Dance," demonstrated additional dexterity throughout a classy medley of jazz standards and also proved she's still the boss behind "I Heard It To The Grapevine" (even though it's been recorded by so many other elite artists). Yet her career defining song will always be the finale "Midnight Train To Georgia," a bittersweet ballad that continues to weather the test of time and signifies Knight's ongoing consistency as one of the most commanding R&B performers of her increasingly celebrated generation.

More than merely coming along for the ride, The Temptations Review featuring Dennis Edwards also rose to the occasion performing several key cuts from the original act's psychedelic era, alongside tributes to the oldies that came before its front man officially joined the group. Though tunes like "Get Ready," "Ain't Too Proud To Beg" and "My Girl" were obviously enjoyable to hear and performed with harmonic precision, the true treats came when Edwards belted out the material he personally made famous.

At 71, the fellow Rock and Roll Hall of Famer shows no vocal wear whatsoever, which meant classics like "I Can't Get Next To You" and "Ball Of Confusion (That's What The World Is Today)" sounded just like the initial Temptations records (where Edwards sang several leads from 1968-1976, 1980-1984 and 1987-1989). In fact, that former era of the group's tunes remains the most lyrically and rhythmically satisfying, which between the more social conscious subject matter and bursting beats, made "Papa Was a Rollin' Stone" in particular sound like it could've come from any of today's retro funk/R&B revivalists. Of course, they'll always be only one Edwards and Knight, so the fact they're both touring with such comparable quality makes this a must see show for anyone who wants to hear the sounds that started a movement and experience how that heralded history continues to move the masses.