Story by Andy Argyrakis
File Photo by Phil Bonyata

Let's start by getting the obvious out of the way when it comes to Gwen Stefani. She's currently on break from her role as No Doubt front woman and has entered the solo ranks with a somewhat different sonic demeanor. In place of her ska/punk past is pop at its purest form, while her outfits and slick stage show these days are much closer to Madonna than the sweaty clubs she used to play. And while No Doubt's songs are generally catchier and its concerts much more crazy, sizing that group up with Stefani's current strides is like comparing apples to oranges.

That being said, the singer strutted on stage all by her lonesome but with confidence, emerging from a jail cell wearing pinstripes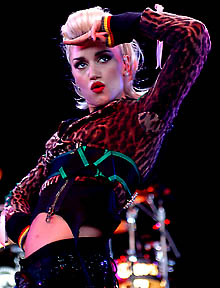 to add some sugary sweetness to the recent single "The Sweet Escape" (accompanied by the raps of opening act Akon). But the prison theme (especially timely in wake of Paris Hilton's ongoing saga) was short lived as Stefani dawned a cape for the glamorous "Rich Girl" and then a chef's hat come "Yummy."

The vogue looks and pure showmanship throughout the 100-minute set are part of the puzzle that's turned Stefani into a worldwide superstar and those elements also made her somewhat lackluster new CD The Sweet Escape (Interscope) possess the punch it missed in the studio. "Orange County Girl" was perhaps the most overt example, tracing old photos from the headliner's childhood on jumbo screens as her six piece band (anchored by David Bowie's exceptional bassist/vocalist Gail Ann Dorsey) jammed with reggae and rock infused rhythms.

Her eight member break dancing entourage was even more effective during the call and response of "Hollaback Girl" from her much more warmly received 2004 CD Love.Angel.Music.Baby. (Interscope). For the festive tune, that background troupe ripped a page out of their high school yearbooks linking scenes of cheerleaders dancing with jocks to simple but joyous results. The encore "What You Waiting For?" also amplified Stefani's recent obsession with Japanese culture, transforming the female dancers into the Harajuku Girls (a reference from her first solo CD).

And just for the record, Stefani skipped the No Doubt catalogue entirely, which was an obvious disappointment for die-hard followers, but also a respectable decision in hopes of keeping the two entities completely separate. Yet her charisma from that era carried into the summertime single "Cool," which unexpectedly featured the leading lady leaping from the stage and sprinting through the crowd. She wound up on the lawn creating the hands down mob scene of the night, securing her place in modern day diva-dome without forgetting the fans who've gotten her this far.