Story by Brad Walseth
Photos by Brad Walseth & James Walker
Cityscape photo by Robert Anderson

After weeks of rain in Chicago, the clouds miraculously parted, revealing shimmering blues skies and flawless weather only matching the superb sounds rising to the heavens emanating from the instruments played by the exceedingly talented musicians gathered at Grant Park. Young, old, national, local, known and unknown, these stellar musicians laid it all out for the appreciative audiences, who in turn were treated to jazz music of all styles performed at the highest level.

This incredible week began with concerts by Orbert Davis at Millenium Park, Jon Faddis' Tribute to Dizzy Gillespie at the Jazz Institute's Gala at the Harris Theatre, and the annual Jazz Institute Club Tour, before Herbie Hancock officially opened the 2007 Jazz Fest with a polarizing set at Symphony Center Thursday night that engendered spirited discussion among critics and fans as to its merits.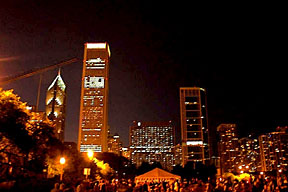 Despite the controversy, the Jazz Fest went off beautifully and presented attendees with a remarkable cornucopia of delicious sounds to feast on. The Mayor's Office of Special Events, especially Ann Sylvester, Jennifer Washington and Cindy Gatziolis deserve high praise, as does the Jazz Institute's Lauren Deutsch, Steve Saltzman, Dan Melnick and the Jazz Institute Board, for again offering this amazing FREE festival to the public.

From the heartfelt opening "Remembering Eldee Young" set led by Redd Holt Friday at noon, to the raucous final set by the Mingus Big Band Sunday night, it was virtually non-stop great music. Young up-and-comers like Justin Dillard, Edwin Daugherty, Jabari Liu, Jeff Parker, and Ed Simon, along with the Kenwood Academy Jazz Band and the Jazz Institute's Jazz Link Kids represented the future well, while Medeski, Scofield, Martin and Wood brought hordes of young fans to the park Friday night. But, the veterans were featured as well with Erwin Helfer, Ernestine Anderson & Frank Wess, Kim Cusack and Jimmy Ellis proving that jazz is music for life. Other notable elders like Cecil McBee and Victor Lewis were a pleasure to see and hear, while the late Hilton Ruiz was given an energetic tribute as well.

Horns ascended the stage for Mark Colby, The Chicago Horns and The Mulligan Mosaics Big Band, while organs propelled Pete Benson's set, as well as the B3 Bombers rousing groove powered by former James Brown drummer Clyde Stubblefield. The avant garde, meanwhile was given their due in fine sets by Keefe Jackson's Fast Citizens,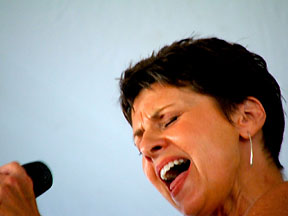 the popular Astral Project, and the powerhouse mainstage set by Rob Mazurek's Exploding Star Orchestra (featuring Bill Dixon).

Female vocalists like Typhonie Monique (assisted by guitar phenom Neal Alger) and Janice Borla shone, and Tammy McCann's wonderful set at the Jackson Stage was a highlight that I'm sure introduced a whole new audience to this talented vocalist. Solo piano sets by young Miguel de la Cerna and Chicago favorite Ken Chaney were a delight and graced by the presence of the legendary Willie Pickens backstage.

Relative newcomers Mark Courtney Johnson and Matt Geraghty both put on sets that should win them new fans as well.

Despite the wide-range of styles, the mainstream jazz fan wasn't ignored - and blistering sets by The Cookers and Bobby Watson's Horizon were true rewards. Two of our favorite sets, we also totally dug Robert Irving III's great Thelonious Monk set, followed sequentially by Michele Rosewoman's burning hot Afro-Cuban modern bop.

Jazz Fest wouldn't be the same without the hot sets at the clubs after hours. We attended sessions at the Velvet and Checkerboard Lounge and came away with memories not soon to be forgotten. Bravo and bring on next year!

Check out great Chicago jazz happenings at JazzChicago.net