Story by Andy Argyrakis and Mike Kane
Photos by Andy Argyrakis

Last year's Jazz & Heritage Festival was especially poignant, marking the annual event's post Hurricane Katrina comeback. In that regard, it earned mounds of international attention and throngs of pilgrims from all across the globe, who not only celebrated promoters' eclectic line-up, but also the heroic rebuilding process of a city that was almost sunk due to the disaster. Though the spotlight didn't burn quite as bright for the cause this year, it thankfully comes from the fact that the clean-up efforts have improved tremendously.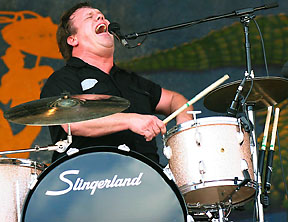 Of course, there's still hurting and areas yet to be attended to, but nonetheless, residents press on with an unshakable spirit and a robust musical soundtrack on display throughout the monumental double weekend experience.

While the first installment featured mega-stars such as Van Morrison and Rod Stewart, the second roster was packed with jammers across all genres, once again signifying the city's diverse potpourri and seamless melting pot no matter the entertainer's age, social status or geographic residence. Saturday's headliner John Mayer may not have seemed like the most obvious choice given his prior college pop heart throb status, but he's recently graduated from that somewhat disposable phase. In fact, his latest studio CD Continuum (Columbia) is miles above preceding projects in terms of artistic outpourings, showcasing a dual affinity for jazz and blues, not to mention fiery guitar playing chops that have gotten everyone from Buddy Guy to Eric Clapton praising this twenty-nine-year-old tornado on the fret board.

Sure his set was framed around radio faire such as "No Such Thing," "Bigger Than My Body" and "Why Georgia," though new tunes such as 'Waiting On the World To Change'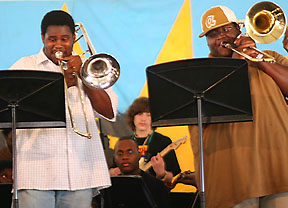 smoked with an unpredictable edge. Yet the true highlights came outside of three minute reflections and into unscripted jam sessions, one of which featured a Memphis soul-styled horn section pitted against Mayer's Delta dripped explorations.

Across the spacious field, a fellow singer/songwriter who shared his namesake sat seated behind a grand piano, recalling the vintage soul likes of Al Green and Stevie Wonder with irresistible neo-soul nuances. His name was John Legend, who's not only conquered the urban charts as of late, but also exploded into all audiences given his impressive merging of the classic and modern eras. Though not nearly as well attended as Mayer's monstrous crowd, the piano man was flanked by an impressive band and three seductive background singers, who added some extra grooves to favorites such as "Ordinary People" and "Save Room."

The Allman Brothers Band brought an entirely different brand of jamming to the table, recalling the flower power days and genuine southern rock sensibilities. Under the leadership of Gregg Allman,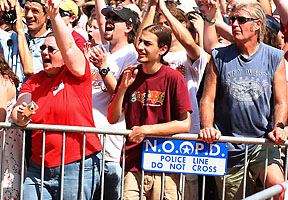 the guys touched on a handful of its most memorable crests, though the guys would've clearly preferred playing a full, unabridged set. Since they had to cram everything into an hour with some spare change, the pretentious soloing was kept to a minimum, though that decision was surely frowned upon by its most dedicated groupies.

Speaking of self-importance, Stephen Marley pranced around the stage as if he were his famous father, while a flag waver, plus endless amounts of incense, pot and patchouli smells served as further distractions to his mostly unremarkable reggae set. In blues contexts, The Holmes Brothers proved just the opposite, completely letting down their hair (or at least what's left of it) for a dusty and dirty romp through the new disc's State Of Grace (Alligator). Despite strong intentions, the mostly student led Stax Music Academy appeared to still be learning the ropes, though the troupe of youngsters at least showed future promise during a set of covers centered around the lauded likes of Sam & Dave.

Yet the festival's true essence was summarized by local favorites Cowboy Mouth, who didn't necessarily pull anything new out of its usual bag of bawdy tricks, but made sure revving up the party was a top priority. And no matter what musical melange or even the city's previous or current condition, having fun remained the sole focus, and on that note, this year's Jazz & Heritage Festival wholeheartedly accomplished its goal.