B.B.'s thrill remains,
Beck's shredding drains
B.B. King / Jeff Beck
Arie Crown Theater
Chicago, IL
Aug. 26, 2003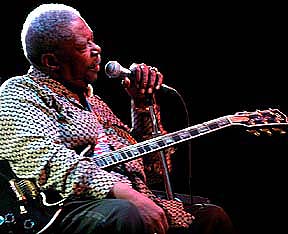 Story and Photos by Andy Argyrakis

Aside from the instruments each of them play, the undisputed "king of the blues" B.B. King and the often labeled "guitar hero" Jeff Beck have very little in common. Musically, the elder member of the bill is known for his back to basics hound dog blues bark and historical embodiment of the genre for over five decades while his partner is best remembered for logging time in the rock and roll roots acts The Yardbirds and The Jeff Beck Group. Visually, the classy dressed King is a hearty 77 year old who prefers sitting down and taking it easy most of his set while the scruffy and slender Beck tromps around the stage striking up every painstaking guitar solo pose known to man. Demographically, B.B. attracts a wide range of respectful musical appreciators, while Jeff's followers lean heavily towards the beer drinking, mullet sporting, loyal Looper types.
It was the senior citizen statesman's timeless approach that won out on the Chicago tour stop, which from the second the full brass section and backing band took the stage to the moment Mr. King put down his instrument (affectionately named "Lucille") was not only a delight to watch, but an honor to be near. Kicking off an hour's worth of material with "Let the Good Times Roll," King made it clear that the diabetes and bad knee which confined him to seating status had no effect whatsoever on his playing or singing aptitude, nor did they dumb down his rapport with the crowd. By frequently cracking jokes about his age, constantly praising the city, and offering a completely different animated facial expression after each chord change, B.B. was on the ball with his legendary title and gift of defying generational gaps.
Fans of all ages could relate to his most significant commercial breakthrough "The Thrill Is Gone," performed with a funky horn section and trio of eclectic guitars. Other audience favorites included the swing meets rockabilly vibe of "Early in the Morning," his digging deep down in the Delta for "A Mother's Love" and "Key to the Highway," plus a playful audience involved take on the set list staple "Caldonia." King also did his fair share of promoting a brand new record called Reflections, which besides Clyde Otis' "A Mother's Love" also featured the growling from the gut plea "I Need You" (made famous by both Ivory Joe Hunter and Elvis Presley). Like the new record's premise of revamping soul standards and classic R&B ballads, King has secured his place in the history books as one who's been looked up to in decades past and a player who will continue as an influence long after his passing.
It's too bad Jeff Beck's spot on the bill couldn't have been more memorable, nor did this particular set clearly define or secure his place in musical history. If anything, Beck's music was confined to the late '70s and early '80s periods where shredding monstrous, identical, and obnoxious solos over an unrelenting backing band took precedence. Unfortunately, it was this "rocked" out but "should've rolled away a long time ago" mindset that plagued his last studio album You Had It Coming and are the very same ingredients that resurface in near carbon copy format on the brand new Jeff. Having to endure such samples, along with a tripped out Yardbirds' cut "Psycho Daisies," the crunched up chaos of "Freeway Jam," and the bombastic boredom of "Big Block" made the audience sit and squirm with much less reception than his predecessor so rightly deserved. Even the night's most celebrated track "People Get Ready" (the Curtis Mayfield cover sang on Beck's Flash record by Rod Stewart) failed to earn a face lift to this century, instead basking in the dated '80s essence that's prevented this "guitar god" from showing any overt signs of musical maturation, personal growth, or even the mildest pulse on the modern day rock charts.


Here's Your Chance to.... Respond!


Your feedback will be featured on
Rant or Rave within 24 hours.