Story by Matt Richter
Photos by Matt Schwenke

In the dark belly of Milwaukee's Rave, a mostly male crowd muscles closer to the stage under a blanket of stale smoke, elbowing their way forward to insure a spot in the ensuing fray. I meander upstairs to a sparse balcony, choking on a sweet cloud from a clove cigarette, the slow fans overhead barely moving the air. Four members of growing rock notables Kings of Leon emerge from back stage, showing young faces as they pick up their instruments. Lead singer/guitarist Caleb Followill shoulders his guitar strap and slowly pans the crowd with the cool confidence of an elder front man. The band's youthful bravado manifests in a driving,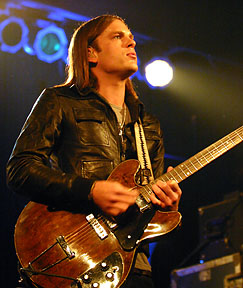 foot stompin' beat in the first song "On Call." Their unique southern-rock-meets-garage/punk sound drops on the crowd, creating a wave of rocking heads pushing and pulling in mosh fashion—a fervor of sweaty, fist-pounding energy that stayed throughout the show.

The tight-jeaned, defiantly rock band was born from, and continues to be, a family affair. Born south of the Dixie line, the Followill boys (Jared on bass, Nathan on drums and doing back-up vocals, and Caleb-three brothers, with their cousin Matthew on lead guitar) spent their childhood touring the south with their father, a traveling Pentecostal preacher. Starting off as a Nashville-based country band in 2000, mainly performing at rodeos, the foursome quickly turned to rock, braiding their southern roots with a hard garage rock/punk edge to forge their own brand.

Three critically-acclaimed albums and several years of relentless touring later, KOL has amassed an international following. Their latest album, Because of the Times (RCA, 2007) showcases an evolved, mature sound, each band member (for the first time) contributing equally to the diverse new material. Named after the annual preachers' conference in Louisiana that they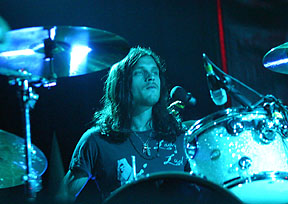 attended during childhood, Times provides a window into their limitless abilities to craft high-energy rock songs and turn on audiences with infectious live shows where, according to the band, they are most comfortable.

Under a dimly-lit haze on Thursday night, the band turned on a sea of Brew City's 20-somethings, spitting their take on southern rock with tracks from earlier albums as well as from Times. In "Spiral Staircase" (Youth & Young Manhood, 2003), Nathan feigns a loose, garage rock beat, laying a tight rhythm laced with guttural guitar work by Matthew and Caleb's smoky rock voice. The foursome flirt with the line between rock and punk in "California Waiting" (Manhood) then switch to a subdued beat in a slower track "Arizona" (Times). During their four-song encore, LOK gets the crowd stomping with the southern-fried "Knocked Up" (Times), ending the show with "King of the Rodeo" (Aha Shake Hearbreak, 2005), exhausting onlookers with a crescendo of high-pitched, cracked vocals and rich guitar riffs, leaving the crowd blistered, out of breath and begging for more.

Already staring work on their fourth album, KOL maintains an upward momentum, building notoriety for caffeinated live performances and a penchant for quality songwriting flavored with their own seasoning of mixed influences simmered in southern heat.