Review and photos by Mary Andrews

Jonny Lang was not alive when Chuck Berry sang his infamous tune "Johnny B. Goode," but "oh my, that little country boy sure could play!" Regardless, the lyrics seem to be hauntingly real for this guitar prodigy.

The first time I saw Jonny perform was at the Beale Street Music Festival when he was 17 years old.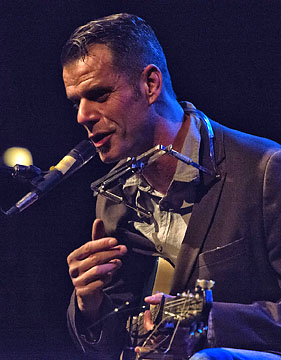 It was obvious that he was a force to be reckoned with. His career has been riddled with peaks and valleys since his initial success with the Lie To Me album. Regardless of what musical direction Jonny has taken over the years, his guitar chops have progressed to the stratosphere! This was the first date of the tour this year and Jonny and the band were in tip-top form!

The entire band quietly assumed their positions on stage and then suddenly burst into action! Jonny started the show with "Blew Up (The House)" from his newest album release, Fight For My Soul. Jonny started playing and he quickly seemed to go into a trance taking the audience with him! This continued throughout the show. The twelve-song set took two hours and it was a mixture of songs from Jonny's whole career, not just the newest album. This was the first show for the bands' bass player, Sonny Thompson. Other band members include Barry Alexander (drummer), Akil Thompson (rhythm guitar), Charles Jones (keyboards). They did a killer version of Stevie Wonder's "Livin' For the City" that allowed the band to jam on their own. Gospel had its turn next with "That Great Day" and Charles showed both his vocal and keyboard chops! The band paid homage to Muddy Waters with their raunchy version of "40 Days and 40 Nights." The encore found Jonny playing acoustic guitar with his biggest hit, "Lie To Me." The band joined in midway through the song to finish the set! A tasty culmination to a very satisfying show! Jonny does blues, Rhythm 'n Blues, and rock with utmost passion and soul that is rarely matched by any other artist today.

I have to give a shout out to the opening act tonight. Tom Walbank is a Tucson bluesman who stepped in at the last minute to fill in for the scheduled opener. Walbank is originally from Devon, England who settled in Tucson in 2000. He has a raw blues vocal and accompanies himself with blues harp and slide guitar. Walbank is incredibly accomplished at all of the above. Tonight Tom delivered a monster 45 minute set to get the audience going!