Story by Tony Bonyata & Billy Sparks
Photos by Andy Argyrakis & Tony Bonyata

On paper, this year's Lollapalooza lineup didn't seem near as strong as last years, but when all was said and done it was actually a terrific weekend of music, people and good vibes throughout. Perhaps because organizers still adhere to a similar structure that made this fest a success when it first began in the early '90s - bringing together both heavy-hitting and under-the-the-radar alternative artists of the day, a bit of rap, a shock of electronica and unrolling it all out in a beautiful outdoor summer setting, replete with a wide variety of ethnic food and, of course, beer.

Once a traveling road show, the sixteen year-old fest is now in its third successful year in its adopted hometown of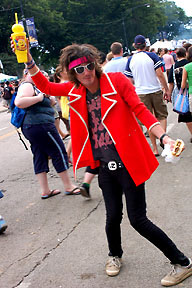 Chicago and from the looks of things last weekend it's not about to budge from this spot (especially considering organizers and city officials have already confirmed it here on paper through 2011). While the majestic cityscape to the west of Grant Park and the cooling breeze from Lake Michigan rolling in from the east side of the fest grounds are definitely an allure to organizers and music fans alike, the thing that actually brings the people in is the music, and this year was no exception as crowds flocked to the many stages scattered throughout the park's vast grounds.

One thing that's kept this particular music fest vibrant throughout the years is head organizer and former Jane's Addiction front man Perry Farrell and his talent buyer's uncanny knack for curating relevant talent, and with a stout line-up of both established and breaking-out indie artists, with the occasional rap act dotting the lineup, this year's lineup was no exception.

Though all three days had many acts worth checking out, Saturday boasted the strongest lineup of great new indie acts, not to mention punk priestess Patti Smith and a rare appearance by '60s psychedelic misfit Roky Erickson.

The Minneapolis-based blogosphere darlings Tapes 'n Tapes turned in a rousing performance of older punked-up numbers such as "Beach Girls," along with tracks from their stout 2006 effort The Loon, such as "10 Gallon Ascots," "Cowbell" and the jerky rhythms of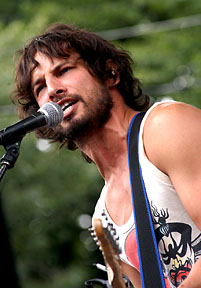 "In Houston." One of the newer tunes that they unveiled showcased a slight directional change with a swaggering noisy dirge, which eventually erupted in a troglodyte stomp.

The Canadian quintet Sam Roberts Band delivered an energized and rocking set that, despite their early time slot, packed an excited crowd of fans who sang along with the 32 year-old frontman, with a few faithful in attendance proudly waiving the Canadian flag. The band's name, like their music, definitely doesn't fit within the indie parameters of new music, but with an honest, no-nonsense approach to their hard-hitting music it's no wonder this tight five-piece was invited to this year's lineup.

One of the best things of a fest of this magnitude, however, is not always the acts on your itinerary, but rather some of the unexpected magic that you stumble across on your way to something else. This first occurred as I was heading over to check out the Cold War Kids set. I remembered earlier that day seeing a "TBA" listing on the Children's stage and decided to risk seeing Cold War Kids in exchange for what was behind 'door number two.' It paid off dearly as Jim James, frontman for My Morning Jacket, made a rare solo acoustic appearance. The singer delivered a few simple, beautiful folk numbers on banjo to an appreciative audience of kids and their parents. As word leaked that Patti Smith would also be making a surprise appearance on the Kid's Stage, as she did last year, the crowd began to quickly swell. After James' set, Perry Farrell came onstage to eloquently inform the kids in attendance about how the entire festival is fueled on bio-deisel, which doesn't hurt the land, air or water, as well as their own importance in helping the city of Chicago and the world stay a cleaner and healthier place. As anticipated Patti Smith then took to the stage along with her longtime guitar accompaniment,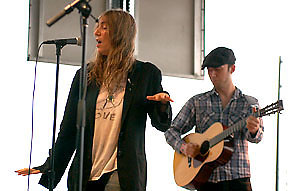 Lenny Kaye, for a brief but moving set where the duo performed a beautiful and poignant rendition of "Ghost Dance" from Patti's 1978 Easter album, as well as tossing in a wonderful cover of Hank Williams' "I'm So Lonesome (I Could Cry)." Smith played well to this family crowd as she reminisced about her own past growing up in Chicago. "My father was named Grant," she recalled, " and he used to tell me that this was his park. It's so nice for me to play in my father's park today." Tying in further family values she later explained, "This is the Kid's Park so my son Jackson is going to play with us," as the trio finished out their set with an impassioned version of Smith's "People Have The Power."

Another unexpected treat was the insanely infectious Matt & Kim's set. With Kim pounding away on her drums and Matt on keys the two Brooklynites delivered a punky dance show that was brimming with wide-eyed sincerity and smiles galore. I have no idea what their record sounds like, but if it's half as much fun as their lovable live performance then count me in.

Patti Smith wasn't the only old-timer on Saturday's bill, as psychedelic garage-rock godfather Roky Erickson delivered a burning set of rockers with his new band The Explosives. Erickson may be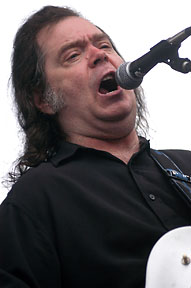 well-known for his previous battles with mental illness, but his riveting performance this day showcased a man firmly in control of both his music and his band.

The highlight of the day came early in the evening with a smoking set from NYC punkers Yeah Yeah Yeahs. Front gal Karen O is without a doubt the single most engaging stage performer going today and her sexy, eye-popping onstage antics - from crawling on all fours, crouching spread-eagle for those in the front and practically deep-throating her mic - held the sardine-packed crowd in transfixed amazement. Thankfully guitarist Nick Zinner, drummer Brian Chase and their hooded keyboardist delivered a stunning set of perfectly executed buzz saw slop that guaranteed that Karen O wasn't the only one in this band to get all of the attention.

Other notable performances - both good and bad - throughout the weekend included:

A rare appearance from French DJ duo Daft Punk, who, with their extremely dark and moody stage setting and old-school robot rock of Kraftwerk, were still able to pull off a club atmosphere despite the spacious outdoor conditions.

Chicago-based breakout band Chin Up Chin Up turned in a generally solid set of experimental /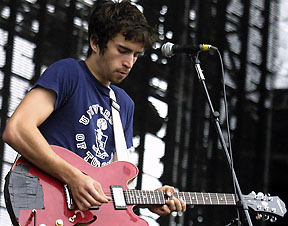 avant-garde indie-pop for the uninitiated.

G. Love and Special Sauce primarily catered to the hippie crowd, with their mix of roots rock, soul and blues. Ultimately, though, it was whitewashed, bland and quite often too long-winded for it's own good.

Austin-based electro-garage rock duo Ghostland Observatory delivered an extremely energetic and engaging performance - even when front man Aaron Behrens took things a bit too far, a bit too often.

With a breathtaking view of the Sears Tower as their backdrop, Silversun Pickups ran through a sometimes gutsy, sometimes blasse blend of garage and classic alt-rock.

Despite proving that he's still a stellar showman, Perry Farrell's new side project, Satellite Party, lacked the spice of his two former bands - Jane's Addiction and Porno For Pyros. While the strongest crowd reaction came from those band's older songs, most notably during "Jane Says" and Porno's "Pets," the new tunes were a snore.

With both strong rapping skills and an eclectic sound from her full band and accompanying DJ, London rapper M.I.A. proved to be much more than just another pretty face.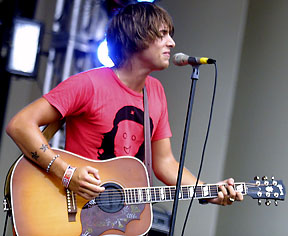 This chick puts wannabe tough girls like Lily Allen to shame.

With their dance-tipped alt-rock numbers Canadian buzz band Tokyo Police Club lived up to hype with a spirited early day show, while Snow Patrol showed they were cut from a similar cloth as Oasis with their anthemic British rock.

While similar in style to Tori Amos, Regina Spektor held her audience in sway with a congenial personality, cute stage banter and an inspired set on grand piano while also incorporating a cappella singing and percussive slapping on a nearby stool.

British art-rock darlings Muse may have drawn a bigger crowd than Interpol (who were on the other competing stage Saturday night), but the latter's dark and brooding stage show was still more mesmerizing than Muse's grandiose, over-the-top, theatrical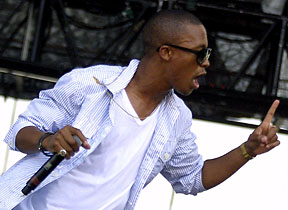 aping of Radiohead.

NYC indie noise rockers TV on the Radio concocted a very bizarre set with their almost unintelligible mix of electro-dance, free jazz and soul. While not all that accessible in the first place, the multitude of fans that were migrating to Pearl Jam only helped to further distract from their set.
With a great sound and killer performance Iggy and the Stooges eventually invited fans to come on stage but had to stop the show to calm everybody down as fans kept jumping over barricades. No fun, indeed.

Modest Mouse's performance saw them still sticking to their indie / experimental ideals despite mainstream success as they ushered in many of their newer tunes. Newcomer Johnny Marr (former guitarist for The Smiths) also added an amazing new dynamic and star power to the band.

The somewhat plain but pleasant singer/songwriter Paolo Nutini performed a radio friendly set that, despite his soulful voice and college rock vibe, often lacked depth.

Kanye West collaborator and Windy City fan favorite Lupe Fiasco successfully rounded out the bill with his own diverse style of rap music for people who don't even like the genre.