Story and photos of John Mayer by Robin Mayer
Photos of Ben Folds by Terry Mayer

Summerfest welcomed headliner John Mayer with opening act Ben Folds last Tuesday night. It was an evening of rock and roll piano with Ben Folds and smooth, almost jazzy guitar with John Mayer. The two acts different styles complemented each other and made for an evening of music that was easy and fun to listen to.

Ben Folds gave a high-energy performance that rollicked through the house.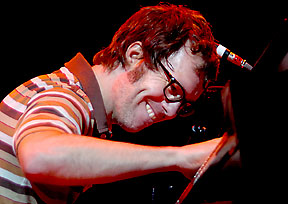 He plays piano in an old-fashioned rock and roll style that is reminiscent of Jerry Lee Lewis. His overflowing high-octane energy made even a rebellious tune like "Army" roll along with quite a bit of bounce.

As thunderstorms threatened, John Mayer brought his smooth grooves to the crowded Marcus Amphitheater. While lightning provided a spectacular addition to Summerfest's fireworks show, John Mayer presented a set packed with hits and favorites, opening with "Belief" from 2006's Continuum.

Mayer and his guitar solos ambled across the stage, giving the listener the feeling of sitting back in a favorite recliner with the headphones on... his guitar playing is that smooth and he makes it sound easy. One look at his fingers flying over the fret board, however, and you realize that maybe it isn't as easy as Mayer makes it sound. His fluid guitar style was never more evident than during his extended solo on "Good Love Is On the Way."

Mayer's smooth vocals and earnest lyrics complemented his bluesy, jazzy guitar performance. He is not an over the top performer and he enjoys an easy back and forth with the audience and his band. His music persona changes from blues to jazz and back again, making an enjoyable evening of music and a perfect accompaniment to a rainy summer night.