Plenty of Horn
Maynard Ferguson and his Big Bop Nouveau Band
Badger Auditorium
Lake Geneva, WI
Oct. 9, 2003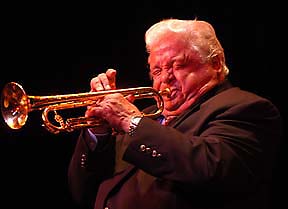 Story by Brad Walseth
Photos by Phil Bonyata

The people of Walworth County had better brace themselves for yet another school referendum, because at Thursday night's grand opening of Badger High School's new auditorium, Maynard Ferguson and his Big Bop Nouveau Band, along with a bunch of talented young people - known as the Badger High School Jazz Ensemble, blew the roof off their new amphitheater in a triumphant performance.
Judging by the overflowing crowd in attendance, an upgrade of the facility was a deserving project, and the musical results of the evening rewarded the community's to-be-applauded commitment to the arts by showcasing some of the finest young musicians in jazz, as well as one of the undisputed masters of the genre: trumpeter extraordinaire, Maynard Ferguson.
Maynard Ferguson was born in Montreal, Canada, 76 years ago, and started as a youthful music prodigy on several instruments, including piano. By his early teens, he had devoted himself to the trumpet and was already the leader of his own band, who opened for many of the great big bands of the forties on their Canadian tours. Moving to the United States in 1949, he toured with Boyd Rayburn, Jimmy Dorsey and Charlie Barnett, before undertaking his famous stint with the Stan Kenton Orchestra as the featured "high-note" specialist.
Ferguson's amazing ability to hit the notes in the trumpet's highest register brought him immediate fame. Before his appearance, trumpet players only used the upper register to make squeaks and squawks to amuse the audience. Ferguson burst onto the scene and stunned the world by playing actual melodic lines, smooth glissandos and thrillingly precise runs in what had previously been considered an unreachable stratosphere. In a trumpet section that included many of the greats, including Doc Severson of Tonight Show fame, the plucky Canadian was the brightest star - and was acclaimed as the only trumpet player in the world to be able to hit a double-C on the instrument - still a feat considered the mark of excellence in the horn world.
The stamina and soaring solos Ferguson displayed over the years so shocked the jazz world, that ridiculous rumors even spread that he had to have had some type of metal device implanted in his mouth to achieve his powerful technique - a claim completely discredited, but indicative of the effect his gifted playing had on the music world. Throughout the years, the busy musician found time to invent several variations of the trumpet, and also developed improvements in design. He also has, while still maintaining his presence in the jazz world as one of the few remaining jazz greats still touring, performed classical music, recorded film scores, experimented with funk, and had several cross-over hits on the pop charts in the seventies - most famously "Gonna' Fly Now" - the theme from the movie, "Rocky." Although some of the recordings from that era are not his best work, his success in taking the big band sound into the popular music realm is a worthy accomplishment in itself for any jazz artist.
Despite his many hit records, technical innovations and successes in many fields, perhaps the most important reason Maynard Ferguson is so popular is his status as a musical educator. Remembering how he got his start as a young musician with Stan Kenton, Maynard has made a focus of his life's work to give back to the music he loves by acting as a benevolent mentor to some of the best up and coming young jazz players who fill the chairs in his band and are given the opportunity to learn firsthand from one of the Masters. Playing in the Maynard Ferguson band is considered one of the highest achievments an aspiring jazz musician can earn, and the roster of former members reads like an All-Star team of jazz: Chick Corea, Slide Hampton, Don Ellis, Don Sebesky, Chuck Mangione, Wayne Shorter, Bob James, Bill Watrous, Joe Zawinal - just to name a few. Most alumni of the band consider their experience to have been one of the great periods of their lives, and many have gone on to careers as bandleaders themselves, as well as sidemen, studio musicians, or music educators at colleges and music schools around the country. Aside from his busy concert schedule, Maynard also conducts clinics with music students, as he did with the Badger students before Thursday's concert.
They must have picked up some good tips from the septuagenarian, because the Badger High Jazz Ensemble came on stage with a fire and intensity rarely seen in musicians so young. Playing from an eclectic book which included Ellington, Basie, a Joe Cocker R&B tune, Route 66, and even a Maynard chart, the youthful group played with confidence, talent, and most importantly, a feel for swing, and gave notice that many of these members may move onto college or even professional careers as jazz musicians - maybe even with Maynard's band? At the high school level, intonation and sense of rhythm are often problem areas - especially in music as complex as jazz - and it is a credit to Band Director, Greg Bunge, and the students themselves - whose hard work at practice was evident - that their intonation was consistent and rhythms solid, the solos thoughtful, tasteful and well-executed, and the overall blending of sounds superb. These young musicians have learned the most important lesson of all - to listen to each other - and their performance was all the more exceptional for it.
After a short intermission, the nine-piece Big Bop Nouveau Band and their leader ascended the stage and immediately showed the results of what years of hard work and discipline can do. The young men of the band - all in their twenties - are among the cream of the crop of young jazz musicians - and they showed their mettle by tearing through a set of engaging arrangements whose interweaving harmonies and lavish dynamics produced the impression one was hearing a much larger band. Their crisp rhythmic precision and chromatic command of their instruments set a great example for the young players observing. All proficient soloists - each received an introduction, a handshake, and sometimes a bow from their bandleader before and after each solo. Meanwhile, the older musician played sparingly, while elatedly egging his young charges on to feel their oats, as he danced, (even while seated) and waved his arms in gestures of exultation at their energetic playing.
When he did play - it was like watching a Sammy Sosa (or Babe Ruth - whose physique the stout horn player more closely resembles) hit a towering homerun. His still-prodigious range now slightly reduced, he nevertheless played with a joyous abandon - skillfully shredding licks that had the audience, as well as his own ensemble, gasping at some of the audacious embellishments and uncanny notes he hit. Ending his solos with an exuberant flourish of jubilation, the silver-haired patriarch masterfully held everyone in awe.
Some other highlights of the evening included gloriously intricate and luxurious arrangements of old standards, "I Want to be Happy" and "Darn That Dream"; a fantastic drum solo by a drummer whose name even Maynard couldn't pronounce - and whose arms moved so fast while drumming that people in the back row could feel the breeze (most welcome in the hot auditorium); and the guest appearance of University of Whitewater's Director of Jazz Studies, Steve Wiest - who as a former member himself of the Ferguson band, provided a striking arrangement of "Ain't No Sunshine When She's Gone," as well as some slinky, J.J. Johnson-inspired trombone work. However, it may have been the quietest moment of the night that was the most memorable, as Maynard ended a song by playing a soft muted trumpet, while the rest of the band played softer and softer, creating the effect of a fade-out, until suddenly the lights went black. Another example of excellent showmanship, and a rejoinder to those who believe he always plays over the top.
In the grand finale, the high school students filled the stage and played along to a grand "Rocky" theme fanfare, as Maynard went around shaking everyone's hand. The man clearly loves music, people, and life itself, as is evident in his high-spirited, joyful playing. Having fun is paramount in the world of Maynard Ferguson and he shares this credo with everyone. In associating with young musicians, it seems he has discovered the secret to long life - in that as he passes his wisdom onto them, he receives the gift of youthful energy and curiosity in return. In a world filled with harmful temptations, Maynard offers kids a positive option through music; and the young people who were thronging the trumpet rental booth after the show asking questions can attest to the good influence of this man with his golden horn of plenty for all.


Here's Your Chance to.... Respond!


Your feedback will be featured on
Rant or Rave within 24 hours.