Review by Brad Walseth

Concord Records has released a second set of six recordings of performances of jazz greats at the Monterey Jazz Festival. The first set included: Miles Davis, Dizzy Gillespie, Louis Armstrong, Thelonious Monk, Sarah Vaughn and one with "various artists." The second set includes: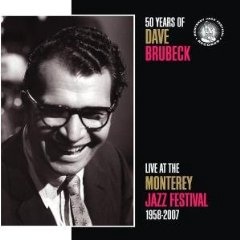 Dave Brubeck, Art Blakey and the Giants of Jazz, Shirley Horn, Tito Puente, Cal Tjader and bluesman Jimmy Witherspoon. The recordings usually document a single concert appearance, but Brubeck's spans across nearly an astounding 50 years of appearances, from 1958 to 2007.

The Brubeck offers several numbers of interest. 1962's "Someday My Prince Will Come" serves to remind that the pianist was the first to introduce this Disney-theme to the jazz repertoire. 1966's version of "Take Five" suffers from poor sound quality, but 1971's "Sermon on the Mount" and "Jumping Bean" feature bari-saxophonist Gerry Mulligan in on the action. This makes 1998's "Goodbye Old Friend," a duet tribute presented on the passing of Mulligan the more poignant. 2002's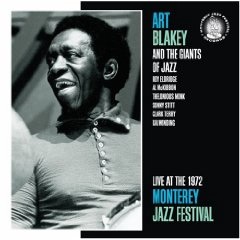 "I Got Rhythm" features bassist Christian McBride, while 2006's "Sleep" and 2007's "Margie" show that Brubeck remains vital to the present day.
A supergroup created by promoter George Wein, Blakey's Giants of Jazz were notable for briefly bringing together many of the greats of jazz, including Dizzy Gillespie and Thelonious Monk. This group was Monk's last hurrah before he faded into obscurity and death. Compounding matters, Gillespie had to leave on his own tour before this appearance.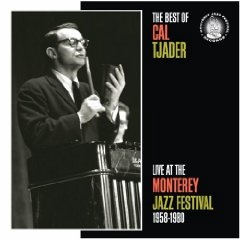 Not to worry, two trumpeters, Roy Eldridge and Clark Terry were recruited to take his place. The results are admirable, with Blakey and bassist Al McKibbon propelling things forward, and Eldridge, Terry and trombonist Kai Winding soloing with aplomb.
Vibraphonist Cal Tjader's importance may be primarily seen as in helping to spread the acceptance of Afro-Cuban and Latin jazz, and his recordings (like Brubeck's across several performances) are testament to that assessment. The highlight of the 1954 recordings may be a version of "Summertime," featuring clarinetist Buddy DiFranco, while 1972's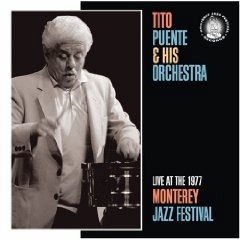 "Manteca" includes Dizzy (along with the aforementioned Clark Terry and Al McKibbon). Mongo Santamaria and Poncho Sanchez both appear at times, as do Vince Guaraldi, Willie Bobo and John Lewis.
Beloved Mambo King Tito Puente, live at the 1977 festival offers up even more Latin jazz. With rock star Carlos Santana covering his tunes ("Oye Como Va" "Para Los Rumberos"), Puente was riding a new wave of popularity. A strong set - according to eyewitness accounts, the master had the crowd dancing like crazy. Strangely,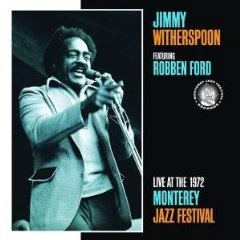 this was Puente's only Latin big band appearance at the festival, so it is good to hear it was captured. A surprise cha cha cover of Stevie Wonder's "Don't You Worry 'Bout a Thing" is nice, and Tjader himself makes an appearance on one track as well.
Blues singer, Jimmy Witherspoon is a real treat on this recording that captures the excitement of the date in 1972. Guitarist Robben Ford is the musical star, whose fast blues licks are youthfully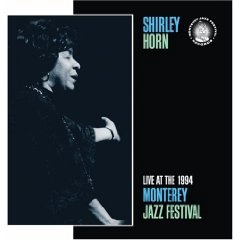 exuberant and quite enjoyable. Meanwhile, Witherspoon is entertaining in his outbursts and "blue" language. And in another episode, a "hippie" hands Ford an out-of-tune saxophone to play (Ford's first instrument was sax) with humorous results.
Perhaps the gem of these recordings, however, is Shirley Horn's set from 1994. This stellar concert appearance was a big reason for the resurgence of her career in the '90s.Playing piano in a trio, Horn captivates with her vocal presentation of songs like "Foolin' Myself," "The Look of Love," "Nice and Easy" "Here's to Life," some nice blues. The centerpiece of her performance is a haunting version of "LA Breakdown (and Take Me In)" that enthralls in its harrowing characterization of a woman on the edge.
The beauty and importance of these releases is that they capture a historical record of a time and place that many of us never knew, and it is a pleasure to hear these recordings as they are brought forth from the vault.

Check out great Chicago jazz happenings at JazzChicago.net