Thinking man's songwriter recalls
the past, rants about the present
Randy Newman
Park West
Chicago, IL
Oct. 16, 2003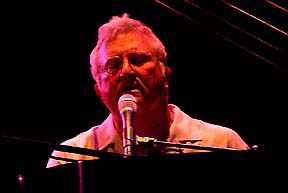 Review and photo by Andy Argyrakis

Words are a touchy thing these days and when anyone says anything out of line that may offend a race, religion, or sexual orientation, they're often charged as being "politically incorrect." Singer/songwriter Randy Newman will be the first to admit his embrace of that stance and he's never allowed the fear of offense or anyone's agenda to interfere with his thoughts. Perhaps it's because of this mindset, or maybe his unconventional approach at song structuring, that has never allowed Newman to make a full blown commercial breakthrough. Sure, he's had a smattering of hits and has most recently earned some fat cash with Disney soundtrack deals, but on the whole, the opinionated observer has survived over three decades as a cult figure.
His latest record "Songbook Vol. 1" and current club tour hold true to such a platform, putting Newman in the center of controversy that crosses the adjective heavy tendencies of Mark Knopfler with the brashness of Billy Bragg. It's a combination that the Chicago crowd ate up in a nearly two hour set, packed with presentations of Newman's most recent personal beliefs and remembrances of his past smashes. Starting promptly at the 7:30pm ticketed show time, Newman pounded on his piano placed at center stage with a humble black backdrop and beaming spotlight hanging above. Early evening presentations of fringe hits "Marie" and "Short People" helped get the crowd loose and ready for Newman's brand new musings from "Songbook." "This next song attempts to put 400 years of history into three minutes of material," he said with a chuckle prior to a hot tempered rendition of "The Great Nations of Europe." During the course of the song, Newman touched on everything from Columbus' conquest of America, to homosexuality, to Native Indian rights, never shy to express what could be interpreted as an off kilter opinion or derogatory remark.
"The Girls in My Life Part 1" developed a much more serious approach, taking on the stylistic feel of a classical music composition, while Newman traced the follies of his past love life. Additional examples of his consummate storytelling came from "The World Isn't Fair" (in which he scoffed at having to attend his children's school orientations) and the oldie "You Can Leave Your Hat On" (which he described as a "diseased love song"). The evening's most humorous presentation was "I'm Dead But I Don't Know It" in which Newman poked fun at fallen celebrities and musicians still performing well past their prime. As he pounded fervently on his piano keys and growled with psychedelic imitations, the crowd cracked up and soon joined him in singing the catchy chorus.
Newman's home stretch of material was by far the most entertaining and attention grabbing, starting with "Rednecks" (an analysis of societal bigotry), "Political Science (marking his dissatisfaction with unidentified governmental structures) and "In Germany Before the War" (an eerie narrative sang through the eyes of a murderer). Equally enthralling (despite the fluffy in comparison nature) included the Toy Story soundtrack song "You've Got a Friend In Me," the coffeehouse flavored "Mama Told Me Not to Come" and the nostalgic pair "I Love L.A." and "Sail Away." It was with that finale that Newman took off his wide rimmed glasses, ran his fingers through his pepper speckled gray hair, and beamed while taking a deep bow to the appreciate audience. Such a response mirrored that regardless of his minimal radio attention, Newman's performance ability is still as sharp as ever and his songwriting shows no signs of wear or tear. If only the modern crop of pretty faced singer/songwriters could possess even a fraction of Newman's boldness, descriptive abilities, and the guts to stick to their guns, then the modern day music world would be a whole lot better place.


Here's Your Chance to.... Respond!


Your feedback will be featured on
Rant or Rave within 24 hours.