Story and photos of Terry Mayer

The Academy Is..., which got the nod to open for the main stage act Panic! At the Disco at Summerfest last Saturday night, brought their hard-edged pop and rock star attitudes in tow. The band from Hoffman Estates, IL did a fair job warming up the stage with it's loose melodies capped by menacing drums and loose guitars. Taking a page from Mick Jagger's overused playbook, frontman William Beckett did his best imitation of the peacock strut across the stage to "The Phrase that Pays." Other songs that rocked,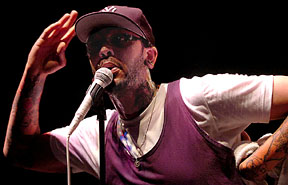 but ultimately had little life included "Checkmarks" and "Slow Down," as well as "We've Got a Big Mess on Our Hands" and "Neighbors."

Gym Class Heroes took over next with "New Friend Request" and "Shoot Down the Stars." Both overblown and devoid of any true rythym and structure. Apparently, the indie hip-hoppers should have taken a summer vacation from class. More class clown then rapper the bands' plodding rendition of the classic Beach Boys "Good Vibrations" was anything but. The bands big hit- the silly "Cupid's Chokehold" was a crowd favorite. Apparently displaying that style over substance still has quite a stronghold on today's music listeners.

Panic! At The Disco took the stage tonight as headliners - - even though the Marcus was about two-thirds full. Like Las Vegas brothers The Killers, Panic!'s music is rife with hyperdrive emo-amped prog pop. The fusion of chaotic drums and guitars on "Time to Dance" built a decent response from the audience as "Camisado" groped for a proper tempo as the band seemed slightly out of synch. Songs like "Nails for Breakfast, Tacks for Snacks" and "Lying is the Most Fun a Girl Can Have Without Taking Her Clothes Off" still found the amphitheatre cheering. Frontman Brendon Urie looked spiffy in his skinny tie and pressed white shirt as he strutted so theatrically on stage. With a pretty good set list to work with the band never found it's WOW factor. Panic! At the Disco's musical rehash might be the flavor of the day - just don't tell the boys that tastes change - rarely holding onto something that was not original to begin with.