Story and photos by Andy Argyrakis

The career of Graham Parker has taken its share of productive and obscure turns throughout the past three decades, though the British singer/songwriter has indeed experienced a hearty resurgence as of late. Though the former leader of The Rumour has always been incredibly prolific, the performer hit an impressive stride starting in 2004 when he signed with Chicago's Bloodshot Records (the birthplace of Ryan Adams, Neko Case and home to countless outlaw country heroes).

From then until now, the tunesmith's released a live record and trio of studio CDs, including his delightfully dark and rebelliously brooding Don't Tell Columbus this spring.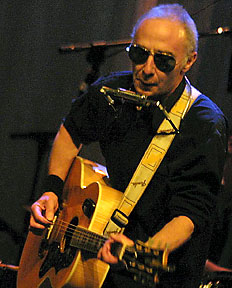 Parker's current tour in support of that project touched down at the intimate and acoustically pristine Old Town School of Folk Music for two sold out shows in the same evening, both backed by his four piece band The Latest Clowns. In the early engagement, the headliner split the set between new tunes, deep cuts from his catalogue and several from 1979's classic Squeezing Out Sparks (Arista), showcasing a wealth of diverse work for fans of several styles.

Despite being coined one of the 1970s' most spirited punk/pub rockers (who helped pave the way for the like-minded Joe Jackson, Elvis Costello and Nick Lowe), Parker came out of the gate with several new selections that fell under the alternative country umbrella. Songs like "England's Latest Clown," "Don't Tell Columbus" and "Bullet of Redemption" possessed a much more organic approach than expected, tied around acoustic intricacy and drawled vocals that painted the performer in a relatively new light. Yet his insistence in those cuts, along with the epic build-up "The Other Side of the Reservoir," was just as apparent as the old days of attitude-drenched rockers, which he also made sure to display in ample amounts.

Though he's never been especially fond of nostalgia, Parker realized his faithful expect to hear certain older cuts and he obliged with the velocitized "You Can't Take Love For Granted," "They Murdered the Clown" and "Wake Up (Next To You)." However, he spent the most time dipping back to Squeezing Out Sparks, dusting off the rollicking "Waiting For the UFO's," the poignant "You Can't Be Too Strong" and the aggressive electricity of "Nobody Hurts You." And no matter what side of Parker's personality was in center spotlight, age hasn't weathered his voice ability a single bit, allowing him to remain vital as both a songwriter and song presenter.

Opening the show was fellow Bloodshot artist Jon Langford, who may be best known for his founding role with seminal punk outfit the Mekons, but is also regarded for a series of solo and other band projects. Given the up close and personal feel of the venue, the singer/guitarist unplugged for an earthy set much more in tune with his Chicago-based bands the Waco Brothers (who focus mostly on southern sensibilities) and the Pine Valley Cosmonauts (known primarily for covering members' musical heroes). Across a series of originals and tributes the Windy City adoptee enchanted with a short but sweet storytellers' styled set.