Story and photos by Andy Argyrakis

Considering how hard Pink pounded the pavement in support of her chartbuster "The Truth About Love," taking a little time off was more than earned. And while three years may feel like forever in pop star years, the hiatus served the more than 40 million album and 75 million single-selling singer/songwriter well, who bounced back with a refreshed bang for "What About Us: Live 2017" at a sold out Hollywood Casino Amphitheatre in the southwest suburbs of Chicago.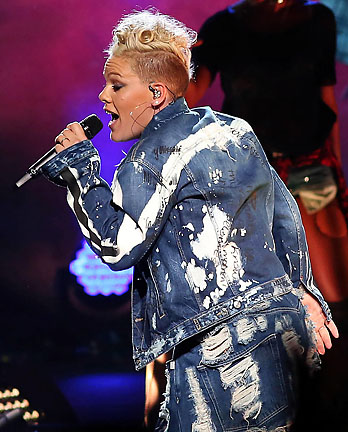 The outing is named after the lead single from her upcoming long player "Beautiful Trauma" (out October 13), though outside of that empowering, beat-centric ballad, Pink stuck to many of her previous favorites alongside some surprising interpretations. There was no better place to start than back towards the beginning for "Get This Party Started," which found the headliner entering unsuspectingly from the back of the pavilion prior to joining a gaggle of dancers and musicians on the main stage.

The troupe kicked up the rock attitude another notch for "U + Ur Hand" as the audience went wild, and though she took a moment to collect herself after all the aggressive movements, kicked right back into full gear for "Just Like A Pill." The same could be said about the softer spoken but no less forceful "Try" and "Just Give Me A Reason," both of which found the leading lady in stunning voice and assuring everyone she wasn't lip syncing.

In fact, Pink was the first to admit she wasn't "Perfect," but that didn't stop her from slaying the song of the same name in acoustic contexts, while also providing one of her many meaningful self-esteem affirmations. The stripped down segment performed at the end of a runaway also included a husky take on "Me And Bobby McGee" in the style of Janis Joplin and a striking rendition of "Babe, I'm Gonna Leave You" that could easily land her a stand-in gig for Led Zeppelin should she ever decide to step away from her standard career.

Pink also gave a shout-out to current indie rocker Bishop Briggs' breakthrough "River," saying she wished it came from her pen, but by the end, she could've easily claimed it as her own. Of course, favorites such as the flame-adorned "Just Like Fire" and a Caribbean-flavored "Blow Me (One Last Kiss)" got even more traction, also showcasing her aerobic dance troupe clad in traffic-stopping neon colors.

"Raise Your Glass" operated as a grand send-off for the main portion of the 90-minute performance, which flew by all too fast and couldn't surely been extended by at least a few songs and scenes. But that's not to say Pink didn't bust her behind the entire time and she also made sure to send the masses home with an up-close view as she literally flew from the first level to the skyboxes during the defiant "So What," empathically reclaiming her spot as one of today's most dynamic and divinely talented superstars with quite possibly the most outstanding show of the season.