Story and photos by Andy Argyrakis

Given the fact that Yoko Ono opened her headlining set at the Pitchfork Music Festival in Union Park with a taped rendition of "Give Peace a Chance," it might appear as though nostalgia was going to be her sole focus. Along with that flashback to the hippie-era anthem came the burst of several thousand flash lights to symbolize love and unity, which event staffers handed out to fans at the gates upon entry. And as Ono emerged from the shadows clad in a hat, sunglasses and scarf, she quickly fast forwarded the time period to present tense and generally remained in that frame for the next 80 minutes.

"I just wrote this song and we're going to perform it for the first time right now," she told throngs of adoring appreciators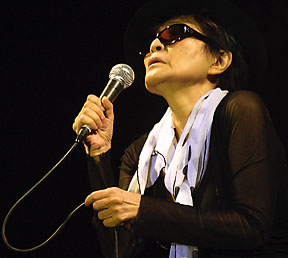 (which she has plenty of despite the age old debate of her supposed role in the Beatles' break-up). "It's just like John and I used to do in the car on a way to a show and then we'd sing it that night." After the antidote, she quickly got down to business with a message for these times about abolishing poverty, ending war at all costs and uniting regardless of society's self-created boundaries.

Though the track is yet to be titled, it proved to be a thematic tone setter for the evening, which ran the sonic spectrum of avant-garde pop to all out screech-filled oddities. Beyond just her Fab Four connection, it's these highly outrageous singing styles and accompanying sounds that have often made the entertainer a highly polarizing figure (and even considered a novelty at times). Yet no matter how strange she came across, Ono always stuck to her guns, selling every tune like there was no tomorrow and investing every ounce of energy she could muster.

"Walking On Thin Ice" took a chant laden, club throw down direction, "Mulberry" was an improvisational moan-filled number backed by aggressive riffs from guest guitar player Thurston Moore (of Sonic Youth fame), while "Don't Worry Kyoto" served as a chaotic encore with even more reckless full band blasts. But both instant appreciators and even distant detractors could all relate to the fellow lighter waver "War Is Over (If You Want It)," which aptly summarized Ono's unbridled activism more than any amount of spoken words or lengthy speeches.

As for the remainder of day, a slew of indie rockers (and even a rap act) continued rising on the underground radar, helping make this weekend long event similar to how Lollapalooza was in its early years prior to slick corporate sponsorship and more mainstream oriented line-ups. The Delta-blues influenced crooner Cat Power provided an early evening highlight, as did acoustic duo Iron & Wine and alt-rock act Voxtrot. Noise rockers Battles combined cerebral rhythms with ambitious percussion progressions, while Chicago locals Califone offered sophisticated harmonies and a soulful horn section. Metal mavens Mastodon cranked up its amplifiers to annoying degrees, experimentalists Grizzly Bear unprofessionally stumbled through technical problems and hip-hop pair Clipse failed to translate its studio renderings to the stage, though it wasn't enough to mar the otherwise impressive spread of generally undiscovered diversity.