Story by Tony Bonyata
Photos by Phil Bonyata

The reunited Celtic punk band The Pogues kicked off the first of ten shows in four U.S. cities at the once grand Congress Theater last Monday evening. With paint chipping from the now dilapidated Chicago movie house's ornate ceiling the stately old dame seemed the perfect place for this aging, yet historically important band to jump start their string of pre-St. Patrick Day reunion concerts here in the States.

This was the first time in over a decade-and-a-half that The Pogues would grace a Chicago stage with their former lead singer and principle songwriter Shane MacGowan intact.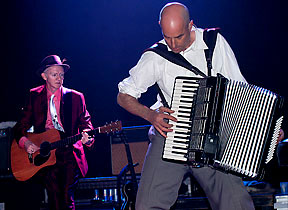 While there were many in the audience who may have doubted if MacGowan would even show (having previously cancelled at least one Chicago show with his former band The Popes at the last minute), the Irish bard not only showed up, but turned in a surprisingly remarkable performance with his band. The singer's own legendary image as a hard drinker and drug abuser makes even Keith Richards seem like Pat Boone in comparison, yet his performance last Monday proved he was not only focused and passionate about the music and this band, but that he was also, quite possibly, happier than he's ever been onstage as he flashed his broad, rotted grin more than a few times throughout the evening.

Joined by longtime musical stalwarts Jem Finer, Spider Stacy, James Fearnley, Philip Chevron, Darryl Hunt, Andrew Ranken and Terry Woods, the band opened with a rousing version of "Streams of Whiskey" from their 1984 debut Red Roses For Me. Wasting little time locking into both song and each other, Fearnley began madly jumping about the stage with his accordion with all of the intensity of Pete Townshend circa '71, which immediately set the tone for a spirited evening of music. MacGowan, puffy, pasty and clad in dark shades, oversized Hawaiian shirt and accessorized with perpetual cigarette, nonetheless,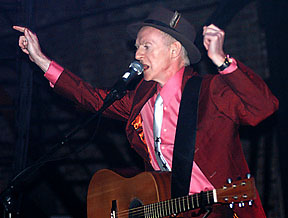 looked healthier than he has in years. He also sounded fabulous as he delivered banshee screams from hell on the raucous "If I Should From Grace With God" as well as gruff, poignant narratives on the more gentle balladry of "Lullaby Of London" and "A Pair of Brown of Eyes," the latter which inspired many in the packed house to chime along with during the chorus.

Musically the band has, arguably, never sounded better. The string interplay between Finer, Chevron and Woods wove rich textures into the arrangements, while bassist Hunt and drummer Rankin provided spirited rhythms behind Stacy's tin whistle which added an aura of ancient Irish authenticity throughout.

And if the high-level of musicianship wasn't enough, the choice of set list was equally as compelling. The octet revisited songs from all five original Pogues albums with MacGowan, including highlights such as "Boys From The County Hell," "The Broad Majestic Shannon," "Dirty Old Town" and the pint-hoisting, hell-bent rebellion of "Sally Maclennane," which finally incited the politely enthusiastic crowd into a swelling mosh of fans.

MacGowan left the stage for a few numbers, allowing other members to take the lead vocal duties, such as the Stacy sung "Tuesday Morning" from their 1993 Waiting For Herb LP, as well as Chevron's brilliantly crisp delivery on "Thousands Are Sailing," while drummer Ranken took center stage during the final encore to offer up a stout duet with MacGowan on the traditional Irish folk number "The Star Of The County Down."

The band ended the evening on a fiery note with a ferocious version of "Fiesta," with Fearnley's south-of-the-border accordion adding to the mayhem, while both Stacy and MacGowan frantically bashed large pizza trays on their heads in time to further spice up the Latin percussions.

With band turmoil and, apparently, abuse problems behind them The Pogues proved to be every bit as engaging as they were in their glory years in the mid-to-late '80s. Now perhaps if we're lucky enough, we'll have some new music from this important, influential and still relevant rock band by next St. Paddy's Day.
The Pogues March 5th Chicago Setlist :
Streams Of Whiskey
If I Should Fall From Grace With God
The Broad Majestic Shannon
Turkish Song Of The Damned
Young Ned Of The Hill
A Pair Of Brown Eyes
Boys From The County Hell
White City
Tuesday Morning
Kitty
Sayonara
Repeal Of The Licensing Laws
Sunnyside Of The Street
The Body Of An American

Lullaby Of London
Thousands Are Sailing
Dirty Old Town
Bottle Of Smoke
The Sick Bed Of Cuchulainn

Encore I
Sally MacLennane
A Rainy Night In Soho
The Irish Rover

Encore II
The Star Of The County Down
Poor Paddy
The Auld Triangle
Fiesta